Be Prepared for Mud Season
by Alayne Blickle
Fall is exactly the right time to improve your confinement area footing. Doing so will help ensure that your winter doesn't end up a chore nightmare with people and horses deep in muck. It's much easier to do this in the fall before the bad weather arrives instead of waiting until mid-winter when materials are less available and more expensive. It can also be more challenging to get deliveries into muddy areas.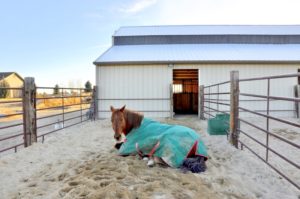 The purpose for footing in confinement areas is to build up that area and keep horses up off of the soil, thereby reducing erosion and allowing rainwater to drain. Less mud equals less chance for nutrients and sediments to run off and pollute creeks, wetlands, and other water bodies.
Confinement areas which may need winter footing include paddocks, corrals, turnouts, walkways, feeding stations, in front of gates, and any other heavy use areas.
There are three main footing choices for horse owners: chipped wood products (hog fuel), gravel (crushed rock), or coarse sand. Each of these has their pluses and minuses, but they all go a long way towards improving drainage, reducing erosion and reducing mud — and making horse life much more livable for both us and our horses.
A good rule of thumb is to put down twice as much footing as you have mud in the winter. That means, if you end up with three inches of mud, you will want your footing at least six inches deep.
Consider these questions when choosing footing: will it be a suitable, safe surface for my horse to run, stand, and lie on? Can I easily pick manure from the footing material? Will the footing material contaminate my compost pile in any way? Will it be dusty in the dry months? Is there any chance of it being contaminated with foreign objects (like nails or pieces of metal)? What is the cost and availability? Is it in any way toxic to horses, humans, or other animals?
For sources for these products, do an Internet search for your area. Look for shavings suppliers, wood recyclers, gravel yards, and quarries. Nurseries and landscape suppliers are other potential suppliers of hog fuel and chipped wood products. Call and talk with these businesses to find out if they work with horse farms and what products they typically sell for footing. Make arrangements to visit these places and look at their products before you order. They may even be willing to give you a small baggie of their product so you can shop and compare.
One caveat with sand: be very careful to avoid feeding horses on it as ingesting sand (or dirt particles) with hay can result in sand colic, a serious digestive disorder. Sweep feed areas before each feeding or use a feeder to be sure horses are eating sand-free hay.
Upcoming Horses for Clean Water events: More ways to fall into place for winter!
CARNATION, WA
Carnation Public Library
Thursdays, October 20, 27 and November 3, 10, 6:15 pm to 9 pm
WORKSHOP: Land & Water Stewardship for Livestock & Small Farm Owners
Learn how to design, construct, and implement livestock management practices with one-on-one guidance from district technicians. Attend all four workshops or only those that meet your needs. Discover ways you can have less mud, better pastures, manage manure, and care for streams & wetlands. FREE!
TOPICS:
Streams and Wetlands: Living with Livestock near Water. October 20 with a KingCD native plant expert
Mud Management: Record Rainfall=Record Mud.October 27with a Horses for Clean Water presenter
Manure Management: Got Livestock? Got Manure! November 3 with Alayne Blickle as a presenter
Pasture Management: Becoming a Grass Farmer. November 10 with King County Noxious Weed Program to talk about weed ID and control
FREE! Register: kingcd.eventbrite.com, (425) 282-1949 or signup@kingcd.org
JOSEPHINE COUNTY, OR
October 27 through 29
Horses for Clean Water will be teaching a variety of classes in and around Grants Pass, OR.
For registration information or details contact:
Randi Omley-Tatum, 541-474-6840 or joswcd@outreachinternet.com
Published in October 2016 Issue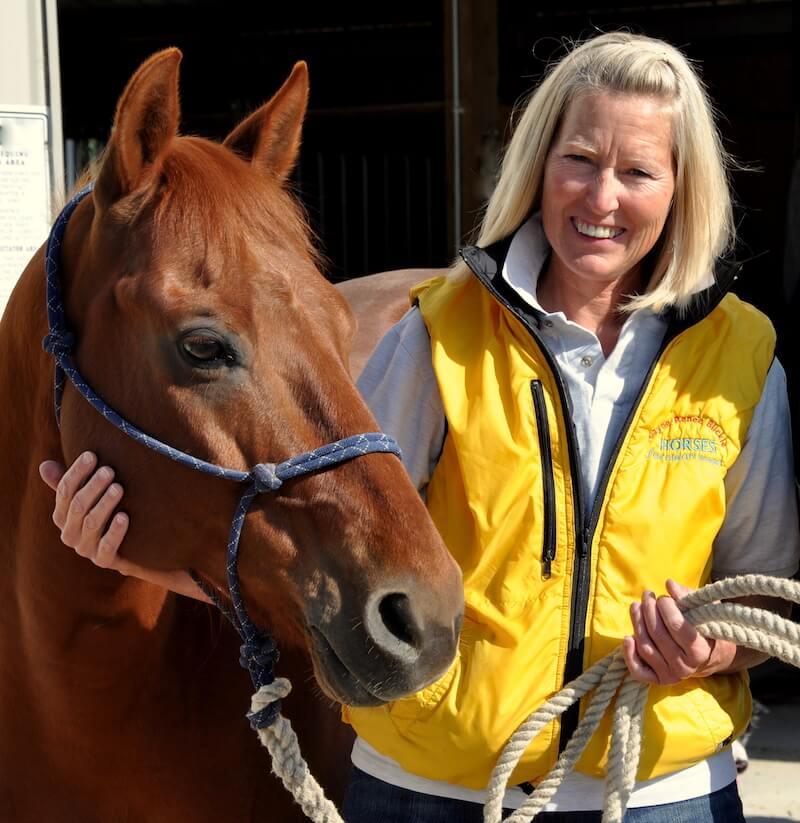 Alayne Blickle, a life-long equestrian and educator, is the creator/director of Horses for Clean Water, an award-winning, nationally acclaimed environmental education program that "wrote the book" on caring for horses and land. Known for her enthusiastic, fun and down-to-earth approach, she is an educator and photojournalist who has worked with horses and livestock owners for over 20 years. Alayne teaches and travels throughout North America and abroad, and also runs Sweet Pepper Ranch, an eco-sensitive guest ranch and horse motel in Southwestern Idaho where she and her husband raise top-notch reining horses and beautiful grass hay. For more information contact Alayne at alayne@horsesforcleanwater.com or 206-909-0225.