The tastiest way to provide your horse with his required daily serving of salt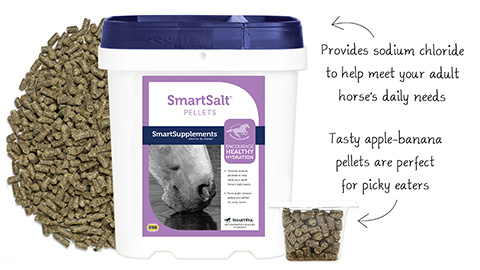 PLYMOUTH, MA  – Salt is one mineral that many horse owners don't always think about when it comes to supplementing their horse's diet, but it's vital to their horse's health and well-being. Luckily, there is now an easy and tasty way to make sure horses are meeting their daily sodium needs. SmartPak is excited to introduce new SmartSalt Pellets, which is the only pelleted salt supplement currently available for horses. SmartSalt Pellets are a palatable way to help your horse meet his daily sodium needs and encourage normal drinking.
Salt (also known as sodium chloride) plays an important role in normal nerve and muscle function and can help encourage horses to drink, making it critical for their overall health. "Adult horses in no work need at least one ounce of salt per day, and that need goes up when sweating from exercise and warm weather," said Lydia Gray, SmartPak's Staff Veterinarian. "Proper hydration is essential to a horse's digestive function and overall well-being no matter what season it is. If your horse's daily requirements for salt aren't met, he may not be in optimal health and able to perform at his best."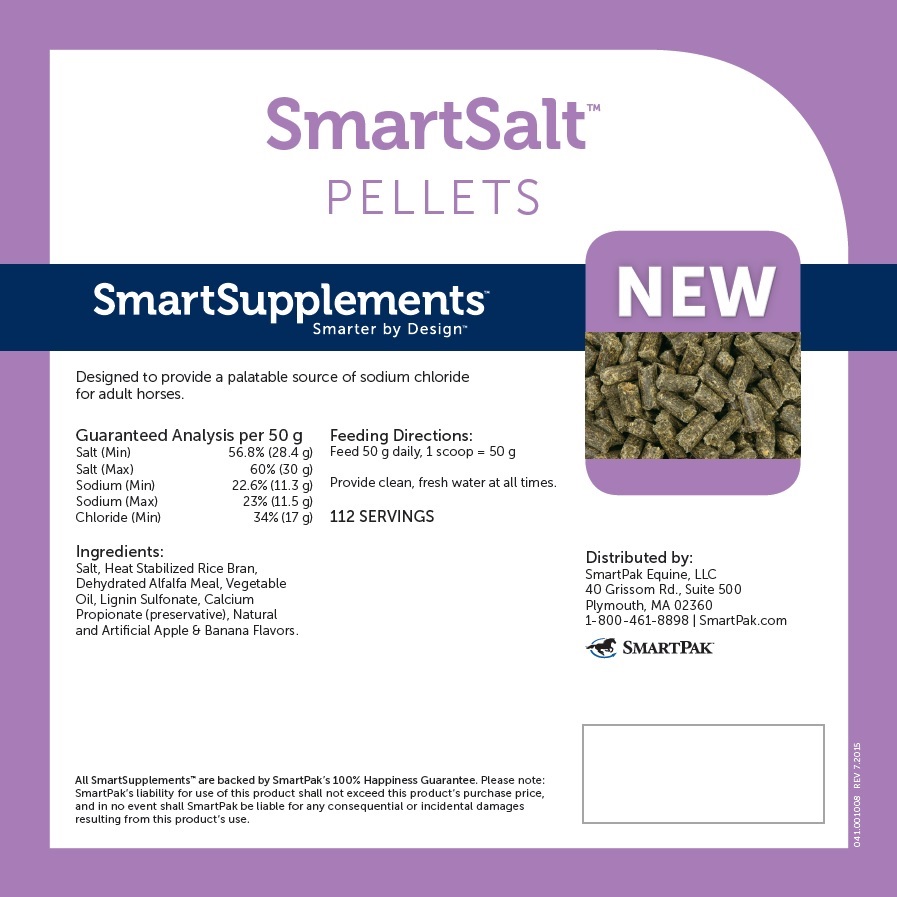 In a review of customer-reported data, 60% of horses' diets weren't providing their daily sodium requirement. Pasture, hay, and fortified grain provide very little sodium chloride, which means many horses' diets come up short. Providing a salt lick can help, but some horses use them excessively and others don't use them at all, meaning that you never know if they're getting the salt they need to meet their requirements every day. Salt supplements can help by providing the two macro minerals that make up salt (sodium and chloride), ensuring that your horse is getting a consistent amount every day.
Some horses will not use a salt block or consume loose salt adequately, leaving them without a palatable alternative. SmartSalt Pellets offer a unique option by providing salt in an easy-to-administer pelleted form. SmartSalt Pellets are the ideal choice for helping horses achieve their daily sodium chloride requirement, and to encourage normal drinking. Each serving provides one ounce of salt in tasty apple-banana flavored pellets even picky eaters love!
SmartSalt Pellets are the newest addition to the exclusive line of SmartSupplements. All 60+ SmartSupplements are available for the best value when ordered in the SmartPak daily dose supplement feeding system, and they are Guaranteed to Work! If you order any SmartSupplement in SmartPaks and you don't see the results after two months, SmartPak will give you your money back. To learn more about SmartSalt Pellets, visit www.SmartPak.com today and get started.
About SmartPak
From the feed room to the tack room, SmartPak offers innovative solutions to help riders take great care of their horses. SmartPak was founded in 1999 with the introduction of the patented SmartPak supplement feeding system. The revolutionary, daily dose SmartPaks are custom-made for your horse, individually labeled and sealed for freshness. With the success of this simple and convenient feeding system, SmartPak has continued to expand its offering of quality products, including its own line of more than 60 supplement formulas called SmartSupplements, and a wide variety of tack, equipment, and supplies. The company has grown rapidly each year and is now the largest retailer of equestrian products in the United States. SmartPak's success has been powered by a passion for delivering an unbeatable customer experience, and the company has been recognized with a Bizrate Circle of Excellence award as well as an "Elite" rating from STELLAService.  A nine-time Inc. 500/5000 honoree, SmartPak is the only equine company ever named to the Inc. 500 list.