Northwest Competitors Take Home Top Honors and Payouts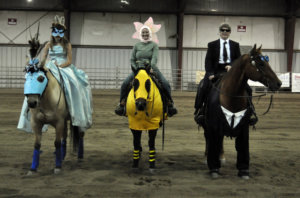 The WRHA ended the show season with a great turn out of over 450 runs at the Appleatchee arena in Wenatchee, WA on October 7-9. Providing a full array of classes, The Fall Spectacular paid out over $10,000 to participants.
The spectacle of the weekend proved to be the open and non-pro futurities, where participants expertly steered their 3-year-olds through the reining. Taking home top honors in the open was Mike Helsen aboard Daullittledance owned by show sponsor Maria Danieli-Krueger. Coming in a close second was Toy Surprize ridden by Anthony Suratt and owned by Kim Rickaert. In the non pro, Who Whiz Tucker with owner and rider Roxie Bernbaum earned top honors being closely followed by Laredos Little Chex and Jessica Powell in reserve.
The Fall Spectacular also featured the exciting Freestyle class. Sue Muir took home the top honors with her Men In Black routine, where both horse and rider donned suits and sunglasses. Coming in a close second was Jeanine Kern with her rendition of Blake Shelton's "Honey Bee," dressing her horse in black and yellow! This fun class is open to all reining competitors and is equally as fun to compete in and watch. The WRHA encourages everyone to come out and give it their best shot!
A big thanks goes out to our show sponsor, Northwest Weight Loss Surgery. The WRHA would also like to thank Maria Danieli for sponsoring the pizza party Saturday night, along with Shawn Church and Mike Helsen for providing refreshments. Information on the WRHA can be found on the web at www.wrha.net or follow us on Facebook.
Published December 2011 Issue
Washington Reining Horse Association's objective is to promote and encourage the showing of reining horses; and to develop and dissemble informational material deemed desirable to provide contestants and spectators a better understanding of a proper performance of the reining horse in the show arena. Our club has members from under ten years of age to over seventy years old and classes are offered from beginner riders to national level open riders. Learn more at www.wrha.net