Specific Concerns in Horse Property Purchase
by Allison Trimble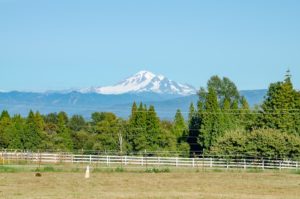 Last month's article gave an overview of what to expect and where to begin before you decide to purchase bare land and build your dream horse property. The next step in the process of building from scratch is selecting and purchasing land. After you've set financing in motion, determined your budget, and selected a real estate agent, the shopping can begin.
Price: Your land budget can vary depending on site prep work that has already been done to a property. I typically shop within and slightly above the budget allowance, knowing I may be able to make an aggressive offer on something and still stay within budget.
Location and Size: Most people know where they want to live. This may require some added time to wait for the perfect property to come available. Driving through the area and looking for undeveloped land can be helpful. Property that is not currently on the market can still be purchased in certain instances. If horses are to live on the property, know the minimum property size to accommodate the number of horses for your area. For example, many places in Washington are restricted to no more than one livestock unit per half-acre.
Background Information: Most horse properties in the Pacific Northwest will fall outside of city limits. It's time to get familiar with your county office. During the shopping process, the county will be a resource to get a wetlands overlay, and where information affecting properties can be found. The Planning and Development Department is also the place to apply for building permits. Realtors usually have a connection in customer service at a title company so they can quickly get information like plat maps, deed history and a general property profile.
Lay of the land: Once potential properties are identified, visit and walk each property. Consider the things that will need to be done. With your agent, map out location and orientation of the house, barn, roads, and pastures. Consider the topography. Is the land level or sloping? Is there much clearing or work to the land that needs to be done, and what will that roughly cost? Water management and soil quality are very important for a horse property in the Pacific Northwest so be sure that the property selected is suitable for long term horse plans.
Make an offer: If you find a property that fits the above criteria, the next step is to write an offer. Negotiation points include price, earnest money, closing date, and what things the buyer and the seller will be responsible for at or before closing.
Mutual acceptance is when both parties agree to the terms of the offer. At that point the clock begins to tick towards closing. Land transactions include a feasibility period that starts from the time mutual acceptance is reached. Typically, this period ranges from 10 to 30 days where additional studies and research can be done. If it is found to not be a feasible property, for any reason, the buyer is able to back out and keep their earnest money.
Critical Areas Review: Most horse properties are 5 acres or larger in size. A wetlands biologist will conduct a critical areas study, or wetlands study that will be used to determine what can occur on the footprint of a particular property. The county will require this to obtain a building permit. For around $300, during the feasibility period, it is advisable to have a wetlands recon done. This will give a rough idea of what the critical areas report will find, which will affect greatly the building portion of the project.
We will talk about this in greater depth next month, but know the water source and roughly what it will cost. This is also the time to do a PERC test if a septic system will be installed. A PERC test is done by a septic designer to determine the type, location, and projected cost of the septic system needed for the property. This will cost in the ballpark of $250-$1000, but usually can be wrapped into the overall septic design and permitting fee if the same septic designer is used.
It can be hard to schedule all of these things within the feasibility period; the good professionals are often booked and schedule many weeks in advance. Do not dally in this portion of the process. Once all of these steps have been completed and have met requirements, the feasibility period can end and the contract can proceed to closing.
Next month: Site Prep and Building
Allison Trimble has a Bachelor of Science in Animal Science from Cal Poly, SLO. After her graduation in 1999, Allison started Coastal Equine and has been training and competing in cowhorse, reining and cutting events. She has had marked success in the show pen boasting many titles and championships.
Willfully Guided is an educational program based on Allison's training process. For more information visit: www.willfullyguided.com
Allison is also a Realtor specializing in horse properties, hobby and commercial farms, and family housing. She combines her experience in the horse industry with her lifelong involvement in real estate to help clients find their perfect property. Learn more at www.coastalrealtywa.com