Making Good Horses Great
by Catherine Madera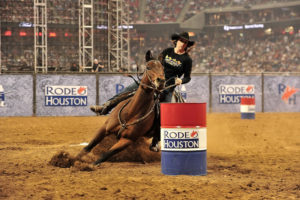 The world of professional barrel racing is extremely competitive. Only the best horses will do and that usually means spending Big Money—easily $50-$250 thousand for a top mount. That's why the story of WPRA (Women's Professional Rodeo Association) competitor Tana Renick and her 16-year-old mare, XV Wild Child (featured on the cover), is noteworthy.
"I grew up a poor girl," says Renick. "I had to ride what I had and make my horse, not just buy it."
In 2003 Renick took a leap of faith and borrowed the most money she had ever spent on a horse—$7,500—to purchase the then green 6-year-old mare with an attitude.
"When I saw her move I wanted her," remembers Renick, who overlooked the fact the horse was unproven and could barely lope a circle. Her instincts proved right on: the pair have won over $300,000 together (not all WPRA monies) and in 2012 were ranked 9th in the world (an injury took them out of NFR contention). How does a hardworking cowgirl who's had to make her own way keep a 1D rated barrel horse sound and healthy for 10 years? With help from SciencePure.
Turn and Burn
SciencePure founders Cal and Shelley Nyuli know something about building better athletes from the inside out. Former competitive body builders who hold titles, the Nyuli's dedication to wellness is now focused on sustaining good horses for the long haul, helping them achieve greatness with superior health and wellness products. Better health translates to longevity, proven by the couples own success with Standardbred racehorses as well as high caliber equine athletes like Wild Child.
Tana Renick's top picks from the line of PUREFORM products include Glucosamine PLUS, the original equine joint supplement. In 1999, Glucosamine PLUS won the award for "New and Most Innovative Product" of the year in Alberta, Canada and SciencePure has continued to rack up awards in subsequent years for other products as well. Other formulas used by Renick include E-Concentrate and Ammo. A self-proclaimed skeptic when it comes to equine supplements, Renick says she is "superstitious" about changing her horse's routine. After struggling with Wild Child's performance, however, Renick was convinced by Shelley to try Ammo in 2011 and credits the supplement for giving them the edge needed to win the Dodge National Circuit Finals that year.
"Shelley has never steered me wrong," says Renick, adding that Wild Child's wellness at the age of 16, in a sport like pro barrel racing, is unusual.
A Healthy Edge
While good horses are born talented, they are also made by environment. Success involves a delicate balance of innate talent, training, and the building blocks of good nutrition. Any feed and tack store will have shelves loaded with supplements declaring everything from a better coat to better movement. It can be hard to know which ones are real and which offer only empty promises.
Founded in 1997, SciencePure remains "dedicated to the development of safe alternative nutraceuticals that produce results."  Glucosamine PLUS, the company's first product, bears testimony to the fact that the Nyuli's aren't interested in empty promises. In 2006, Equine Veterinary published a study (Equine vet J. (2006) 38 (1) 93-95):  Evaluation of glucosamine levels in commercial equine oral supplements for joints. Based on glucosamine levels measured in this study, a 10 g dose was achieved by only 2 of the 23 products.
"Of course we were thrilled to receive a congratulatory letter from Dr. Stacey Oke DVM, stating that our Glucosamine PLUS tested as a superior product in formula and label accuracy" says Shelley Nyuli. "Our  commitment to horse owners is providing the science of nutritional absorption and effectiveness improved by synergy of ingredients.  I am very proud of our PUREFORM Equine Health line, thanks to our chemist who also happens to be my husband, Cal."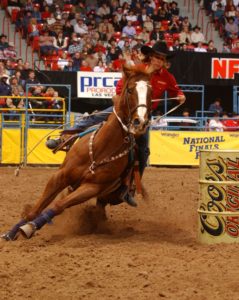 Tana Renick's experience is just one of the many professional and recreational equestrians who have helped their horse's performance and/or general wellness using PUREFORM supplementation.
"I would recommend PUREFORM and, specifically, Performance One to anyone who wants to get a top performance out of their horse! I have definitely seen miracles from this product," says National Finals Rodeo (NFR) competitor and pro-barrel racer Molly Powell. Powell's barrel horse, Quaker, suffered a tear to a rear suspensory ligament and other arthritic issues that had not improved with repeated hock and back injections. After 6 months on Performance One the ligament had healed. Powell went on to compete with Quaker at the NFR for the next 4 years winning over $250,000.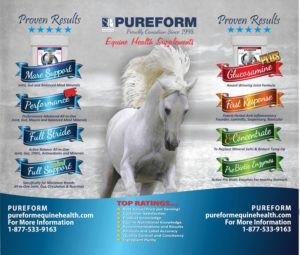 To find out what SciencePure can do to help you get the best out of your horse call 1-877-533-9163 or visit them on the web at sciencepure.com or pureformequinehealth.com or find them on Facebook.
Published October 2013 Issue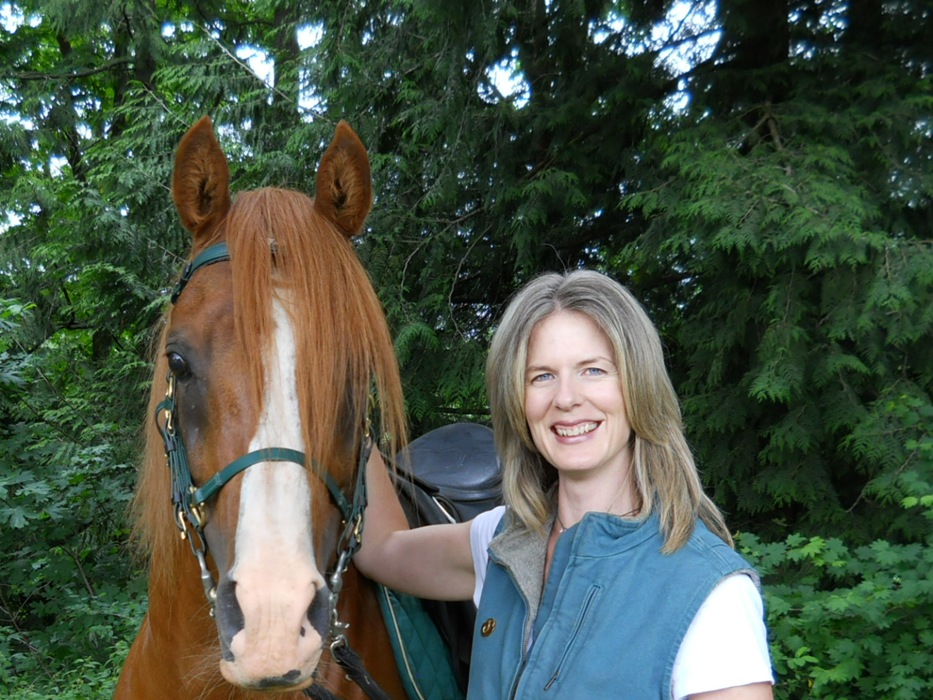 Catherine Madera served as editor of the Northwest Horse Source for five years. She has written for numerous regional and national publications and is a contributing writer for Guideposts Magazine and the author of four equine-related books. She has two grown children and lives with her husband and three horses in Northwest Washington.