Norwegian Fjord Horses from the Northwest Headed to the Rose Parade!
by Teressa Moen Kandianis
There are quite a few Norwegian Fjord Horses in the Pacific Northwest –on both the wet and the dry side. Over the years, these horses have become more frequent competitors in dressage, eventing, western, and driving shows (schooling and rated). This next year—January 1, 2014 to be precise—thirteen Fjords, five from Washington State, will be seen by millions of TV viewers worldwide, marching as the Norwegian Fjord Horse equestrian unit in the Rose Parade in Pasadena, CA.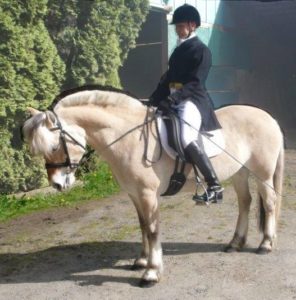 Zoobie, a mare owned by Teressa Kandianis, will be ridden in dressage tack by Marg Clumpner, owner and trainer at Fox Bay Farm in Ferndale. Kristin Miller from Chehalis will be riding her mare, Saundra, also in dressage gear. From Monroe, WA comes Eric Watness driving a single brown dun, Sundag, put to his hand painted and carved Norwegian cart. The Finnoe family from the Spokane area will also be driving a pair of brown duns, Deilag and Indy, put to a vis-à-vis carriage filled by Ben and Holly Finnoe and their five children, all in Norwegian garb. The remaining eight horses will be coming from the Boulder, CO area. We all leave on Christmas Day and arrive at the Los Angeles Equestrian Center December 27.

The wild notion to apply to participate in the Rose Parade came from the Board of Directors of the Norwegian Fjord Horse Registry headquartered in Berthoud, CO. The NFHR registers and conducts evaluations for purebred Norwegian Fjords in the US and Canada. The current president of the registry is me, Teressa Kandianis, and I live in Ferndale, WA just south of the Canadian border. The proposal to make an application to the RP was met with doubt ("Wow, nice idea, but not gonna happen"). There was much to be done and the process was similar to getting a kid into university. Applications for equestrian entries for the 2014 Rose Parade were posted online in mid-spring 2013. That's when the work started. Before the application process could even begin, we needed horses and owners: Who would go to the time, expense and trouble to apply, and if accepted, would commit to trailer horses, equipment and people to LA on Christmas day 2013 all at their own expense? Definitely not easy, but we found the 2014 Rose Parade motto, "Dreams Come True" fit what we had already decided was our theme.
One of our longtime influential members and breeders, Susan Cargill, had passed away a couple of years before and she had a dream of driving her four-in-hand of white dun mares in the Rose Parade. When we thought of her, the tears started flowing and many people wanted in. "Dreams come true" was also an apt description of the experience of Norwegian immigrants to North America—leaving a land, culture and their beloved horses behind for an unknown landscape and uncertain future. We ended up with 13 horses: five being ridden, the aforementioned four-in-hand of white dun mares, and two carriages. The carriages would be filled with adults and children wearing Norwegian national costumes – known as bunads. All drivers, passengers and sidewalkers will be wearing bunads as well. The riders will be wearing the attire appropriate to the discipline.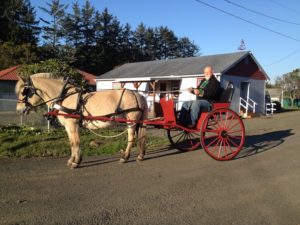 Of course, this was decided in March when our animals are very fuzzy, muddy and not necessarily in competition shape.   Nonetheless, we got the enormous application in on time – 13 horses, four carriages, four drivers, and five riders. The horses include all five colors of dun recognized by Fjord Registries worldwide. All told, our application also included 52 people. This included sidewalkers, trailer dead-headers, grooms, costumers, passengers in the vehicles and so on. And all identified needed waivers signed and lots of other paperwork. It was just the beginning of a huge undertaking.
Then the waiting started. We heard that, if chosen, a liaison would be assigned to our unit. I was the designated marshall for our group (potentially the bearer of bad news), but others  were receiving odd phone calls from the Rose Parade Equestrian Committee and varied reports on when the announcement would be made.
While struggling to get groceries out of my car late one Friday in July, my phone rang. Three people introduced themselves to me and to this day I do not know who they were. They started out like this, "I know you are aware that the poor economy has affected the Rose Parade; it has been so difficult. We are cutting down equestrian units from 26 in 2013 to only 16 for 2014. The decisions were really difficult. We had to turn down many units that had been in the parade for decades."
I'm simply listening, speechless. Literally, I hadn't uttered a word since "hello." Then someone asked, "By the way, what are you doing on January 1, 2014? Your group has been chosen to participate in the Rose Parade!"
I caught my breath and stuttered something like, "Are you freaking kidding me?" Then we all started talking. They were concerned as I didn't seem appropriately happy (had this been on Skype they could have seen my mouth hanging open). Rather than calmly getting details, discussing deadlines and so on, I said, "You have to email me all this; I'm not taking notes and I'll never remember any of it." Then I hung up. Why? Because I had to call everyone! 
After the initial euphoria, the work began in earnest. Today we are well on our path to showcase the world's best horses, our beloved Norwegian Fjord Horses, to an enormous audience around the globe. As if the parade wasn't enough to prepare for, all the equestrian units are required to participate in Equest Fest, a show at the Los Angeles Equestrian Center on Sunday, December 29. Each unit will develop a presentation meant to impress an audience of thousands. Now, I suppose the Budweiser Clydesdales can impress with their sheer presence, but we will be doing something very special. I hear it involves spotlights, fog machines, and tearjerker music. Participants will only have one day to rehearse a program they've never seen before.
Another huge task for us is fund raising. For curious folks who might want to do this in the future, fuel is our biggest expense with an estimated total of $30,000 – each group driving about 1,000 miles each way, but we have lots of other costs such as stalls, the $100 per person Rose Parade fee, RV and trailer parking fees, lodging and food, and don't forget the flowers. Regardless, it's a worthwhile endeavor—truly a dream come true—as we expect the blond ponies with the big brown eyes to captivate the audience. We just hope they won't eat the roses until the end of the parade.
Published December 2013 Issue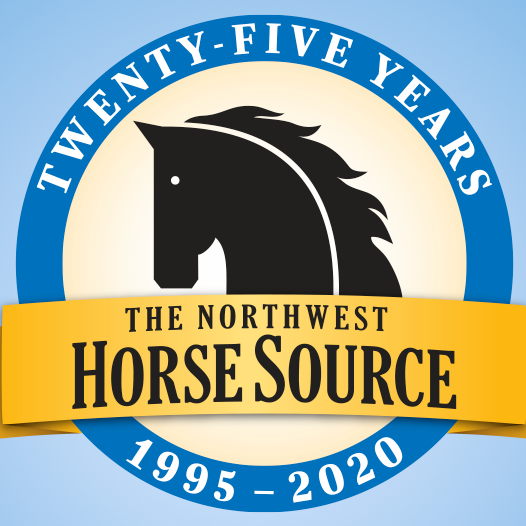 The Northwest Horse Source is an independently owned and operated print and online magazine for horse owners and enthusiasts of all breeds and disciplines in the Pacific Northwest. Our contemporary editorial columns are predominantly written by experts in the region, covering the care, training, keeping and enjoyment of horses, with an eye to the specific concerns in our region.