How to Practice the Figures for Show Day Success
by Michelle Binder-Zolezzi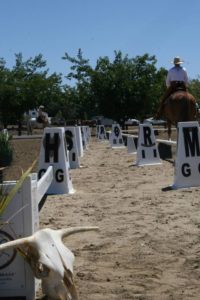 Once you have established a venue for western dressage in your area it is time to start practicing the figures.  At a recent cowboy dressage event, Eitan Beth-Halachmy said to me, "Without figures there is no training." He is right.  Figures create suppleness and obedience and teach the rider how to use the aids, especially when great care is taken to ride them accurately.  Think of using the figures to train yourself and the horse and then think of riding the figures in the test.  Dressage is not done by riding the tests over and over; the tests are an outgrowth of riding the figures.  If your figures are good, your test will be simple!
The WD arenas are 20 meters wide by 40 meters long (that's about 66ft X 132ft )at the lowest levels and 20m X 60m at Level 3 and above.  The cowboy dressage arena is 20m X 40m, and the letters are placed differently around the outside of the arena.  Both are viable expressions of dressage training for western horses.  To start riding, simply measure out your "court" in an arena or on a flat piece of ground.  Use some rails to mark out your edges.  Put some letter markers on the walls or around the ring at the right places. For outside riding, rub-on letters on upside-down buckets work great and stack up when you are done.  Diagrams of the figures are available online from USDF at www.USDF.org or from the western dressage websites.  Now, just start riding and practicing.  Rule 1:  Be safe.  Rule 2:  Be kind to your horse.  Rule 3:  Have fun.  Rule 4:  Don't drill, practice.  When you are ready, download tests and rules so you know what to expect when you get to the show. You are ready to go! 
At the show you will be assigned a ride time and will be expected to be at the in-gate ready to go at that time.  Once inside, the judge will ring a bell or blow a whistle indicating they are ready to score the ride.  You will have 45 seconds from the bell to ride your horse up the centerline and halt at X.  A "reader" can call your test aloud to you as you ride, but you should still have your test memorized.  Try for forward-moving, free-flowing gaits, smooth transitions, and accurate figures with good bend in the corners and circles.  Make sure your horse is tracking straight on the straight lines.  Watch out for over-bending and over-flexing the neck.  Good back to front balance and hind leg activity in all the paces is very important and serve to differentiate WD from other western riding styles.  Riding your first test should be fun so don't let show nerves keep you from starting your western dressage journey.
The perfect western dressage horse has not yet been created because the discipline has not yet been standardized.  Maybe it will have a reining spin and a canter pirouette, go bridle-less or beautifully on the bit.  Maybe it will be a stock horse, or an Iberian horse, or an Arabian that has relaxation, rhythm, balance, connection, willingness, engagement, adjustability, collection, suppleness…  In any case, these are the principles that should be the foundation of the discipline if it is going to call itself "western dressage."  Organizations, trainers, instructors and riders that support and promote western dressage must be completely dedicated to the use of good western horsemanship and classical dressage training to improve the relationship between horse and rider while acknowledging the value, talents and comfortable "ride-ability" of our western working horses.  Western dressage has the potential to bring people together, make the classical principles more accessible to everyone, bridge gaps between the breeds and ultimately marry the very best from both worlds in a way that is good for ALL of our horses.
Published December 2013 Issue 
Michelle Binder is the founder of Relational Riding Academy, a program that utilizes dressage as fundamental training for all horses performing in all disciplines. A rider for 40 years, Michelle first competed English and Western rail horses in Washington, then Thoroughbred Hunters in Kentucky. In 1987 she began pursuing Combined Training though USCTA Novice and Training levels. She settled into dressage in the Pacific Northwest in 1995. Over the years Michelle trained extensively with Sue Sherry of Michigan. She has participated in clinics and instructors workshops with many well known instructors, including Sally Swift, Mary Wanless, Gerhard Politz, Jeff Cook, Dr. Rudolph Vlatten and, most recently, Claus Bergener, Grand Prix Judge for the GNEF.
In addition to being an ARIA certified instructor since 1989, Michelle has been a professional trainer since 1994. In the 1997 show season, Michelle finished "V.P. Medly" 5th in the nation in USDF All Breed Awards for Arabian Sport Horses and 26th in the nation for all breeds. In 2006, "A Perfect Mr. Re" finished 8th in the nation in the AACAP Awards for Appaloosas in dressage. In 2007, King of Broken Hearts, a four year old Appaloosa stallion qualified for the ApHC World Show, trained and ridden almost exclusively by Michelle for Vision Quest Ranch.
relationalridingacademy.com