Tips from 3 Northwestern Professionals
by Kim Roe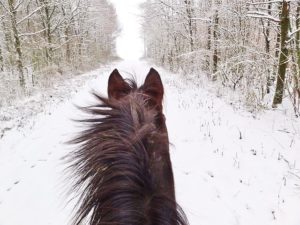 Winter is an important time to accomplish training goals. But sometimes getting motivated to ride in bitter cold, wind, or rain can be overwhelming. This winter has been a difficult one in the Northwest, so I to asked three top northwestern trainers how they keep going in winter.
Olivia Chapeski trains and teaches dressage in the Bitterroot Valley, just south of Lolo, Montana.
Getting through a Montana winter is tough. They're long, dark, and severe. On very cold days, where the highs are in the teens at best, we tend to ride in the latter half of the day when the barn and indoor have had a chance to warm up and the horses are moving around in their pastures or paddocks. We do long warm-ups and cool-downs and we often leave real "training" to a minimum in the dead of winter—enough work to keep them going but not usually enough to do any kind of real intensive work.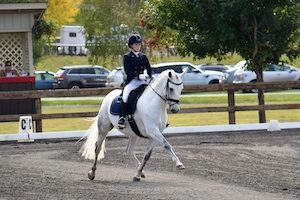 During the true cold snaps, when the high temperatures are only in the single digits, the barn becomes a ghost town. The horses are looked after but not much else happens.
The winter months are good opportunities for more "fun" days: riding bareback, light jumping, ambling about in a halter, ground work, working horses in-hand and seeking out education through DVDs or books. Scheduling lessons and training rides works on a "play it by ear" basis.
We feed more hay on the bad days, keep a constant eye on the electric waterers and condition of the footing, and are more vigilant in watching the horses for signs of a problem. The horses deal well with the snow and cold despite living outside 24 hours a day; other than making sure they're appropriately blanketed and keeping good weight, we don't usually have to do anything too special. However, everyone who is shod has barium and pads on their shoes, and we do a lot more lunging to get all the winter ya-yas out!
For the riders, we wear many layers of down and wool, insulated boots, disposable toe and hand warmers, Yak-Trax, and… we whine a lot. Once you're at the barn you have to keep moving or you get too cold.
Lots of housekeeping and tying up of loose ends happens in the winter and we all just keep reminding ourselves that summer will eventually come again.
You can learn more about Olivia at chapeskidressage.com
Deanna Lally is a trainer in Lake Stevens, Washington. She specializes in reining, but her expertise covers multiple western disciplines.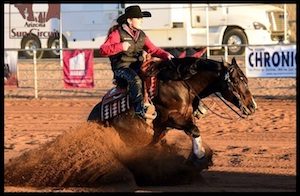 The key to keeping warm is layering. Good long underwear and several layers of shirts are a must. I even put on my insulated Carhartt bib overalls on the really cold mornings. I find that if I never get cold in the first place, it's a lot easier than getting cold and trying to warm up. You have to take layers off depending on what you're doing so that you don't sweat. If you don't get wet, you stay warm.
On days when the outdoor is good I ride out there, but the rest of the time I ride in the indoor arena. I believe that show horses should scale down in the wintertime. They can't be kept at peak performance level year-round or they will physically and mentally break down. I work on the foundational building blocks of their specific sport during the winter months, as in collection, slow to medium pace speed transitions, etc., but I don't do any intensive show related training on the older horses. For the 2-year-olds and other youngsters that are learning, we just keep them progressing as needed for each individual horse.
You can learn more about Deanna and her program at www.dlallyperformancehorses.com
Garyn Heideman is a dressage trainer from Sedro-Woolley, Washington. She trains out of Cain Lake Stable.
I am a goal-oriented person. I get excited about winter training because it gives me the opportunity to play with a lot of things and not be afraid of making mistakes that could potentially be a problem in the show ring.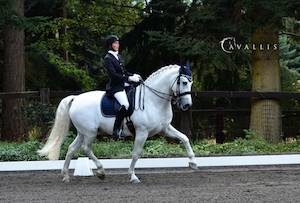 Winter is a great time to experiment and make a game plan for moving up a level. It helps to be very clear on goals, so I have done a lot of work with Jen Verharen at Cadence Coaching. I find the clarity she brings to my program invaluable. I feel excited about every ride and appreciate the mistakes, as I know they are indicators that we are leaving our comfort zone.
I also find it invaluable to have a coach to help raise the bar in an attainable way and be eyes on the ground. The coach is a go-to person for problems. On the very coldest winter days it helps me get out of bed and make sure that I am continuing to work on making progress towards my goals.
I love Columbia Omni Heat undershirts. The old thick Boink fleece breeches are wonderful but I haven't found anything I like as well as my super old ones. For my feet, I find wearing nylon socks under wool socks makes a huge difference. For my hands, I make sure my warm gloves are big enough to allow some airflow. I have a Velcro ear warmer I push down under my helmet that covers my cheeks and ears, and makes a big difference. I get my ear warmers and under socks at the dollar store.
Find out more about Garyn at www.heidemanndressage.com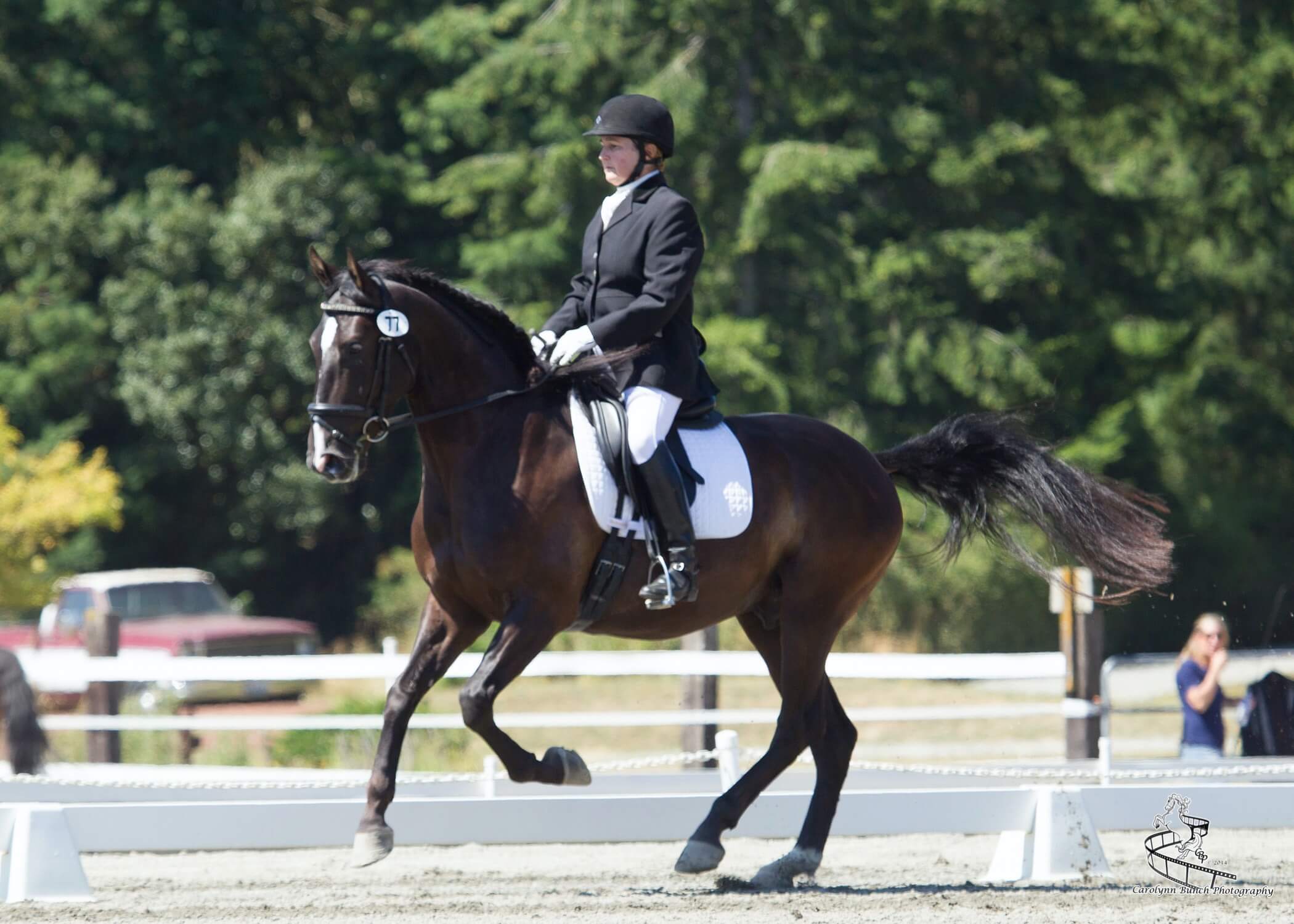 Kim Roe grew up riding on the family ranch and competed in Western rail classes, trail horse, reining, working cow, and hunter/jumper. She trained her first horse for money at 12 years old, starting a pony for a neighbor.
Kim has been a professional dressage instructor in Washington state for over 30 years, training hundreds of horses and students through the levels. In recent years Kim has become involved in Working Equitation and is a small 'r' Working Equitation judge with WE United.
Kim is the editor of the Northwest Horse Source Magazine, and also a writer, photographer, and poet. She owns and manages Blue Gate Farm in Deming, Washington where she continues to be passionate about helping horses and riders in many disciplines.