SmartPak announces New and Improved OutSmart™ Fly Spray powered by Nature's Technology®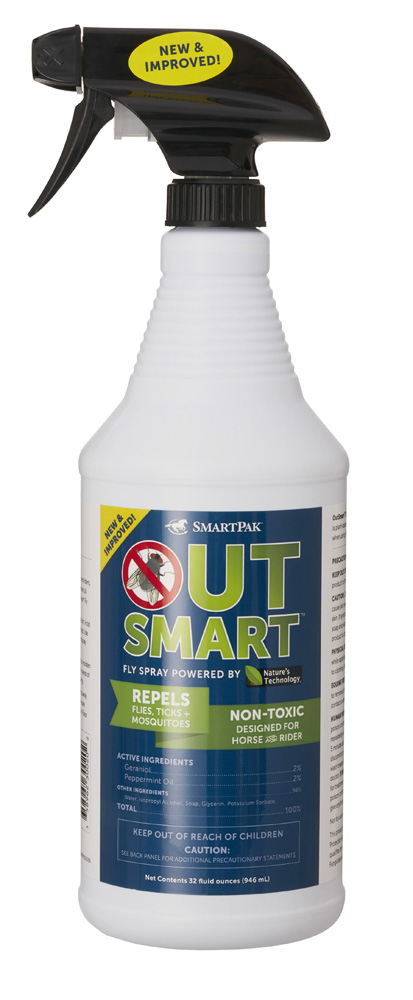 PLYMOUTH, MA – February 28, 2017 – When it comes to fly repellents, horse owners want something that works. Yet many horse owners, riders, and equine professionals are wary of spraying chemicals on their horses and around the barn day in and day out. SmartPak is excited to announce OutSmart Fly Spray – a pioneering, new insect repellent that is non-toxic, effective and designed for both horses and riders.
For smart riders who want the best for their horses, OutSmart Fly Spray is a next generation insect repellent effective against house flies, stable flies, mosquitoes, and ticks. It is non-toxic, and free of permethrin, pyrethroids, pyrethrins, and DEET. Engineered to be smarter, OutSmart Fly Spray is powered by TyraTech's Nature's Technology, a patent-pending, innovative combination of plant-based ingredients, making it safe and effective for horses riders and the planet.
"As a company full of horse owners, we understand some of the biggest problems that are faced in and around the barn, including those pesky insects," said Casey Fleming, SmartPak's Product Manager. "We're always looking for smarter solutions, and we are really excited about OutSmart Fly Spray which uses the patent-pending, nature-derived technology from our partner TyraTech. This formula is plant-based, non-toxic, and best of all it's effective – there isn't anything like this out there on the market today."
Not only does OutSmart Fly Spray effectively repel insects, it also has a fresh, botanical scent riders love.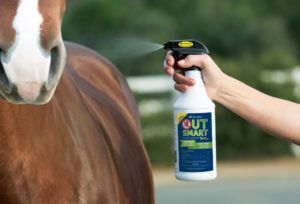 SmartPak asked some of the industry's top professionals to give OutSmart Fly Spray a try. "I've tried many other non-toxic fly sprays, but they never seem to work," said Matt Mills, NRHA Professional and Reining Team Gold Medal Rider at the World Equestrian Games in Aachen, Germany. "From the moment I tried OutSmart, I was very impressed with how effective it was. I also like that the formula is made with plant-based ingredients, so I feel confident in using it on all of my horses."

Hope Glynn, owner and trainer at Sonoma Valley Stables in Petaluma, CA and 2013 CPHA Horseman of the Year says "Having a fly spray that is effective is important to me, and I can attest to the fact that OutSmart really works! Not only does it repel insects, but it smells great too and I no longer worry about what I'm spraying on my horses and around the barn."

OutSmart Fly Spray is exclusively available at SmartPak. To give it a try today, visit www.SmartPak.com/OutSmart.

About SmartPak

From the feed room to the tack room, SmartPak offers innovative solutions to help riders take great care of their horses. SmartPak was founded in 1999 with the introduction of the patented SmartPak supplement feeding system. The revolutionary, daily dose SmartPaks are custom-made for your horse, individually labeled and sealed for freshness. With the success of this simple and convenient feeding system, SmartPak has continued to expand its offering of quality products, including its own line of more than 55 supplement formulas called SmartSupplements, and a wide variety of tack, equipment, and supplies. The company has grown rapidly each year and is now the largest retailer of equestrian products in the United States. SmartPak's success has been powered by a passion for delivering an unbeatable customer experience, and the company has been recognized with a Bizrate Circle of Excellence award five years in a row, as well as receiving an "Elite" rating from STELLAService. A nine-time Inc. 500/5000 honoree, SmartPak is the only equine company ever named to the Inc. 500 list.

About TyraTech

Established in 2004, TyraTech, Inc. is a life sciences company focusing on nature-derived insect and parasite control products that are as effective as traditional chemical options while providing a new level of safety for people and the environment. TyraTech's Nature's Technology® leverages its patented scientific platform to provide a full range of biocides, head lice and insect repellent solutions. For more information, visit www.tyratech.com.

<!-comments-button-->