Bayleen in Pictures: 1976-2013
by Allison Trimble
One of the hardest things about loving a special horse is the inevitable passing. This past year has been a tough one for my family as we have experienced this twice. The most significant was the loss of my lifelong friend Bayleen, at 37-years-old. I would like to share some of the precious memories that help fill the hole in my heart. Bayleen now rests in an urn, within a shrine, in my bedroom.
                           Photos courtesy of the Trimble Family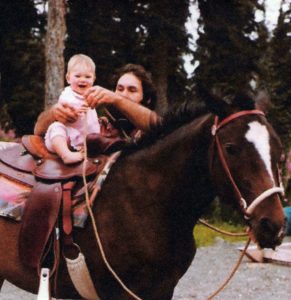 I grew up in Anchor Point, AK. My dad brought Bayleen home from the Head of the Bay when I was 6 months old. This photo captures both Bayleen's and my first ride and the birth of my love for horses.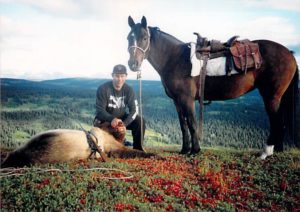 Bayleen and my father were quite the hunting team for many years. She never faltered in a challenging situation and helped bring home moose, caribou and bear meat.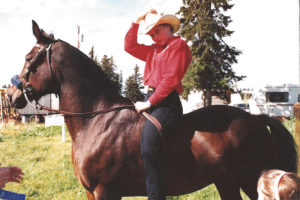 As I grew, I  enrolled in 4-H and Bayleen became a show horse. This is our first 4-H show together. I fell off right after this photo was taken, in the bareback equitation class.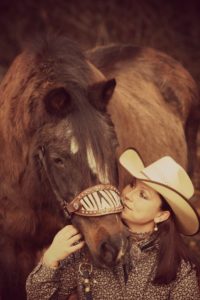 Years later, Bayleen joined me in Washington, gave birth at 27 to her only offspring, Lilly, and became the mascot for my training program. She spent her days wandering free on the property. One day during a cover photo shoot, she strolled over and ended up on the cover of the Northwest Horse Source.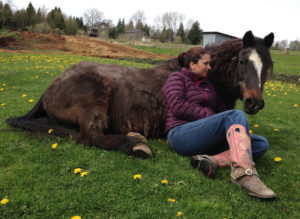 I couldn't venture a guess at the number of hours in my life I spent just like this. The last few years, during a very tough transitional period in my life, I found myself spending even more time with Bayleen. She gave me comfort.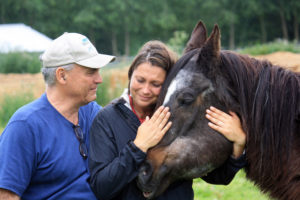 In December of 2012 Bayleen stepped into the path of my truck as I pulled in the driveway, and I knew something was wrong. I found a tumor on her jaw, and it began to grow rapidly. For 7 months we cared for her and she remained active and comfortable. I spent as much time as I could with her and her miniature horse companion, Kiki. In June, I knew that the time had come. I called my dad, and he came to be with us for her final days.
I still listen for Bayleen's nicker when I walk out of my door. In the end, I believe she waited until she knew I would be fine without her. I had met my husband and she was able to meet him and my new son before she passed away. There isn't a day that goes by that I don't think of wrapping my arms around her neck and burying my face in her mane.
Published December 2013 Issue
Allison Trimble has a Bachelor of Science in Animal Science from Cal Poly, SLO. After her graduation in 1999, Allison started Coastal Equine and has been training and competing in cowhorse, reining and cutting events. She has had marked success in the show pen boasting many titles and championships.
Willfully Guided is an educational program based on Allison's training process. For more information visit: www.willfullyguided.com
Allison is also a Realtor specializing in horse properties, hobby and commercial farms, and family housing. She combines her experience in the horse industry with her lifelong involvement in real estate to help clients find their perfect property. Learn more at www.coastalrealtywa.com