Tips for a Greener Barn and Farm
by Dustin Gruetter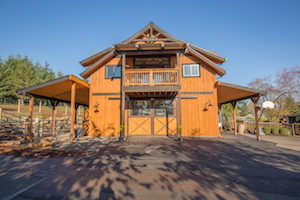 When it comes to your land and animals, perhaps you've wondered if there are things you can do to lighten your environmental footprint. With waste-management solutions, natural lighting and ventilation, and a host of energy-efficient upgrades on the market, there's no shortage of opportunities to go green. Here are some eco-friendly considerations for both your farm and your barn.
Waste Matters
If you take care of horses, cattle, or other farm animals, then you know better than most the sheer volume of waste they're capable of generating. It's a constant battle, those manure piles—if you don't stay on top of them, you'll have quite a smelly and fly-riddled mess on your hands. Composting is by far the most efficient and sustainable option for dealing with all that animal dung.
If you're unfamiliar with the concept, composting is a man-made process that exemplifies the natural cycle of decomposition and fertilization. First, plants are grown in nutrient-dense soils. Then, nutrients from that plant are returned to the earth, whether through natural decomposition or manure. Finally, this reintroduction of nutrients replenishes soil health, which in turn supports the growth of the following season's crops.
There are a number of ways to facilitate this process on your own property—and when it comes to choosing the process that's right for you, there's really no wrong answer. Compost methods range from aerated pile churning to sophisticated vermiculture setups. The only thing holding you back is the kind of system your space will allow.
Apartment composters, for instance, are likely stuck with small indoor bins that hold little food waste. On the other hand, homes with small yards can usually support larger, outdoor bins. When it comes to farm composting, though, the sky's the limit! That said, aerated static pile composting is by far the most common waste management solution for small farms.
Smart Barn Design
"Were you born in a barn?" It's a common quip directed at someone with poor manners or rude conduct, but what does that say about our four-legged equine friends who actually were born in barns? Some people think of barns as a facility for their animal farming operation, while others get closer to the point. At the end of the day, your barn is a home for your animals. Wouldn't you like to provide them with a pleasant place to live?
The benefits of a sustainable barn design are two-fold. For starters, a few simple considerations will go a long way in regard to quality of life for your animals. But outside of that, it will reduce the amount of resources needed to keep your barn humming along. Chief among your sustainable barn concerns should be natural lighting and ventilation.
Some caves are cool to explore, but there's a reason humans stopped living in them all those years ago. It's because we have a natural aversion to darkness and stagnant air. Animals that live in barns are for the most part pastoral, so it would be silly to assume they want to live in cave-like conditions. Designing your barn with natural airflow while optimizing sunlight will keep costs down while keeping your barn tenants happy.
Eco-Friendly Tech
There are lots of natural processes you can enact that will keep your farm trending green—many of which you can set up on your own. Of course, it would be irresponsible to discuss options for environmentally-conscious design without also mentioning the array of sustainable technology on the market today.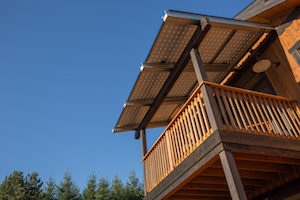 Alternative energies like wind and solar are increasingly popular options for farm owners. The addition of a windmill or a couple of solar panels can go a long way toward offsetting your property's energy use, which means a lighter footprint and a lower energy bill.
Due to increasing demand, renewable energy solutions are now more accessible than ever before. Then again, that doesn't stop people from recoiling at the price tag for such an installation. When it comes to making the switch from traditional energy sources to alternative ones, it's important to look at the big picture. Savings over the long term will easily outweigh the upfront costs. Of course, money isn't the only thing you'll be saving.
dcstructures.com
dcbuilding.com
Originally Published March 2018 Issue
An Oregon native, Dustin Gruetter is a serial entrepreneur with a diverse portfolio of businesses to run. His two largest roles are as president of both DC Builders, an elite design and construction firm, and DC Structures, a construction materials company. With more than a decade of leadership and management experience, Dustin lends his expertise to Eris Creative as the head of business development. Dustin lives in Portland with his wife Ilanah, son Maxton, daughter Violet, and dogs Piper and Marley.