By Alayne Blickle, Horses for Clean Water
Here is a fall checklist of horse pasture chores to go through this month in order to better prepare the land for the coming winter months—and have them ready for a productive growing season next spring.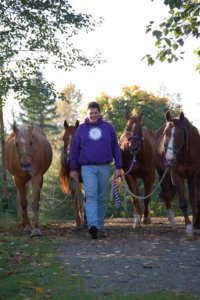 Bring your horses in off your pastures. If you're lucky enough to have pasture now is the time to baby it. Pastures grazed too closely in the autumn are subject to winter damage will be slow to regrow in the spring. It's best if you allow the grass plants to produce a good amount of leaf growth for winter protection–at least four inches. During the winter months saturated soils are easily compacted. Pasture plants simply cannot survive trampling and continuous grazing so keep horses off winter pastures.
Create a winter paddocks or sacrifice area. A good option for managing your horses during winter is to create an outdoor confinement area, often called a sacrifice area. Confine your horses to this area during the winter when soils are soggy and plants are dormant. You can also use it during summer to help avoid overgrazing. This area should be on higher ground and away from creeks, wetlands, ponds, or other water bodies. Use of this area confines wastes to an area where you can easily manage it and it's surrounded by a grassy buffer or pasture that acts as a filter for runoff. Use footing such as hogfuel (wood chips) or crushed rock in a sacrifice area to help cut down on mud problems.
Spread compost. Early fall is a great time to spread compost on pastures. Compost is a rich soil enhancement. It adds micro and macronutrients and replenishes natural microbes, all of which improve the health of soil and plants. Spread compost in pastures during the growing season no more than a ½ inch thick and no more than three to four inches per season in the same place.
Consider liming your pastures. Have a soil test done for your pastures. If it indicates your pastures need liming then fall is an excellent time to do this. Fall applications allow the lime to neutralize soil acidity as it reacts with soil over the winter. Changing the pH allows the grass plants to be more competitive next growing season.
Need more help with any of this? Horses for Clean Water has Tip Sheets for sale for a small fee on the website, www.horsesforcleanwater.com. Or you can contact your local conservation district. CDs are non-regulatory, non-enforcement agencies that provide free education and technical assistance. You can locate your local CD with an internet search using your county's name and the words "conservation district."
This fall join Horses for Clean Water throughout the Pacific Northwest to put green horse keeping on the ground:
GRANTS PASS, OR
Saturday, October 15
Details TBD. Contact: Randi Omley-Tatum, 541-474-6840 or joswcd@outreachinternet.com
BLACK DIAMOND, WA
Thursdays, October 13, 20, 27 and November 10, 6:30 pm to 9pm
Black Diamond Library
Workshops for Horse & Small Farm Owners Hands-on workshops on livestock management practices. See a variety of options & work with technicians to discover ways you can have less mud, better pastures, manage manure and care for streams & wetlands. Black Diamond Library. FREE! Includes light refreshments.
TOPICS:
Streams and Wetlands: Living with Livestock near Water. October 13
Mud Management: Record Rainfall/Record Mud. October 20 with Alayne Blickle as a presenter
Manure Management: Got Livestock? Got Manure! October 27 with Alayne Blickle as a presenter
Pasture Management: Becoming a Grass Farmer. November 10 with King County noxious weed specialist to talk about weed ID & control
Register and receive directions for all King Conservation District educational events at 425-282-1949 or signup@kingcd.org.
REDMOND, WA
Saturday, October 22, 10 am to noon
FARM TOUR: Fall in Place for Winter! Tour a chore-efficient horse farm that's doing its best to prepare for all that winter can dish out: rain, wind, cold, snow, ice and looooong nights. See pasture grazing lanes (used for summer grazing,) winter sacrifice pastures, an arena that doubles as a sacrifice area, a horse "litter box or urinal area, brooding lamps used for drying wet horses, a small-scale manure spreader and compost bins. This Redmond small acreage horse property is doing its best to ensure that it's a healthy place for horses, people and wildlife. Register and receive directions for all King Conservation District educational events at 425-282-1949 or signup@kingcd.org.
NORTH SKAGIT COUNTY, WA
Monday, October 24, 6:00 pm – 8:30 pm
PRESENTATION: If you have livestock, then you have mud, right? Wrong! There are great ways to manage mud on your farm. In this class we will discuss what causes mud and how it affects livestock health. Alayne Blickle will cover key steps you can take that will reduce and even prevent mud on your property. Learn about French drains, footing options, geotextile fabrics & other great ideas for setting up and managing livestock properties for chore-efficiency and animal health. Pre-registration deadline: Oct. 19. Contact Kristi at Skagit Conservation District, 428-4313 or email: Kristi@skagitcd.org.
SPOKANE, WA
Saturday, November 5
More details TBD Contact Pat Munts with the Spokane Conservation District at 509-535-7274 ext 31 or pat-munts@sccd.org.
GARDEN CITY, ID
Saturday, January 21, 2-3:30pm
PRESENTATION: Join Alayne Blickle at the Boise WaterShed for a presentation on Composting and Manure Management Options for Horse & Livestock Owners. There are many useful alternatives to stockpiling stall waste. In this presentation learn about options that will make your place healthier for horses and livestock, reduce insect populations, help your property more productive during the growing season, AND make it chore-efficient this winter! For more info Alayne@horsesforcleanwater.com
Published October 2011 Issue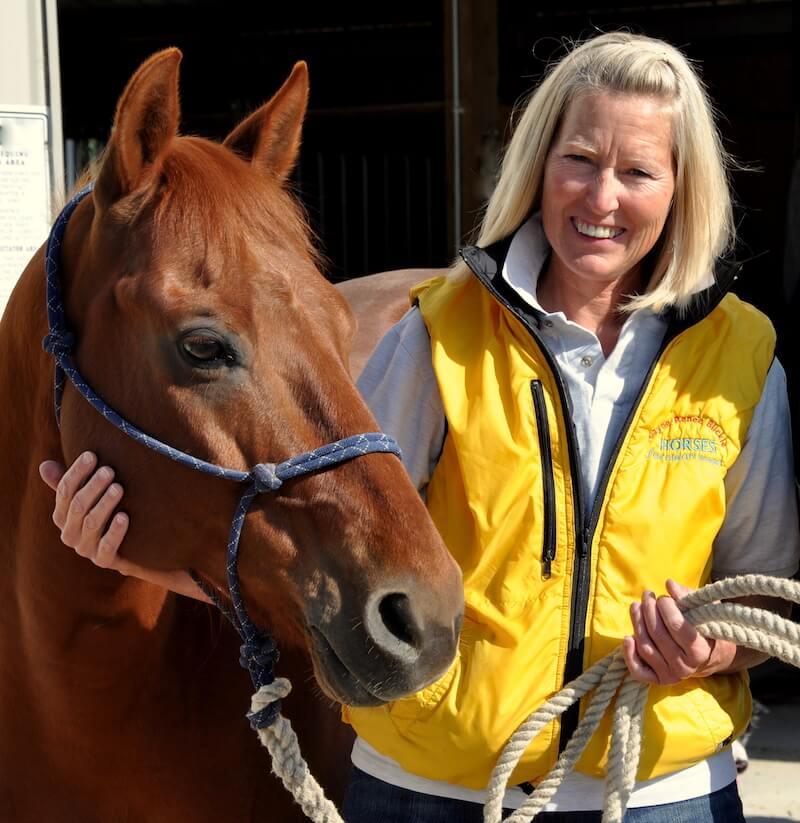 Alayne Blickle, a life-long equestrian and educator, is the creator/director of Horses for Clean Water, an award-winning, nationally acclaimed environmental education program that "wrote the book" on caring for horses and land. Known for her enthusiastic, fun and down-to-earth approach, she is an educator and photojournalist who has worked with horses and livestock owners for over 20 years. Alayne teaches and travels throughout North America and abroad, and also runs Sweet Pepper Ranch, an eco-sensitive guest ranch and horse motel in Southwestern Idaho where she and her husband raise top-notch reining horses and beautiful grass hay. For more information contact Alayne at alayne@horsesforcleanwater.com or 206-909-0225.