You may find it hard to believe, but a top chef may have the best system for you to adopt to bring order and efficiency into your work day. The system the best chefs in the world use for productivity has nothing to do with cooking. The system leverages the concept of doing specific work first before you go to work. Put in simple terms, you can't work efficiently without setting yourself up for success first.
Mise en place (pronunciation: ​[mi zɑ̃ ˈplas]) is a French culinary phrase which means "putting in place", as in setting up. Professional chefs and kitchen staff refer to organizing and arranging the ingredients: relishes, sauces, chopped vegetables, pre cooked items, spices, garnishes, etc., as well as tools, a cook will require during a shift as mise en place.
In a recent conversation with a bar back (the support person for a busy bartender) about mis en place, he told me of how his employer practiced the system and how he sets up each bartender before the shift with ingredients and beverages placed exactly where the particular bartender likes it. It makes a busy night at the bar easier for all of the staff.
Mise-en-place is more than the list of what goes where, it's a mindset. A schooled follower of mise-en-place in the kitchen places items so a hand moves only inches for the next item and can operate blindfolded knowing exactly where the pepper and whisk are placed.
A botched table order by the kitchen staff puts the entire kitchen behind with the re-do and slows delivery of food for every other table in the restaurant. This reduces table turnover which reduces potential income, frustrates customers, reduces tips and dips into the profit of the owner. A successful restaurant business is highly dependent upon quality of food and timeliness of delivery. There are no time outs.
Okay, you're not a chef, you're a riding instructor. How does mise en place help your business? Your work day is limited like the restaurant chef's. It's a time based revenue system based on the number of lessons given. When you get behind due to lack of preparation and inefficient systems, lessons run behind, students are unhappy, other business tasks don't get done and tension and frustration build for you and your staff. And like the chef, you have no time-outs.Here are a few suggestion of what a mise-en place philosophy might look like for your lesson and horse business where you are prepared and ready for work each day.
In the morning at home:
Charged cell phone to make it through the day without sudden battery death
Riding boots, work boots, muck boots in the same place every day
Barn jackets, coats, gloves and hat in the same closet for easy selection and quick exit
Vehicle keys on the same hook or in a dish to place in your pocket as you leave for work
At the barn:
A posted lesson schedule for the day to refresh your memory for students and horses
Designated places for bridles, pads, saddles, girths, lead lines, bits, etc. for lesson horses
A stocked tack cleaning station with sponges, soaps, oils, towels
Wall clocks in the tack room, indoor arena and barn
Tools on hooks on wall in one area: brooms, pitchforks, shovels
Wheelbarrows, muck buckets in designated areas, empty at the start of the day
A stocked first aid kit for both horses and humans
A fueled, operational tractor ready for manure removal, arena grooming, mowing etc.
At your desk:
At arm's length reach: stapler, paper clips, tape, new file folders, files you're working on, box for receipts and invoices to be posted.
A comfortable chair in good repair to be seated in
A printer and scanner at arm's length or close proximity
File cabinets with drawers, less than ¾ full
In your vehicle:
A fuel reading at ¼ tank or above
Sunglasses
Reading glasses
Phone charger
Bottled water
A dashboard that is paper clutter free
No doubt you have more items to include in your own tailored mise-en-place strategy. The above will help you get started. Your goal is to develop an automatic routine to be ready to go to work before work actually starts for the day and choreograph the physical steps you take daily into a work dance. The more you eliminate wasted steps brought about by: Can't find, I forgot, Nobody told me, the closer you will get to a fluent, enjoyable and profitable work day.
Douglas Emerson Profitable Horseman | 7444 Chestnut Ridge | Lockport | NY | 14094
Join Profitable Horseman Mailing List
Find Profitable Horseman on Facebook
Find Profitable Horseman on Twitter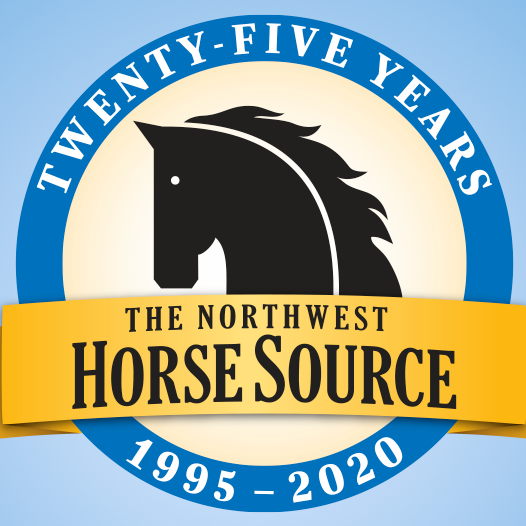 The Northwest Horse Source is an independently owned and operated print and online magazine for horse owners and enthusiasts of all breeds and disciplines in the Pacific Northwest. Our contemporary editorial columns are predominantly written by experts in the region, covering the care, training, keeping and enjoyment of horses, with an eye to the specific concerns in our region.