Shooters from Across the NW Receive Top Honors at World Championships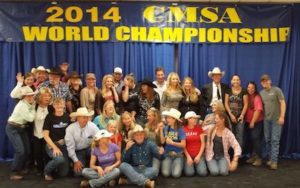 Several shooters from around the Pacific Northwest took Texas by storm! They included members from Western Washington Mounted Shooters, South Sound Mounted Shooters, Columbia Basin Mounted Shooters, Northwest Mounted Shooters, Kittitas County Mounted Shooters, KZ Renegades, and the Applegate Trail Peacemakers.
Competition took place at the Lone Star Classic in Vernon, TX, and then the following week at the world championships in Amarillo, TX. Pacific Northwest shooters took home three world championship buckles, several reserve world championships, boasted several "clean-shooters" (no missed targets) and many other top honors. The World Championships in Amarillo had over 300 shooters from all across the United States, Canada and three foreign countries. Visit www.cowboymountedshooting.com or Google your local shooting club for more information.
2014-15 Upcoming Events:
Dec 12-14: CMSA Applegate Trail Peacemakers, Albany, OR
Jan 20-Feb 1: CMSA Applegate Trail Peacemakers, Albany, OR
www.applegatetrailpeacemakers.com.
Club Website: www.WesternWashingtonMountedShooters.com
Call or email Karen Plumlee, Secretary, WWMS, 425 985-8321 or missionfarrierschool@hotmail.com
Originally Published December 2014 Issue
WWMS members vary from kids to adults, and from the recreational shooter to the serious National and World competitor, so there's a spot for everyone. We are a friendly group, and enjoy introducing the sport to others. Please feel free to contact us at any time, and come join the addiction that is Cowboy Mounted Shooting!!! www.WesternWashingtonMountedShooters.com