by Laura Schonberg
Working full-time as an administrative assistant for the Columbia County Commissioners, Kate Peters and her family forego traditional vacations or nights out to in order to spend time outdoors with their herd. Kate started riding as an adult and horsing brought grace and peace into her life—a life that would have otherwise been empty and broken.
Why I horse:
Horses literally saved my life. Dad was my motivation for horsing at first; he grew up cowboying, having left home after The Great Depression when he was 13 to live in a covered wagon and work on a cattle ranch. He rode bareback broncs in rodeos and later rode at home with my older siblings.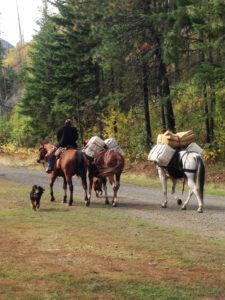 As an adult Dad was an entertainer—he played lead guitar for Johnny Cash, Bobby Darin, and Gene Vincent. As a kid, I would fall asleep with my door open listening to my dad a he sat on his bed playing his acoustic guitar. There was a recording studio and a Dry Gulch Western film set on our ranch that people would come visit like a theme park. Really, it was the horses that meant everything to him.
But by the time I was 9, we moved away from our farm because he was very ill. I spent a lot of my growing up in hospitals—he had a heart attack a year.
I would ride a 50-gallon drum and pretend it was my horse, thinking of my dad and living out my cowgirl dream. "Horsing" with my dad was listening to stories. I never actually rode with him. My family eventually moved to a new place with the plan of getting horses, but my dad died two months later.
Soon after, my mom insisted on throwing a party. Some people pulled in with a horse trailer. I looked over at my mom, and she introduced the lady. Turns out my mom bought me a horse to honor the dream my dad and I had. I believed it would never happen because of his death.
Mom bought Fancy because she liked how she looked. Who gives somebody with no horse experience a 2-year-old horse that isn't broke? As it turned out, Fancy was my saving grace.
I was very private in grieving for my dad; I couldn't look at pictures or speak to anyone about him for years. But I could always go out and talk to that horse. I spent more time out there with her than I did in the house.
When you get down to it, you can see everything that is wrong with me in my horse, Fancy. Maybe that's why I keep her.
Now in my family: I can't imagine not having a horse. Horses play a central role in our family. My husband has always loved to hunt, but now he doesn't hunt unless he can take horses along.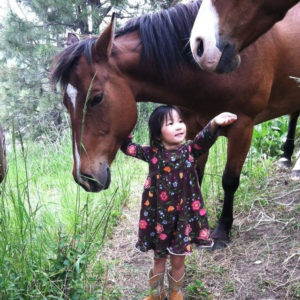 The only reason I said "yes" in sharing parenthood was because having and caring for horses centered my husband in a way that nothing else could. I never thought he'd be a bad parent, but he couldn't focus on a child because of the mental and emotional state he was in. He started out being angry and rough with the horses; we didn't know any better —we knew nothing about horsemanship. I used to worry that he would explode, so raising a child would not have been good for him.
After finding trainers who put the relationship with the horse first, my husband became more gentle and gained control over himself. My whole life got better. Now our daughter is everything to him. And I thank the horses for that.
Advice for myself: Learn to relax. I live with a lot of negativity, and I made many mistakes with Fancy. When my new horse gets bothered, I try not to get disappointed in myself or be critical. He knows how to be a horse… I need to support him in a way that's positive and lets me make mistakes.
Advice for others: Be particular about who you ride with in order to build trust in yourself and in your horse. Know that the other rider will be there for you if you need to stop. They should offer positivity, encouragement, and have your back. To build your confidence you need to know that folks won't leave you behind on your own. It makes all the difference in the world.
This article sponsored by:
Genetic Testing Kit (55+ Traits) to Identify Equine DNA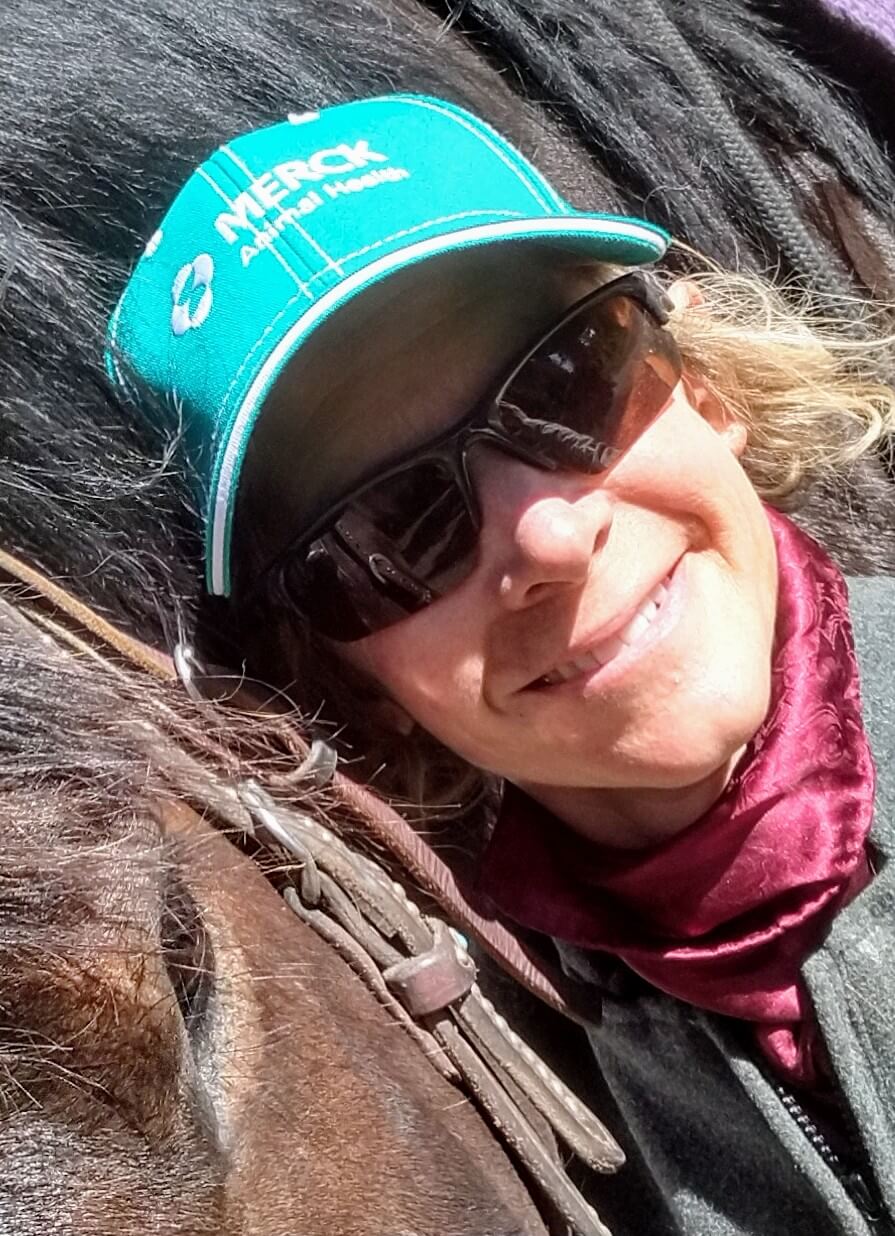 Thankful to call the Pacific Northwest home, Laura Schonberg is an educator in a local school district and is outside at her place when she isn't inside at work.  Summers are spent cow-girling at a friend's ranch, with forrays into the Cascade Mountains as time and weather permit year-round.  Winter finds her at a local barn doing dressage lessons to support her ranch riding, and re-starting horses through the county's equine rescue program.