Make the Right Choices for Safety and Economy
By Dustin Gruetter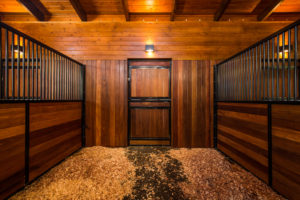 When it's time to start selecting equipment and fixtures for your new horse barn, the dizzying array of options can be a bit overwhelming. For the better part of two decades, DC Structures has been designing and building horse barns and arenas all over the Pacific Northwest, and we've learned some lessons about equipment along the way. Here are some tips for loading up your equestrian facility the right way.
Function Over Fashion
Everyone dreams of equipping their barn like a palace, but when choosing your doors, stalls, and fixtures, your primary concern should be an effective space for people and horses to work and move about safely. Choose oversize doors, and cover all wood edges on your posts, doors, and stalls with metal chew protection—for the safety of your equipment and your horses! Glass fixtures should be protected or avoided entirely.
Choose Metal-Framed Doors and Stalls
Here in the Northwest, our long, wet winters and hot, dry summers take a toll on wood-framed doors, causing them to warp and bend out of alignment. When we used to build pole buildings, wood-framed doors were our most common repair service issue. Now we supply metal-framed barn end doors, Dutch doors, stall fronts and loft doors with all our post-and-beam barn kits. Galvanized steel is preferred, with or without powder coating. These sturdier doors can be ordered from providers like Classic Equine Equipment. They'll also be harder for your horses to chew or damage.
Post-and-Beam Beats Pole Barns
There are plenty of reasons to choose a post-and-beam building over a wood pole barn, but the health and safety of your animals is a big one! Wood pole barns use posts that are pressure treated with chemicals that can be hazardous to your horses' health. They're also more susceptible to mold and rot. Our post-and-beam structures use select grade Douglas fir posts bolted to the foundation with horse-safe knife plates for better-looking, longer-lasting structural support.
Turf Protection
If you're worried about mud problems in your barn or paddock, you might look into a turf protection solution like Eco GreenGrid. This interlocking grid system improves drainage and prevents further erosion, keeping your horses clean and reducing mud tracked into your stables.
Learn more about equestrian equipment and barn design at dcstructures.com.
An Oregon native, Dustin Gruetter is a serial entrepreneur with a diverse portfolio of businesses to run. His two largest roles are as president of both DC Builders, an elite design and construction firm, and DC Structures, a construction materials company. With more than a decade of leadership and management experience, Dustin lends his expertise to Eris Creative as the head of business development. Dustin lives in Portland with his wife Ilanah, son Maxton, daughter Violet, and dogs Piper and Marley.