Life's Demands Change Trainer's Process
by Allison Trimble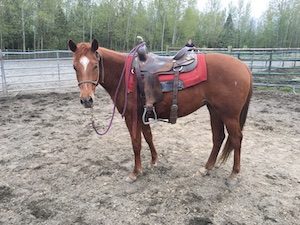 Colt starting is one of my favorite parts of being a horse trainer. Taking a blank slate young horse and building a foundation for partnership is magical. When I was exclusively a horse trainer, I had time to commit to each individual colt's needs. In addition, I was a sprier and more athletic version of myself, ready for the bumps and bruises that come with the territory.
It's been a few years since I've had a string of colts to start. In that time, I've had a baby, developed a thyroid disorder that gives me relentless fatigue, and have a "real job" with our real estate brokerage—not to mention my responsibilities as a wife, mother, and general farm laborer. I've become full of excuses that work against seamless colt starting. I am my own terrible client.
I have two horses to start this year. One is a stud colt and the other is a filly. The colt, Hawk, is a little snorty, but super smart and willing; the filly I probably could've ridden the first day I saddled her.
I spent almost a year trying to make the time to get Hawk going. This spring I finally made some progress and am trying to forgive myself in the process. At my core, I am a purist and hate the idea of shortcutting.
Unfortunately, life isn't as simple for me as it once was. I have to find ways to make do.
In a perfect process, horse and trainer start with ground work, round-penning, saddling, and then riding. The duration of each training session depends on the horse's needs, and we'd work roughly five days a week. The needs of the horse always set the pace of training. My colt would have my full attention, and I would be there to steward him through the process.
In my imperfect world, some days I have endless time, some days I have ten minutes, and some weeks I can't find a single moment to do anything other than chores. My quest for undivided attention is hijacked by screaming children, Nerf guns, and time-sensitive phone calls. I know there are many people with the same struggle, so I thought I would share some of the things I've found helpful in my ramshackle colt starting experience this past year.
Making time. This seems impossible, but with longer days and improving weather, I am able to work Hawk at least four times a week. I make sure he is turned out and then work to get his edge off. It just takes time, and I am forcing myself to make it. I threaten myself with the image of an unbroke 4-year-old stallion, and that helps propel me. Now that he's saddled and making more progress, the preparation time is a bit less, but I work hard to make him a priority.
Sacking out. With horses like Hawk, sacking out was a huge deal. I find that blanketing sensitive horses helps with the sacking out process. I've noticed that colts who were blanketed as yearlings and two-year-olds tend to not need much in the way of additional sacking out.
Driving. I was standing in the middle of the round-pen this week (the first day I drove Hawk) thinking, five years ago I would have just gotten on him. At the moment he was at a dead run, kicking at the drive lines and bucking.
Driving in a round-pen is where you run lines through the stirrups and attach to the snaffle, or in my case, a rope halter. With a line in each hand, the horse can be taught to travel at all gaits while the handler stands in the middle of the pen.
It is a pretty slick process, and for a reactive colt like Hawk, it is a safe and effective way to teach him to give, put him under pressure safely, and get some of those big reactions out that I'm not confident I could ride anymore. I'm able to safely gauge from the ground when it's safe for me to swing a leg over him. He learns work ethic and pecking order and I limit my risk in the process.
Expectations. With the inconsistency in my work, I'm keeping realistic expectations for him. I am not going to set unattainable goals for either of us. One of the greatest things about the horse is that they have an enormous capacity for forgiveness. In my journey as a horseman I've worked hard to perfect my craft, and struggled to come to terms with my life changes. This spring, I am choosing to take a lesson from the horse and practice a little forgiveness for my current imperfect process.
Originally Published June 2017 Issue
Allison Trimble has a Bachelor of Science in Animal Science from Cal Poly, SLO. After her graduation in 1999, Allison started Coastal Equine and has been training and competing in cowhorse, reining and cutting events. She has had marked success in the show pen boasting many titles and championships.
Willfully Guided is an educational program based on Allison's training process. For more information visit: www.willfullyguided.com
Allison is also a Realtor specializing in horse properties, hobby and commercial farms, and family housing. She combines her experience in the horse industry with her lifelong involvement in real estate to help clients find their perfect property. Learn more at www.coastalrealtywa.com