Bring Your Reining Kids and Have a Blast in Wenatchee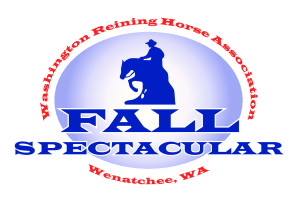 Washington Reining Horse Association members return to the show pen at the Fall Spectacular and Futurity October 4-6, 2013 at the Appleatchee Riding Club in Wenatchee.  Timberland Homes (Dave McKim) and Maria Danieli are the co-sponsors of the Fall Spectacular and Futurity.  A full slate of NRHA classes will be offered, as well as club classes not requiring an NRHA membership.  New for WRHA will be a Small Fry Reiner class open to those age 11 and under, running NRHA pattern 12.  This will also be a club class and does not require an NRHA membership. Feature classes for the show will be NRHA futurity classes open to 3-year-old horses. These are exciting classes to watch. For many it is their first time in the show pen and they may be headed to the "super bowl" of reining, the NRHA Futurity in Oklahoma City in November. The Futurity classes will be held Saturday night October 5th.
Next up for WRHA members is the NRHA Regional Affiliate Finals hosted by the West Coast Reining Horse Association at the Murieta Equestrian Center near Sacramento October 9-13, 2013.  WRHA members competing in the regional affiliate finals must qualify by placing in the top 10 in their respective classes at the end of the qualifying period (which ended July 31, 2013).   Good luck to WRHA competitors at the Fall Spectacular and Futurity, and those going on to the NRHA Regional Affiliate Finals.  More information on Washington Reining Horse Association can be found on our website at wrha.net, or on our Facebook page.
Published October 2013 Issue
Washington Reining Horse Association's objective is to promote and encourage the showing of reining horses; and to develop and dissemble informational material deemed desirable to provide contestants and spectators a better understanding of a proper performance of the reining horse in the show arena. Our club has members from under ten years of age to over seventy years old and classes are offered from beginner riders to national level open riders. Learn more at www.wrha.net