The United States Patent and Trademark Office has issued a patent to ThinLine Global Inc. for the state-of-the-art Flexible Filly Grazing Muzzle.
The patent confirms this grazing muzzle offers features unlike any other on the market. These characteristics encourage horses to behave naturally while giving owners the peace of mind that their horse is happy and healthy.
Studies have shown that horses with metabolic issues can benefit from using a muzzle to decrease the amount of sugary grass consumed. The Flexible Filly Grazing Muzzle is softer, safer, and smarter than traditional cage/bucket-like situations of the past. It comes with two grazing hole sizes that can easily be enlarged with scissors, allowing options to fit your horse's exact needs.
For optimal grass intake management, ThinLine suggests using the restricted size during spring and utilizing the 3.5+cm hole size in the summer due to the increased grass thickness and length. The muzzles are breathable, flexible, and offer UV protection; they work well with automatic waterers, won't rub, are lightweight, and allow horses to engage in natural behaviors. Horses can still groom each other while wearing this muzzle, scratch themselves, and behave the way nature intended, like horses! Always, contact your veterinarian about your horse's specific needs before changing your horse's routine. 
Visit www.thinlineglobal.com to learn more.
See this article in the May/June 2023 online edition:
May/June 2023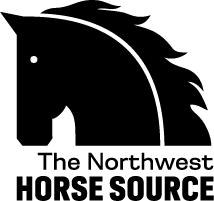 The Northwest Horse Source is an independently owned and operated print and online magazine for horse owners and enthusiasts of all breeds and disciplines in the Pacific Northwest. Our contemporary editorial columns are predominantly written by experts in the region, covering the care, training, keeping and enjoyment of horses, with an eye to the specific concerns in our region.