Keeping gear charged on the go is not always easy, but now you can steal power from one gadget to give a GPS unit, watch, smartphone, etc. a battery boost.
The Infinity X1 new Highland Hybrid Power flashlight series has a removable, rechargeable battery core with a USB port. In a pinch you can take it out of the flashlight and use it as a power bank. It also comes with a second core that runs on AA batteries so you can still use the flashlight to search for items in the depths of a barn or the back of a horse trailer.
Created from durable aircraft aluminum, the Infinity X1 Highland Hybrid Power flashlight series features high lumen counts, three lighting modes, dual power options, water resistance, and one-meter drop protection. The flashlights are available in four different lumen strengths and have a USB-A port to serve as backup power for other devices. infinityx1.com
NWHS Publisher's Review
I found this flashlight super useful. Here's what I love about it: there are two power sources. You can use regular batteries or the rechargeable battery core. In a pinch I've used the battery pack to charge my phone. It's super tough too—no need to worry about breaking it, and it's small enough to easily handle and big enough to shed bright light. I consider this an essential tool for everyone.
See this article in the January/February 2023 online edition:
January/February 2023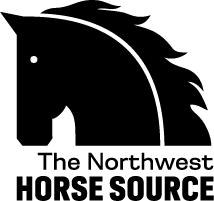 The Northwest Horse Source is an independently owned and operated print and online magazine for horse owners and enthusiasts of all breeds and disciplines in the Pacific Northwest. Our contemporary editorial columns are predominantly written by experts in the region, covering the care, training, keeping and enjoyment of horses, with an eye to the specific concerns in our region.