The Mustang Heritage Foundation will partner with the Extreme Cowboy Association (EXCA) again for their 2023 World Championships. The EXCA World Championships will be held November 1-5, 2023, in Glen Rose, TX.
As part of the World Championship, Mustang Heritage Foundation and EXCA will produce the New Partner Race, a separate event held during the World Championship open to any mustang adopted or purchased between November 1, 2022, and October 1, 2023. Horses competing in the Extreme Mustang Race are eligible for approximately $10,000 in cash and prizes awarded to the Top 10 competitors.
The New Partner Race will be based on the Extreme Cowboy Race format and utilize a similar level of difficulty as the non-pro division. Each competitor will have one chance to prove themselves on the course in the preliminary round before the top 3 are selected for a final round.
Horses in the New Partner Race must be shown by the named adopter on the horse's Bureau of Land Management paperwork except in the case of horses adopted through the Extreme Mustang Makeover or Mustang Magic programs within the eligibility timeframe.
For more information about the Mustang Heritage Foundation visit mustangheritagefoundation.org.
Learn more about the Extreme Cowboy Association at extremecowboyassociation.com.
See this article in the May/June 2023 online edition:
May/June 2023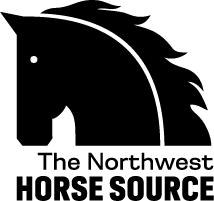 The Northwest Horse Source is an independently owned and operated print and online magazine for horse owners and enthusiasts of all breeds and disciplines in the Pacific Northwest. Our contemporary editorial columns are predominantly written by experts in the region, covering the care, training, keeping and enjoyment of horses, with an eye to the specific concerns in our region.