The Northwest Therapeutic Riding Center will hold a ribbon cutting to unveil arena improvements made possible by the generous donation from Safeway.
The ribbon cutting will be held on Tuesday, May 5 at 6 p.m. at 1884 Kelly Road, Bellingham, WA.
"Safeway and its employees have a solid record of giving back to the communities where they operate.  We are honored they celebrated the opening of their new Bellingham store by investing in our deserving riders and hardworking horses," said Audra Rosen, former NWTRC Board President.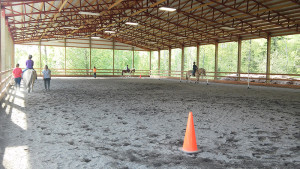 The timing of the donation could not have be better as the arena at the riding center needed new footing.  The footing, or surface of the arena, can be costly but is necessary to minimize concussion on horse legs and provide solid traction for the overall safety and well being of horses and riders.

"Northwest Therapeutic Riding Center is thrilled to receive the support from Safeway.  The footing allows us to provide the best surface, keeping our volunteers and instructors comfortable and our wonderful therapeutic horses sound, happy and healthy," says Julia Bozzo, founder and Executive Director of the riding center.

Northwest Therapeutic Riding Center is a non-profit that has operated in Whatcom County for 22 years.  The NWTRC currently has the capacity to serve over 60 riders per week.  Riders include people of all ages with autism, Down syndrome, Multiple Sclerosis, brain injuries, and learning/behavior disabilities.

Visit www.nwtrc.org to learn more about how NWTRC gives a Leg Up to people of all abilities.

Julia Bozzo, Executive Director

360-966-2124

<!-comments-button-->