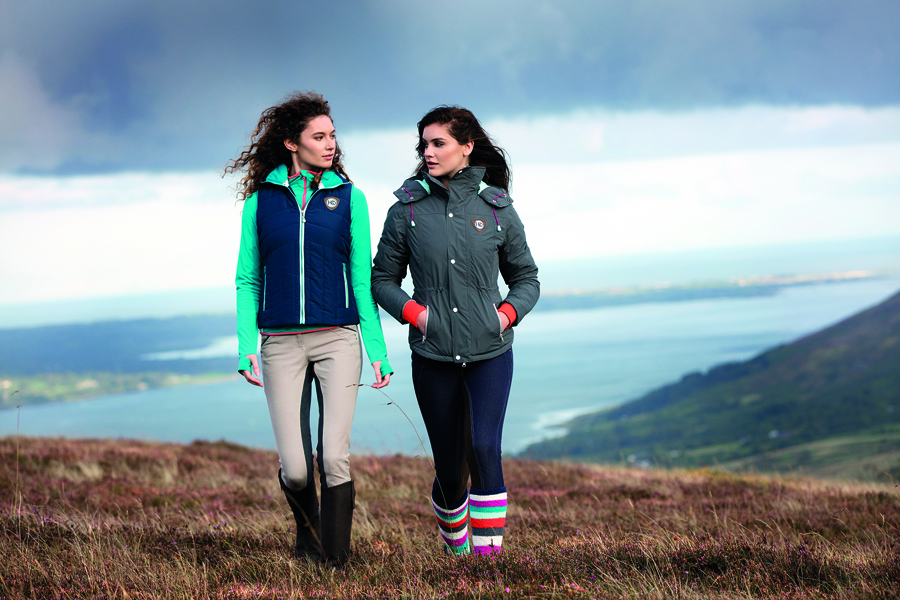 Cooler nights and shorter days only mean one thing, autumn is settling in, and winter will be here before we know it! As our summer fun wardrobe gets tucked away, it's time to get ready for autumn and winter with longer sleeves, fun vests and waterproof jackets. At Horseware, we design our equestrian collections to be functional, stylish and practical, making sure every equestrian has the very best wardrobe, no matter what the weather or season may bring!
One of our favorite and most loved collections, our Horseware Ladies Collection, brings fun pieces to layer up with this season. New is our Eve Padded Jacket & Vest, which offers style, a flattering fit, and is also showerproof for the unpredictable autumn weather. Perfect for layering up over our bestselling Keela Base Layer, which is not only stylish and fun, but is made from a soft antibacterial wicking fabric, making it your go-to base layer shirt this season.
For an extra cozy factor when the weather takes a turn for the worse, a must for every equestrian's wardrobe, is our Brianna Jacket. It's both waterproof and breathable, with fully taped seams, and is super light, making it the most practical and comfortable jacket while up in the saddle this season.
Add some more color to your breeches collection this autumn with our fun and practical Ladies Denim Breeches. Perfect for schooling, with new colors added to this season's collections to include a fun pink and teal breech.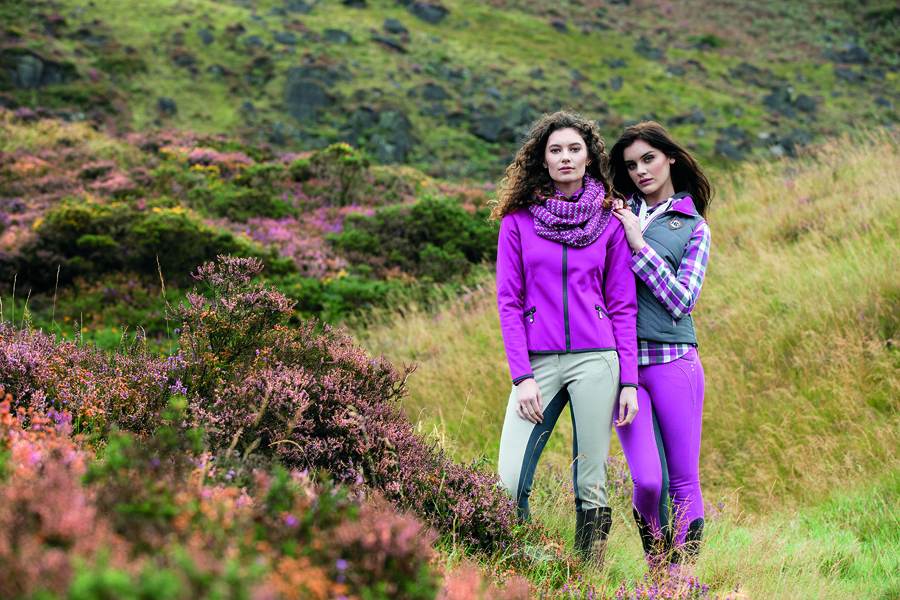 For when the temperatures dip down, add our softie fleece, bobble hat and scarf and our softie socks to complete your look this season! The Horseware Ladies Collection is designed to coordinate together, so mix and match all your favorite pieces together! The practical price points make it a favorite for all equestrians, especially if you have just had to plunge on getting your favorite four legged friend their winter wardrobe staples!
We have completely re – vamped our Horseware Polo Ladies collection for this season to give you our best autumn winter collection yet. Pulling from beautiful blue, grey and brown hues, this collection's preppy feel is fresh, stylish and functional, for even the most discerning equestrian.
Some of our favorites this season include the Maya Padded Jacket and Vest, with a gorgeous and cozy oversized padded collar, leather contrasting trims and a flattering padded design. It's water repellent and has a hidden hood for the changing weather. Layer the vest for the autumn with our favorite base layer, the Elena Sleeve Technical Top, which has both wicking and antibacterial properties. For a little extra warmth and style while in the saddle, add the Mariette knitted sweater, the varsity design on the sweater is one of our favorite looks this season!
Another new piece, perfect for the cooler days, is our super cozy Elina Parka Jacket. Its length helps to give you that little extra bit of warmth, and its soft fleece lining keeps the chill off your back. Pair with our knitted hat and scarf, Elena tech top and our Nina breeches for a preppy cool look this autumn.
Our Nina breeches have proven to be one of our most loved pieces, so this winter, keep cozy with our winter version of the Nina Breeches, which have a soft fleece lining, in addition to still being super stylish for everyday schooling.  Coordinate your entire polo look with our oversized blanket scarf, knitted hat, ear muffs and warm socks to keep extra cozy this season!
AA Platinum is an Italian designed collection crafted in the most fabulous of fabrics, all you have to do is touch it to feel the luxurious quality! The pieces are fashion forward and have been inspired by the very best in Italian design. These elegant high quality pieces have been designed and created for the fashion conscious and stylish equestrian.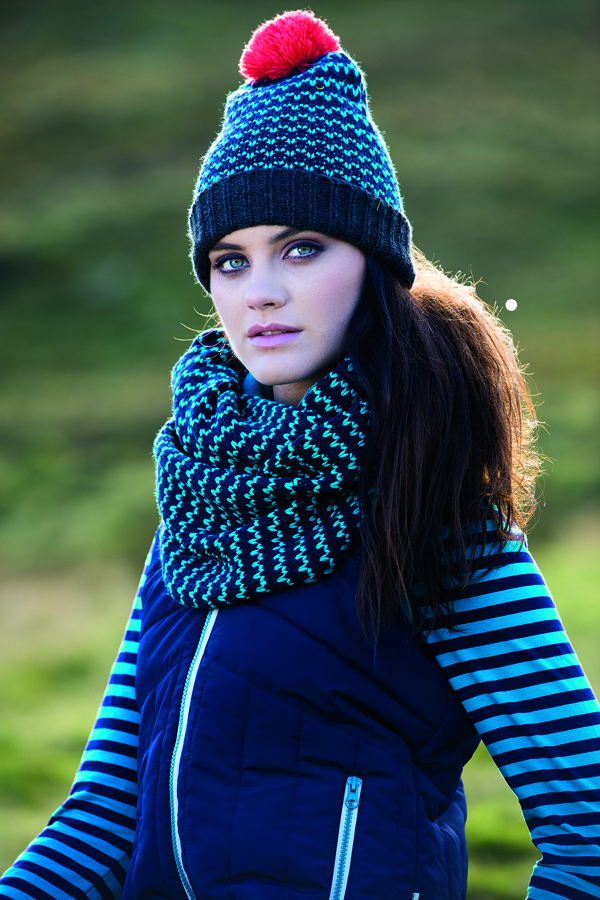 One of the most luxurious pieces from the collection is the Padua Down Long Padded Coat; an elegant, full length, coat that offers maximum comfort with a water and wind resistant fabric for a sleek look. With a gathered waist, for an elegant silhouette, two way zip, and back slits for freedom of movement while riding. Featuring a removable hood with faux luxurious fur!
This jacket beautifully pairs with our Bologna Lady Sweater which is soft to the touch with a comfortable fit. The sweater features a mock neck for that extra bit of warmth against the elements. But if that isn't enough to keep you warm, you can also pair with our AA Wool Scarf & Pom Pom Hat!
For those not quite so cold days there's our Messina Down Jacket which is water repellent and breathable with a 70/30 duck down fill. To compliment this jacket there is our Novara Lady Poloneck, which is the ultimate base layer for the season!
Checkout any number of our fantastic Horseware retailers, where you can get your hands on these Autumn Winter equestrian wardrobe staples by visiting www.horseware.com and using the 'Where to Buy' tool. The full collections are also available online to check out and learn more about Horseware's fantastic clothing ranges. Be sure to follow us on Facebook, Instagram, Snap Chat, Twitter and Pinterest for all the latest news for all things Horseware this season.
About Horseware
Horseware was founded in 1985 in Dundalk, Ireland, by Tom and Carol MacGuinness. After months of research and hand stitching the prototype of the now iconic Rambo Original was born, setting the standard for modern rug design. Today, Horseware is the global leader in equestrian products, with a growing range of innovative, practical and design-led products for horses, riders and pets.
All of Horseware's products are designed and developed in Dundalk, Ireland. Their Rambo turnouts are still manufactured in Dundalk where they employ 125 people. 250 people are employed Horseware's two factories in China, 80 in Cambodia and 36 in the USA.
Horseware believes that 'because we create, we innovate' and through innovation aim to make a tangible difference to the lives of you, your horses, and your pets.
Find out more at horseware.com, email Caroline Boese at caroline.boese@horseware.com, or phone 252-208-0080.