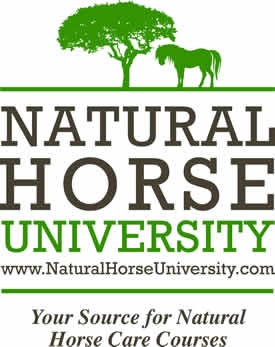 Here at Natural Horse Magazine we strive to provide only the most accurate, up-to-date, and holistic information possible. We focus on humane and natural care and training that aligns with a horse's true nature thereby improving the relationship between human and animal and bringing greater well-being to the horse and his world.
We are proud to have served the equestrian community for the past 18 years. Now, join us as we launch Natural Horse University, a collection of self-paced online courses, each of which incorporates a variety of teaching avenues including video, articles, photos, audio interviews, and video-based PowerPoint presentations in numerous modules. Quizzes are taken after each module with a final exam at the end of the course. Students will be issued a certificate upon successful completion of all coursework.
The first course being offered is Introduction to Natural Horse Care, which covers the basics of a natural approach to horse care including:
Why Consider a Natural Approach
Creating a Natural Environment
Nutrition & Feeding
Equine Dentistry
Introduction to Natural Healing Modalities
Applied Natural Horse Care
Natural Hoof Care
Natural Horsemanship
Natural Horse University is offering an introductory rate of $125 (normally $225) to the first 25 students to sign up.
In-depth courses on each of the above subjects will be introduced summer of 2016.
For more information, visit www.naturalhorseuniversity.com