Fun for Participants and Spectators
by Mark Bolender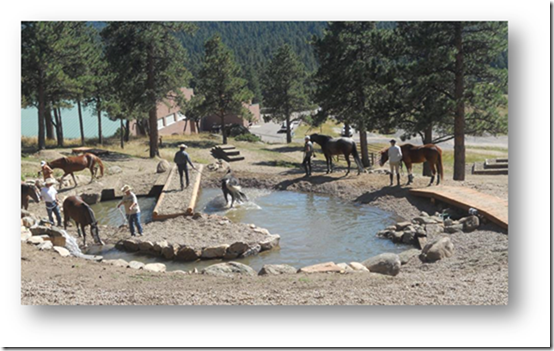 The new discipline of Mountain Trail is in exciting times. For the past six years Mountain Trail courses have been built across the globe. An association known as International Mountain Trail Challenge (IMTCA) has been established along with affiliates in Canada, Germany, Italy, and soon Australia. IMTCA will be featured later this year on RFD-TV with Equestrian Nation. This program will show this sport as a refined and fun discipline.
IMTCA represents and is the body that oversees Mountain Trail. This is a new discipline that involves many breeds along with mules and mini horses. A combination of Western and English disciplines, it's an exciting spectator sport that requires specialized skills from both horse and rider. While most participants are recreational riders, the sport also offers challenges for the most advanced rider.
IMTCA has concentrated on building a foundation for the discipline by constructing training courses around the world. It is also standardizing certain obstacles with blueprinted drawings, training and certifying judges and interns internationally, and working with trainers to build and promote the sport. We have introduced IMTCA internationally by holding clinics, shows, and challenges. The Italian National Show, held in Verona in November 2015, drew more than 10,000 spectators per day and featured excellent competitors. Mountain Trail was first brought to Italy four years ago and has taken off to the point of holding this national show at the Verona Horse Expo with over 170,000 attendees.
On the TV presentation, you'll see both novice and advanced English and Western horses navigating trail obstacles on a Mountain Course just outside of Denver. This course features 9 levels of elevation with over 50 obstacles. It also has two man-made ponds built into the hillside, each navigable at a walk, trot, or lope/canter which is called the "canterlope" in Mountain Trail.
Mountain Trail is part dressage and part 3-day eventing. It's a sport of boldness and precision that appeals to recreational and hardcore backcountry riders alike, both of whom make up the majority of competitors. It requires precise transitions, great horsemanship, and good riding skills. It's also a sport that promotes showing the horse "in hand." At a competition you'll see horses navigating many challenging obstacles, such as rolling bridges, swinging bridges, balance beams, rock patches, rock steps, water crossings, and the cake box. You'll also see smiles of success on riders and a little frustration from both horses and riders.
IMTCA has three levels of difficulty: Level I, where the horse only walks on the course and through obstacles; Level II, which requires the horse and rider to trot from obstacle to obstacle; and Level III, where the horse and rider will "canterlope" between some obstacles.
The RFD-TV program will spotlight some great goes by horses and riders, and some where things do not go as desired. You will see many who are just having fun. There are horses and riders of various skills levels and on many different breeds. Some of the obstacles for Level III riders are very difficult, while the obstacles and riding patterns for the Level I riders are much less complicated. At every level of Mountain Trail you will see horses and riders having fun.
As a spectator sport, Mountan Trail is almost as much fun to watch as it is to ride. Check out the Equestrian Nation trailer for the RFD-TV program at Bolender Horse Park, (www.bolenderhorsepark.com) or search Mark Bolender or Bolender Horse Park on Facebook. Enjoy the program!
Happy Trails and Bolender Blessings
Published in October 2016 Issue
Mark Bolender's name has become synonymous with the new and exciting international equine discipline Mountain Trail. Mark earned national titles in this sport in 2008, 2009 and 2010 and has been supporting Mountain Trail for the past nine years by teaching clinics, judging shows, and building courses worldwide.
Prior to his involvement in Mountain Trail, Mark developed a solid foundation of experience by breeding Quarter Horses and showing in open, Quarter Horse, and Reining competitions. He writes for a number of magazines and is the author of the popular book, Bolender's Guide to Mastering Mountain and Extreme Trail Riding. He has produced four DVD's about training for Mountain Trail and one DVD entitled The Road to Bridle-less. He has been featured twice in the American Quarter Horse magazine America's Horse for mastering the Trail Challenge. Mark operates a judging school which certifies judges in the USA, Canada and Europe for Mountain Trail and Trail Challenge. He and his wife, Lee, are the founders of the International Mountain Trail Challenge Association (IMTCA) which was formed to promote the sport of Mountain Trail. Mark and Lee own and operate Bolender Horse Park in Washington State, which houses the finest Mountain Trail course in the world. Mark and Lee travel the world to give Mountain Trail clinics in almost every corner of the globe.
Mountain Trail made its television debut on RFDTV in November of 2016, further promoting the sport to audiences everywhere.
Using Bolender Horse Park as the model, Mark and Lee have designed and built Mountain Trail courses for private and public use in the USA, Canada, Australia and Europe – with many more in development. These courses are premier sites used by beginners and highly advanced riders alike; they are designed for clinics, shows, and training.
Mark and Lee actively promote the Bolender training philosophy, which centers on using the natural instincts of the horse in the training process. Mark says that activating key instincts in the horse combined with good horsemanship results in real equine magic. They continue to set goals to build more and more courses, promote the IMTCA, and write books and articles for eager enthusiasts. The next goal is to bring Mountain Trail to the Olympics.