Mount St. Helens Chapter of BCHW
Weed-Seed Free forage is REQUIRED on all National Forest Lands.
DIRECTIONS: Take I-5 to Exit 21-Woodland. Proceed east through town on WA-503 E toward Cougar and continue east for approximately 25 miles (past Yale Park). Watch for road to the left with green road sign to Lake Merrill and Kalama Horse Camp (8100 Road). Proceed on this road for approximately 8 miles and turn right. You will see the entrance to Kalama Horse Camp. There will be people available to help with parking.
NOTE: If you reach Cougar before turning onto the 8100 road, you've gone too far and missed the turn off.
Short and long loop rides available along some of the most exceptional trails
in this area. Trail maps will be provided on site.
Liability waiver must be signed at the time of registration.
COMPLIMENTARY BREAKFAST will be served at 7:00 a.m.
FIRST RIDERS OUT at 8:00 a.m. LUNCH available for $5.00. PRIZE RAFFLE at 3:00 p.m.
RAFFLE TICKETS $5.00 ea. Or 5 for $20.00.
For more information – Mount St. Helens Chapter of BCHW contacts:
Brian Parr: 360.314.4368 | Email: bparrfarrier@gmail.com
Nancy Rust: 360.253.7307 | Email: alrust@comcast.net
Judy Smith: 369.687.2336  | Email: trailridenbuddy@yahoo.com
Visit us on Facebook or our website at www.bchwmountsthelens.org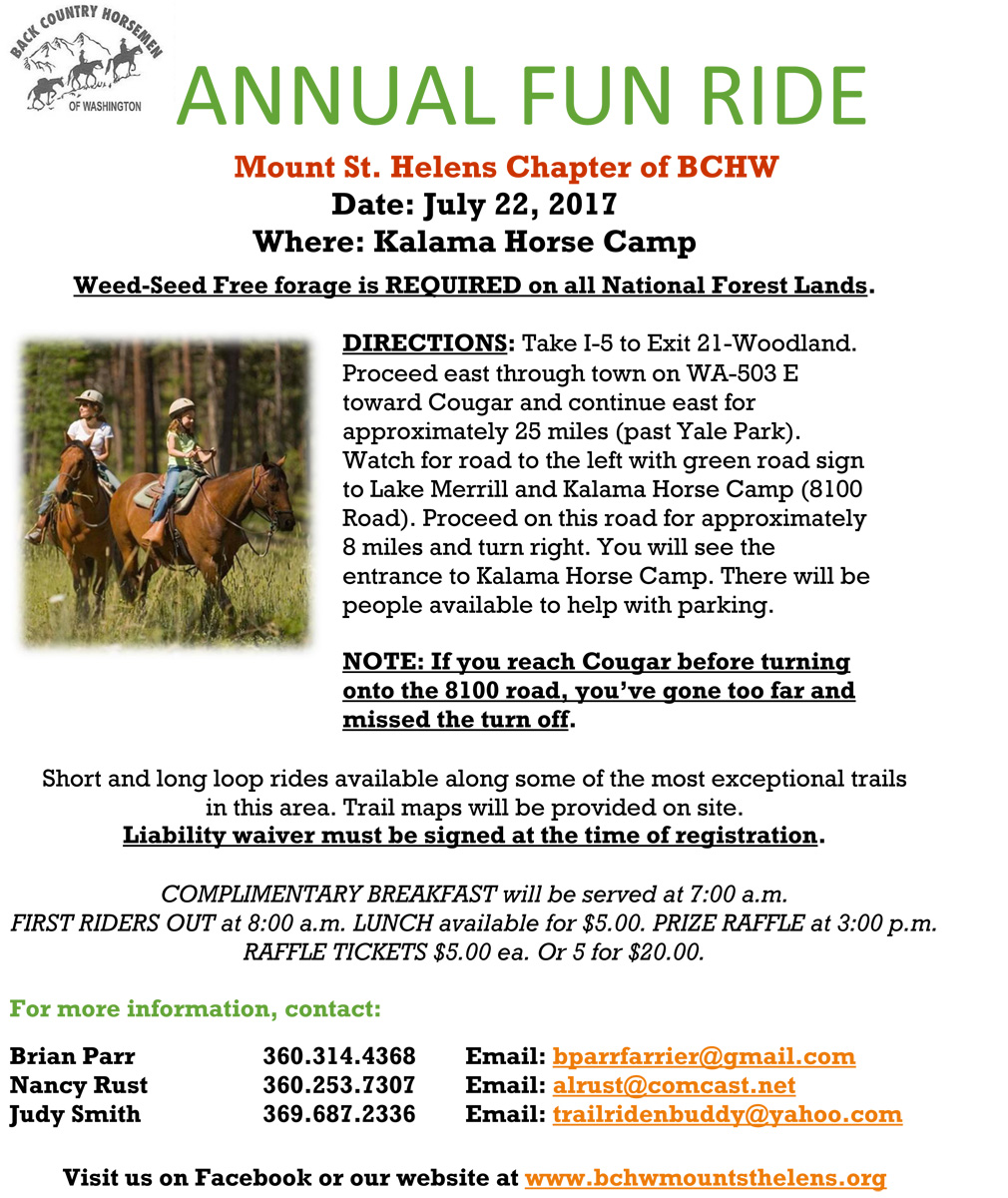 <!-comments-button-->