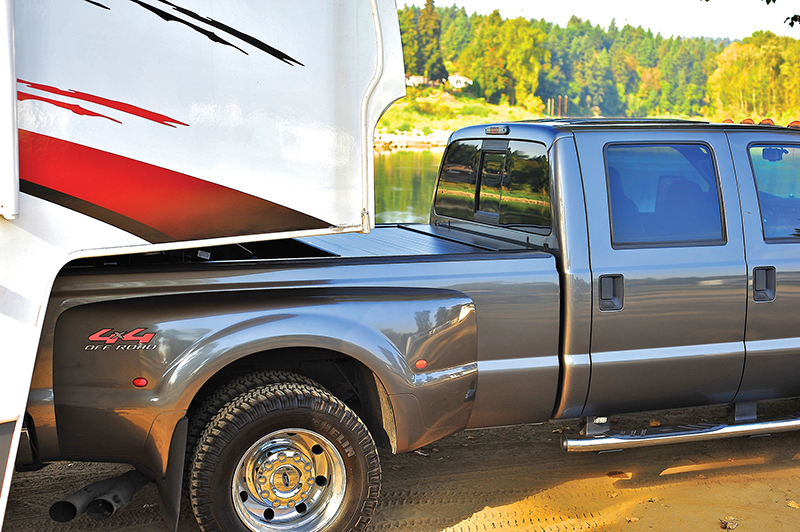 Bedlocker Electric Combines Convenience with
Security and Attractive Low-Profile Design
The business of horses is an equipment-intensive profession, especially when it comes to moving these beautiful animals from place to place. Pace Edwards, the industry leader in high-performance tonneaus for pickups, has a tonneau uniquely suited for the horse industry.
For horse owners who rely on trailers with a fifth wheel hitch, Pace Edwards has designed a tonneau that maximizes convenience and security – the Bedlocker Electric. This innovative tonneau accommodates the fifth wheel and is opened and closed with pushbutton control. A hard tonneau, the Bedlocker Electric retracts into a canister at the front of the truck bed.
The Bedlocker Electric features a black powder-coat finish on rigid aluminum panels for a durable, secure fit protecting contents in the truck bed from would be thieves. A patented silicon weather hinge provides a tight seal between the aluminum panels to keep out the elements. An electromagnetic brake allows the cover to be locked in any position. Installation is straightforward, only taking approximately one hour.
"When trailering horses on a fifth wheel, space is always at a premium," said Vern Kaufman, sales & business development manager, Pace Edwards. "Our Bedlocker Electric is an outstanding option for horse owners that want extra, secure storage capacity while unhitched."
---
About Pace Edwards  

Pace Edwards is the premium brand for assured quality, function and innovative designs. The industry leader in tonneau covers for more than 20 years, Pace Edwards specialties include spring-activated and electric retractable hard tonneau covers. The company manufactures four of the highest-quality tonneau covers available on the market today: the Bedlocker® Electric Tonneau, the JackRabbit™ Spring-Activated Retractable Tonneau, Full Metal Jack Rabbit™ and the SWITCHBLADE. The team at Pace Edwards enjoys what they do, and as enthusiasts, they take pride in providing customers timely, accurate and friendly service. Learn more at www.pace-edwards.com.

<!-comments-button-->