Snohomish Woman to Compete in Amarillo, Texas October 15-18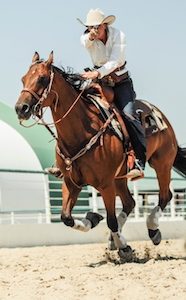 Meet Bre Coston of Snohomish, WA. Bre started shooting in 2013 and by year's end she was the top CMSA female Rookie of the Year. Bre showed saddle seat equitation in high school, then reining and reined cow horses in college. Bre returned home to Snohomish where she set up her business training and giving riding lessons: "BLC Performance Horses." She has traveled to shooting events around the country, and will be competing at the CMSA World competition in Amarillo, TX, October 15-18. You can watch your favorite Pacific Northwest shooter on the CMSA live feed via Digital Dave Video at www.cmsaevents.com.
2014 Upcoming Events:
Sept. 24-27: MSA World Championships, Ft Worth, TX
Oct 10-12: CMSA Lone Star Classic, Vernon, TX
Oct 15-18: CMSA Tony Lama World Championships, Amarillo, TX
Club Website: www.WesternWashingtonMountedShooters.com
CMSA Website: www.CowboyMountedShooting.com.
Or call or email Karen Plumlee, Secretary, WWMS, 425 985-8321 or missionfarrierschool@hotmail.com.
Originally Published October 2014 Issue
WWMS members vary from kids to adults, and from the recreational shooter to the serious National and World competitor, so there's a spot for everyone. We are a friendly group, and enjoy introducing the sport to others. Please feel free to contact us at any time, and come join the addiction that is Cowboy Mounted Shooting!!! www.WesternWashingtonMountedShooters.com