Everything You Need to Know to Care for Horses While Staying Safe and Having Fun
By Cat Hill & Emma Ford
Whether taking their first lessons, handling horses when visiting friends, or enjoying the challenges of first-pony ownership, children need to learn more than how to ride. When it comes to horses, the most important lessons begin on the ground, not only to keep all involved safe, but also to ensure the fair and proper care of the horse. This highly illustrated, easy-to-use book is the most complete and correct guide available for horse-crazy kids and their families to learn basic horsemanship standards and use them in the barn, arena, at home, and at competitions.
Professional grooms and authors of the bestsellers World-Class Grooming for Horses and World-Class Braiding–Manes & Tails, Cat Hill and Emma Ford are both lifelong horsewomen who have managed barns and strings of horses for top riders in all disciplines, including Olympians and World Champions. Now they have put their wealth of experience in these pages with over 700 professional color photos and clear, numbered steps that teach readers cool tips and tricks, with an emphasis on safety and detail without detracting from the fun of being around horses.
Published by Trafalgar Square Books, North Pomfret, VT
Purchase from horseandriderbooks.com or other booksellers.
"I wish this book had been around when I was a child. It clearly illustrates techniques to care for horses safely and properly with wonderful photographs of children and their horses and easy-to-read text. Any horse crazy kid will love having this book on their shelf, and their parents might gain some helpful hints too!"

NW Horse Source Editor's Review
See this article in the March/April 2023 online edition:
March/April 2023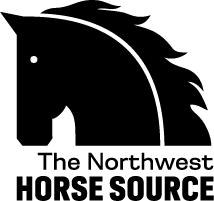 The Northwest Horse Source is an independently owned and operated print and online magazine for horse owners and enthusiasts of all breeds and disciplines in the Pacific Northwest. Our contemporary editorial columns are predominantly written by experts in the region, covering the care, training, keeping and enjoyment of horses, with an eye to the specific concerns in our region.