By Mark Rashid
Looking Back, Looking Forward
Over 30 years ago, renowned horseman Mark Rashid's first book, Considering the Horse, was published. In it he shared his experiences with horses and people, subtly delivering practical lessons in horsemanship and life in a conversational style that resonated with audiences around the world. 
Now Rashid considers all that has happened in the years that have passed since that first book was published—the transformative moments and impactful individuals who have helped shape his philosophies and methods. With his distinctive voice, he shepherds readers through topics of relevance in the equestrian industry while telling more of his life story, resulting in an engaging memoir-style read that remains rich in nuggets of wisdom that you can put right to work in your daily interactions with horses.
NWHS Editor's Review:

"This wonderful book is a combination of memoir, philosophical musings, and practical horse training advice. You won't read step-by-step instructions on how to train, but you will get wonderful stories about all kinds of horses and people who Rashid has learned from over his life. These individuals have molded him into a thoughtful and humble horseman. He uses lessons learned from his experience with aikido and music to help explain his philosophy around horses. He also draws from research done by neuroscientist Dr. Steve Peters which explains many horse behaviors that confirm Rashid's methods and ideas. I highly recommend this entertaining book!"


NWHS Editor's Review
Published by Trafalgar Square Books. Purchase from horseandriderbooks.com, Amazon, or other booksellers.
See this article in the January/February 2023 online edition:
January/February 2023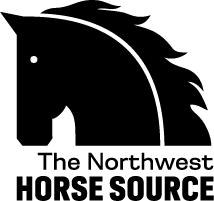 The Northwest Horse Source is an independently owned and operated print and online magazine for horse owners and enthusiasts of all breeds and disciplines in the Pacific Northwest. Our contemporary editorial columns are predominantly written by experts in the region, covering the care, training, keeping and enjoyment of horses, with an eye to the specific concerns in our region.