Teach Your Horse Speed Control with this Common Obstacle
by Mark Bolender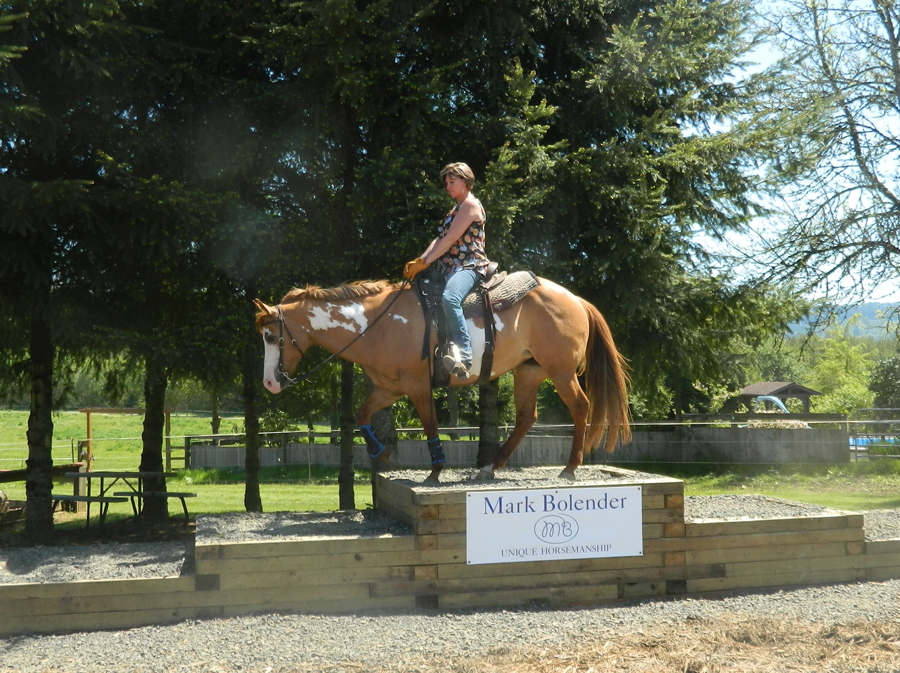 There are a number of important tools we can use to train a horse for Mountain Trail and Extreme Trail competition. Those same tools can also be used to create a great partnership between you and your horse. The Texas Two-Step (TTS) is a good example of such a tool, and it is actually used in competition. The TTS teaches speed control as well as the need to maintain a consistent forward movement while stepping up and down various size steps.
There are two types of TTSs. In the first type, the entire obstacle has two or three steps going up, and two or three steps going down. The second type is an inverted version of the first, where the higher steps are on the ends and the lower step is in the middle. Both are taught similarly, but for this article I will discuss navigating the first type.
Mastering the TTS should always start from the ground. Before you begin you must make sure three things are in place. First, your Bolender Bubble must be clearly established. That's when you and your horse have a mutual respect for – and close eye on – each other's personal space. Second, you must be able to back your horse without looking at it. Third, your horse requires training to the point where it will move sideways with the subtlest cue – little more than a thought.
Once those things are established, start on the ground by presenting the TTS to your horse. Let it inspect and move around the TTS. Then ask your horse to step onto the first step. Absolutely do not pressure your horse to do more than stand on the step. Note that if your Bolender Bubble has not been clearly established your horse will practically drop onto you so for safety reasons this principle must be firmly in place. Some people feel that their horse wants to enter their space for comfort or protection. In fact, a horse's instinct tells it that if it does attempt to enter your space, then you'll move your feet to accommodate it. At that point, the pressure of learning and negotiating the obstacle will be lost because your horse's mind is wired to "find a way out" as a means of protection. Thus, it's important to let your horse know such invasion of your personal space is unacceptable.  When a horse tries to enter your Bolender Bubble it is only trying to avoid something frightening. This is not a right or wrong behavior it's just instinct so don't let emotions drive your training. Once the horse knows that this is an unacceptable behavior it will begin to concentrate on learning how to properly navigate the "frightening" TTS on its own.
When your horse is comfortable, ask it to step up onto the first step.  Once it is walking over the TTS with confidence, ask your horse to stop on each step for a moment. When it's comfortable stopping on each step then ask it to stop with its two front feet up on the next step. Move on until it will stop with two feet up or down on any step. This exercise teaches your horse to wait and move forward when asked.  Once your horse is moving well (using either type of TTS) then get in the saddle. Start by asking it to walk forward and inspect the first step. When your horse is comfortable, ask it to move forward and walk over the step. Maintain slight contact with the reins for guidance and avoid rushing. When your horse is comfortable walking up and down, then begin teaching it how to regulate speed. Do not get into the trap of trying to contain its energy if it's moving too fast (this results in additional speed!). Instead, simply go back to the ground work until your horse will wait for you.
As in most horse training, patience is your greatest ally. In time, you will refine the TTS obstacle so that your horse will walk up and down with boldness, confidence, and with a consistent gait resulting in a pleasant ride whether on the trail or in a show.
Happy Trails and Bolender Blessings!
Published in October 2012 Issue
Mark Bolender's name has become synonymous with the new and exciting international equine discipline Mountain Trail. Mark earned national titles in this sport in 2008, 2009 and 2010 and has been supporting Mountain Trail for the past nine years by teaching clinics, judging shows, and building courses worldwide.
Prior to his involvement in Mountain Trail, Mark developed a solid foundation of experience by breeding Quarter Horses and showing in open, Quarter Horse, and Reining competitions. He writes for a number of magazines and is the author of the popular book, Bolender's Guide to Mastering Mountain and Extreme Trail Riding. He has produced four DVD's about training for Mountain Trail and one DVD entitled The Road to Bridle-less. He has been featured twice in the American Quarter Horse magazine America's Horse for mastering the Trail Challenge. Mark operates a judging school which certifies judges in the USA, Canada and Europe for Mountain Trail and Trail Challenge. He and his wife, Lee, are the founders of the International Mountain Trail Challenge Association (IMTCA) which was formed to promote the sport of Mountain Trail. Mark and Lee own and operate Bolender Horse Park in Washington State, which houses the finest Mountain Trail course in the world. Mark and Lee travel the world to give Mountain Trail clinics in almost every corner of the globe.
Mountain Trail made its television debut on RFDTV in November of 2016, further promoting the sport to audiences everywhere.
Using Bolender Horse Park as the model, Mark and Lee have designed and built Mountain Trail courses for private and public use in the USA, Canada, Australia and Europe – with many more in development. These courses are premier sites used by beginners and highly advanced riders alike; they are designed for clinics, shows, and training.
Mark and Lee actively promote the Bolender training philosophy, which centers on using the natural instincts of the horse in the training process. Mark says that activating key instincts in the horse combined with good horsemanship results in real equine magic. They continue to set goals to build more and more courses, promote the IMTCA, and write books and articles for eager enthusiasts. The next goal is to bring Mountain Trail to the Olympics.