Celebrating 20 Years Entertaining and Educating Northwest Horse Enthusiasts
By Carol Wilson
The Northwest Horse Fair and Expo celebrates its 20th anniversary in March by once more featuring a dynamic weekend of equine entertainment and enjoyment. "We're excited to present a family-friendly horse expo, now in its 20th year," says John Cloe, event founder and manager. "We'll feature world-renowned clinicians, breed demos, stallion reviews, a huge trade show, and much more!"
The Northwest Horse Fair and Expo, presented by Akins Trailers Sales, runs March 22–24 at the Linn County Fair and Expo Center in Albany, Oregon.
"For the first time ever, the Northwest Horse Fair and Expo will host the Colt Starting Challenge USA," says Mr. Cloe. "Experienced horse trainers will have just three days to gentle, saddle, and ride young, unbroken horses in this event."
Trainers work with the colt they've drawn while explaining their training techniques to the audience. Colts will be ridden, competing through a challenging obstacle course the last day of the expo. The winning trainer receives a custom event buckle and qualifies for the 2019 National Colt Starting Challenge USA Finals.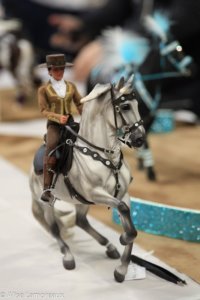 BreyerWest® returns for their fourth year and features both an open and youth model horse show with national competition. You can also join BreyerWest for workshops and other activities for model horse hobbyists and enthusiasts.
Exhilarating equine entertainment at the Northwest Horse Fair and Expo is second to none! The BlackPearl Friesian Dance Troupe will provide high-stepping action with fancy dancing horses, Endo the Blind (a horse with no eyes) will demonstrate remarkable training and trust in an incredible performance, and Marcia Moore-Harrison will perform a special Cowboy Dressage performance to music. Ramping up the action, the Rhinestone Cowgirls Precision Drill Team will perform fast-paced precision formations to music, and the Oregon Mounted Shooting Association will present Cowboy Mounted Shooting—on the run! The Breed Showcase and Stallion Reviews will represent breeds from all over the world and provide educational demos featuring the strengths of each breed.
The lineup of clinicians for the Northwest Horse Fair and Expo includes grand champions and highly successful trainers. Josh Lyons, of Lyons Legacy, offers general horsemanship clinics; Mette Rosencrantz presents dressage; Heidi McLaughlin teaches how to be a fearless rider; Marcia Moore-Harrison features Cowboy Dressage; Steve Lantvit conducts horsemanship and ranch versatility clinics; and Tom Seay from "Best of America by Horseback" offers trail riding lectures. Plus, on Friday, Lukas Bardue from the BlackPearl Friesian Dance Troupe will provide a liberty and trick training clinic.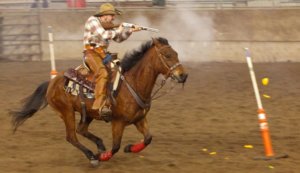 On Saturday, Randal Walker of Satus Stockdogs will feature working dogs. On Sunday, Ian Jones will present equine trail sports. Also, radio and online TV host Wayne Williams of "Speaking of Horses" will be on hand. Additional educational workshops, demos and lectures will be offered throughout the three days of the expo.
Shoppers can enjoy the largest horse-related trade show in the Northwest. They can browse a huge variety of products including horse trailers, equine products, clothing for riders, farm supplies, feed, tack, gifts, artwork, home décor items, and much more!
Northwest Horse Fair and Expo attendees can receive $1 off their ticket price on Friday, March 22 by bringing a non-perishable food item donation to the gate to support Albany Helping Hands Homeless Shelter. Sunday, March 24 is KMTR Youth Day. Children 12 years and under get in free that day when accompanied by a paying adult, and 4-H and Pony Club members aged 13 to 18 get in free with their club ID cards.
For more details about the Northwest Horse Fair and Expo visit www.equinepromotions.net/northwest-horse-fair, call 765-655-2107, or visit us on Facebook (Northwest Horse Fair & Expo (NWHF)) and Twitter (@NWHorseFair).
Sponsors for the 2019 Northwest Horse Fair and Expo include: Akins Trailer Sales, the presenting sponsor; Beelart Embroidery, the official event embroiderer; FitzGerald Corrals; KMTR-TV, the Youth Day sponsor; KRKT; Logan Coach Trailers; The Northwest Horse Source—the official publication of the Northwest Horse Fair and Expo; Phoenix Inn & Suites, the expo's hosting hotel, and Wilco.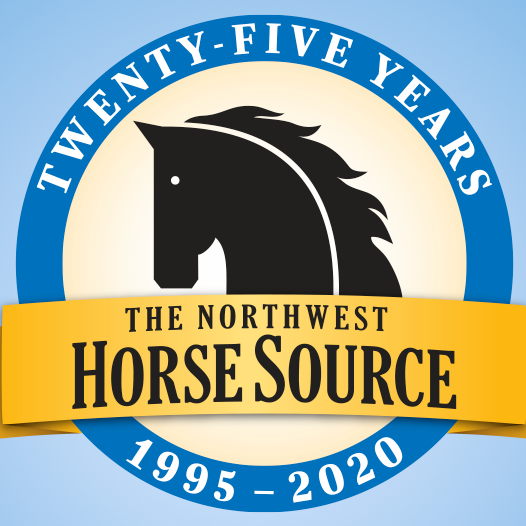 The Northwest Horse Source is an independently owned and operated print and online magazine for horse owners and enthusiasts of all breeds and disciplines in the Pacific Northwest. Our contemporary editorial columns are predominantly written by experts in the region, covering the care, training, keeping and enjoyment of horses, with an eye to the specific concerns in our region.