Formulas Give Young Animals a Healthy Gut from the Start
St. Louis, MO (Nov. 10, 2016) – Manna Pro is replacing longtime products Scour Ease, Calf Medic and Suckle with a new line of gut-enhancing, non-medicated supplements and milk replacers. The newly formulated products feature Opti-GutTM, a blend of probiotics and natural ingredients that promotes a healthy belly.
This move coincides with the FDA's new Veterinary Feed Directive (VFD), which minimizes antibiotic use in livestock feed. The VFD takes effect on January 1, 2017, and is designed to address issues surrounding antibiotic resistance.
Two new products as well as five existing Manna Pro products will feature Opti-Gut and can be fed to calves, foals, goats, lambs and other species.
New Opti-Gut products include Suckle PRO™, a milk replacer for calves that is based on its predecessor Suckle; and Calf Care™, which provides supportive nutrition for calves experiencing digestive stress such as that caused by calf scours.
Manna Pro is also enhancing several of its core young animal products with Opti-Gut: Colostrum Supplement, NurseAll®, UniMilk®, Kid Milk Replacer and Lamb Milk Replacer.
"For years, our products have provided young animals the essential nutrition they need to grow well," said Dr. Rob McCoy, Vice President of Animal Nutrition at Manna Pro. "Now, with Manna Pro products powered by Opti-Gut, they'll truly get the best start possible."
Manna Pro is the only company to offer a full line of young animal products that focus on gut health from the start.
"Gut health is critically important for newborn and young animals," said Dr. McCoy. "A healthy digestive system results in better general health and long-term growth. Opti-Gut is a new approach to gut health. Our natural recipe, complete with probiotics, supports growth and development, gut health, and overall well-being."
The company is also introducing HydroPak™, a "mix-with-water" gut health formula that features probiotics and electrolytes. HydroPak is formulated for multiple species of animals, including poultry, and can be fed daily.
More information about the products can be found at mannapro.com/optigut. The site also includes an informative video about the history of antibiotic use and links to several resources that explain the importance of gut health in young animals.
Consumers can find a store locator for Manna Pro products at mannapro.com/where-to-buy.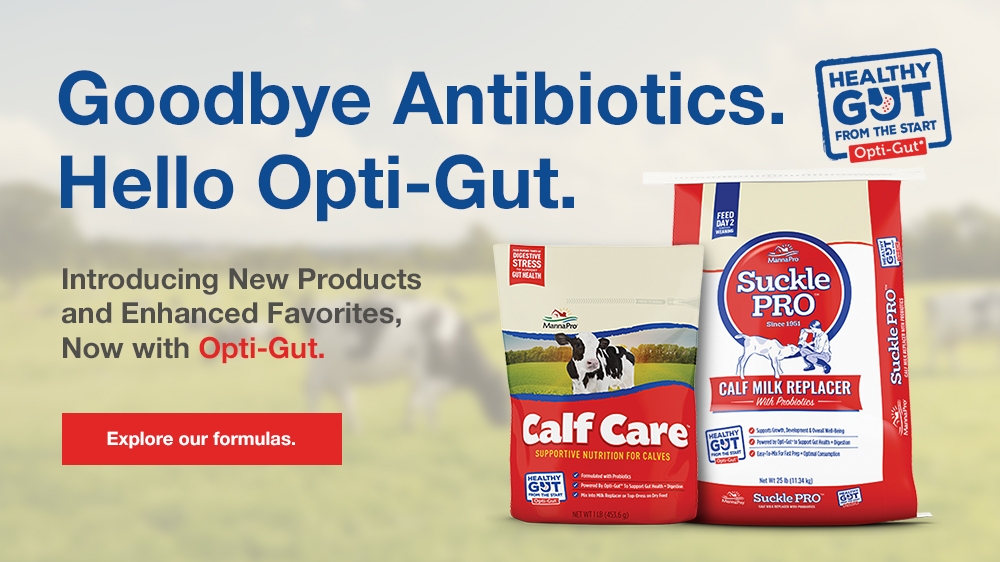 About Manna Pro

Manna Pro Products produces high-quality animal nutrition and care products for a broad range of animals. Its largest group of products is associated with horses, but the company also produces feed for backyard poultry and goats, rabbits, cattle, pigs and companion animals. Manna Pro's product lines primarily serve the "lifestyle farmer" market – people who own acreage with farm animals, and operate their farms as a hobby rather than a business. The company's flagship product – Calf-Manna® – has been a staple of animal owners for more than 80 years. Manna Pro's recently expanded Pet Care/Companion Animal business offers canine and feline health and wellness supplements. For more information, visit www.mannapro.com.

<!-comments-button-->