A True Support for Improved Performance
Byline: Heather Fraser, DVM, CVA
Managing soundness in performance horses can be a challenge. This is precisely what first drew me to acupuncture as I sought to provide better pain relief and improve my ability to diagnose obscure lameness.
Since my certification, I have come to realize how many other great uses it has. For thousands of years acupuncture has been the treatment of choice for over one-quarter of the world's population. Interestingly, acupuncture has been used in horses dating back thousands of years. In fact, the first veterinary textbook, "Bai-le's Canon of Veterinary Medicine", written around 650 B.C., was based primarily on acupuncture.
Over the last decade equine acupuncture has gained a lot of attention as a viable treatment option for many health conditions and is endorsed by the American Veterinary Medical Association the American Association of Equine Practitioners, and the National Institute of Health.
Acupuncture has been used with great success on a variety of health conditions including, but not limited to: back pain, colic, uveitis, decreased reproductive performance, allergies, bleeders, COPD (heaves), laminitis, performance enhancement, nerve paralysis, Cushings, and chronic disease conditions not responding to traditional therapy. Acupuncture can be integrated into any Western approach.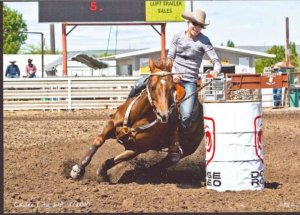 One client of mine has perfected the art of balancing conditioning, training, and health care to achieve great success in the barrel racing circuit. I first met Pickles, an 8-year-old Quarter Horse mare, five months ago. She had a history of chronic low-grade lameness in the left forelimb that has been evaluated and treated utilizing traditional Western therapies. After thorough work-up, Pickles was diagnosed with mild arthritis of the coffin joint. She was being managed with shoeing changes, intra-articular joint injections, and a new treatment available for bone pain called Tildren. Pickles was responding well to traditional therapies, but we decided to integrate acupuncture into the treatment regime to help alleviate muscle pain and balance her body for optimal health and performance.
Pickles has been receiving treatments every two weeks to help manage "tying up" episodes and treat pain related to the rigors of performing at 2-4 rodeos every weekend. By performing acupuncture examinations, we are often able to gain information on sore areas (in hocks or stifles) long before she shows outward signs of discomfort.
Acupuncture consists of inserting thin, flexible, sterile needles into a patient at precise locations to alter that body's biochemical and physiologic properties through stimulation of the central nervous system. According to the principles of traditional Chinese medicine, illness is caused when chi (energy or form of life) does not flow properly throughout the body. Chi may be weak, stagnant or otherwise out of balance, indicating the points to be stimulated.
Acupuncture treatments impart their healing powers by affecting the body neuro-physiologically by stimulating sites where blood vessels and nerves run together. In addition to hormone regulation, and endorphin and serotonin release, there are cytokines (protein molecules) released from tissues locally that help to decrease inflammation and promote healing.
Acupuncture points are selected based on careful palpation along acupuncture meridians. Palpation of an acupuncture point may reveal pain, heat, or a change in the tissue quality. The horse's reaction to palpation of certain "acupoints" can help lead to diagnosis of difficult lameness or help give an early indication of disease within an organ system.
To further enhance treatment response, electro-acupuncture is often performed. Electro-acupuncture is quite similar to traditional acupuncture in that the same points are stimulated during treatment. As with traditional acupuncture, needles are inserted on specific points along the body. The needles are then attached to a device that generates continuous electric pulses using small clips. These devices are used to adjust the frequency and intensity of the impulse. Electro-acupuncture uses two needles at a time so that the impulses can pass from one needle to the other. Electro-acupuncture is considered to be especially useful for conditions in which there is an accumulation of chi, such as in chronic pain syndromes or in cases where the chi is difficult to stimulate.
Acupuncture has become a very popular addition to traditional management and diagnosis of lameness. After only a few months of treatment, Pickles is clocking faster times, has fewer incidence of tying up, and there is a noticeable decrease in overall muscle soreness. Pickles is pain free and being managed in an integrative way that should keep this talented equine athlete in the game for years to come.
About the Author
A graduate from the College of Veterinary Medicine and Biomedical Science at Colorado State University, Dr. Heather Fraser recently joined Evergreen Equine Veterinary Practice in Snohomish. She holds a degree in Animal Science from Washington State University, a degree in Equine Science from Colorado State University, and certification in Veterinary Medical Acupuncture. Prior to joining Evergreen Equine, Dr. Fraser completed an internship at Northwest Equine Performance with Dr. Mark Revenaugh of Portland, Oregon, specializing in equine lameness and diagnostic imaging. When Heather is not working, she enjoys riding, traveling, skiing, and hiking with her dog Brittany.
Published October 2011 Issue
This article sponsored by: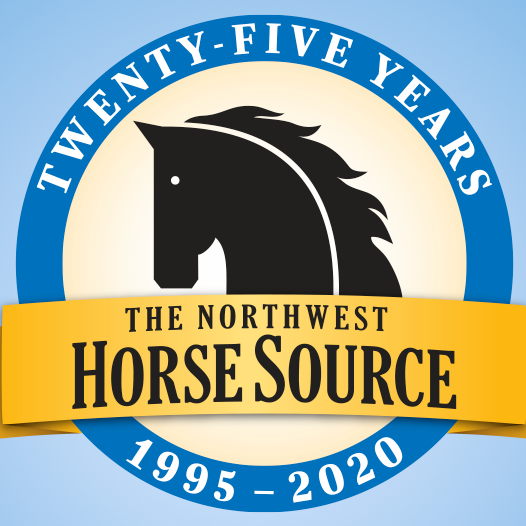 The Northwest Horse Source is an independently owned and operated print and online magazine for horse owners and enthusiasts of all breeds and disciplines in the Pacific Northwest. Our contemporary editorial columns are predominantly written by experts in the region, covering the care, training, keeping and enjoyment of horses, with an eye to the specific concerns in our region.