Get a Feel for the Horse Business with an Internship at Bolender Horse Park
By Kristina Lotz
Mark Bolender is known for his methods in mountain trail training that build confident and safe trail horses. He and his wife and business partner, Lee, have built courses all over the world and helped create an international competition organization, the International Mountain Trail Challenge Association (IMTCA).
But they don't just train horses at Bolender Horse Park. For years Mark and Lee have been giving interns from around the world the confidence, skills, and knowledge they need to make it in the equine industry, or to decide they want to pursue another career before getting in too deep. And when it comes to learning, the Bolender Horse Park internship is one of the most well-rounded you will find.
"What I really enjoyed about the whole experience was that Mark and Lee do a really good job of teaching you all aspects of running a horse facility," shares Lauren Newlin, who interned at the park in 2019. "From grooming horses, to training, to perfecting your riding, to learning the back-office work, they teach it all! Mark and Lee find out what your interests are in the equestrian world and tailor your experience at Bolender Horse Park to match your interests. I would highly recommend to anybody that even has a small interest in working in the equestrian world to consider this internship! I'm so grateful for my experiences that I had there and wouldn't change it for the world."
Mark and Lee understand that the physical training of horses is just a fraction of what someone needs to know to be successful. "A lot of people want to be horse trainers," Mark explains, "But few are successful because it takes more than knowing how to work a horse. Really, where the business is, is marketing. So, my wife works with them in the office. Marketing is not easy. Getting clinics filled is not easy. That all takes work."
Interns at Bolender Horse Park are taught how to market training, clinics, and shows. They also learn about the importance of presentation of themselves, the horses, and the facility. "You only get one first impression, when people drive up to check out your facility to see if they want to board and train with you, so your facility better shine," says Mark. Mark teaches them about costs and profits, like remembering to factor in the cost of the tractor or hiring a gardener into your board and training costs to ensure you make money.
Training Horses Everyday
While many internships have you mucking out stalls more than riding, Bolender Horse Park is different. "A big thing for me was that I got to work with horses every single day, which is not something you see everywhere," says Fahren Kolpack.
Mackenzie Bode, a past intern, agreed. "Every single day I was learning something new, stacking up hours in the saddle, gaining the confidence and love for horsemanship I'd been searching for," she shares.
While at the park, interns have their own lessons with Mark, attend clinics, and watch lessons with clients. Due to the nature of mountain trail, they see a wide range of breeds and riding styles, another thing unique to the park.
Fahren traveled with the Bolenders to Kentucky for BreyerFest. Megan, another current intern, traveled to Monty Robert's Flag Is Up Farms, where a new IMTCA mountain trail course was just built by Mark. She was invited by Roberts to return and help them organize their first IMTCA challenges and clinics because she already had the experience. Past interns have traveled around the country to clinics, competitions, and other events as part of their internships.
Mark and Lee Bolender do their best to make sure interns leave knowing if the equestrian industry is right for them, and if it is, which side they want to work on. "Some decide the office and marketing is more their style, rather than training," says Lee. "That's what we are here for—to teach them and to help them make these decisions." And the Bolenders get something out of it too. "We love our interns," Mark and Lee both express. "They are like family."
If you're interested in an internship at Bolender Horse Park, contact Lee Bolender at 360-269-6156. Internships can be just for the summer or as long as a year. Visit www.bolenderhorsepark.com for more information.
See this article in the March/April 2023 online edition:
March/April 2023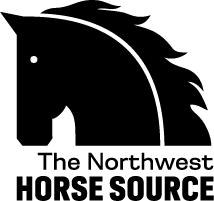 The Northwest Horse Source is an independently owned and operated print and online magazine for horse owners and enthusiasts of all breeds and disciplines in the Pacific Northwest. Our contemporary editorial columns are predominantly written by experts in the region, covering the care, training, keeping and enjoyment of horses, with an eye to the specific concerns in our region.