What to Expect Out of an Apprenticeship Experience
by Allison Trimble, Willfully Guided Horsemanship
There are many ways you can learn about horses and training, but if your goal is to be a professional in the horse industry, you must gain experience in that world. I get loads of emails from young horse people who want to be a horse trainer. They want to know if I have any apprenticeships or job opportunities. I did not get my start as an apprentice, but I have had many and know plenty of people who began a career with horses this way. It can be a very valuable experience, but there are a lot of misconceptions. When considering apprenticeship with an established trainer, keep these things in mind:
Approach it as an opportunity to learn, not as a job. The pay is bad, if there is any, and the hours are long. It is physically hard—expect to be stomped, kicked, etc. The bright side is you don't pay for this type of "school" and are immersed in the industry. This is the best way to learn it.

The turnover is high. It is not that it isn't for everyone…this profession is for hardly anyone! It would be amazing if training horses was just about the riding. The reality is that there is so much more to running an equine business, regardless of the discipline, and most of it is not half as fun as riding. Remember that the trainer has had many people previously who all "loved horses" and wanted to have a job doing something they were passionate about. There is a pattern to apprentices and only a very small percentage last.

 

This is a reality.

It is possible to separate yourself from the crowd, but that will be harder than you think it is. If you do, however, it won't go unnoticed. The trainer you are working with is one of the people who stuck with it—they will recognize determination and appreciate it. The person who can handle frustration always stands out.

Learning is all about making mistakes. The trainer you are working for is giving you the opportunity to make mistakes, but the real test of someone is how they handle those mistakes.

 

Always take responsibility for your actions. In horse training you will never know it all and there is always room to grow. While that is inspiring, it can easily get lost when you're on your 7th

horse of the day, it is 98 degrees outside, and it feels like you can't do a single thing right. It takes a really special type of person to be able to handle that challenge, let alone all the others.

Don't expect to do the fun stuff right away, like going to shows, or riding the good horses.

 

Expect to do grunt work and slave labor because, honestly, that is pivotal to developing good horsemanship and character. If you aren't able to do hard things when not astride a horse, it is unlikely that will be different when you are. 
Know that the trainer you work for is putting a lot of responsibility in your hands.

 

A bad or careless apprentice can do a lot of damage to a business and, even worse, to the horses.

 

Anyone who has been in the industry long enough has experienced this at some point so don't blame them if they are leary or overbearing initially. Trust is earned.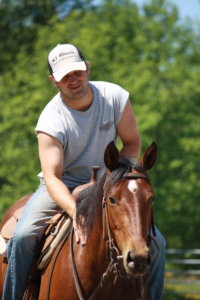 Apprentices are important to any large operation and the good ones will stand out. I appreciate the people who have been reliable, thoughtful and self-aware. They make my job easier and my time at the barn more enjoyable and rewarding. I will go the extra mile for people who have proven themselves, and in return, they get opportunities and information that I do not share with just everyone. If you want to become a successful trainer, there is no better way to learn the business than from someone who has been there. The road may seem all uphill, but for those of us who have it in our blood we wouldn't have it any other way.
Published August 2013 Issue
Allison Trimble has a Bachelor of Science in Animal Science from Cal Poly, SLO. After her graduation in 1999, Allison started Coastal Equine and has been training and competing in cowhorse, reining and cutting events. She has had marked success in the show pen boasting many titles and championships.
Willfully Guided is an educational program based on Allison's training process. For more information visit: www.willfullyguided.com
Allison is also a Realtor specializing in horse properties, hobby and commercial farms, and family housing. She combines her experience in the horse industry with her lifelong involvement in real estate to help clients find their perfect property. Learn more at www.coastalrealtywa.com