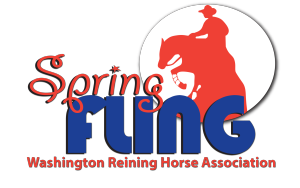 Washington Reining Horse Association kicks off the 2015 show season April 9th with the Sky River Equestrian Center Spring Fling and Derby at the Appleatchee Riding Club in Wenatchee.  An exhibitor party will be held Thursday evening, April 9th, where 2014 year-end winners will be announced and awards presented.  Come watch the featured classes: NRHA Open Derby Friday evening, April 10th and NRHA Non Pro Derby Saturday evening, April 11th.  If you are new to reining, green reiner (both horse and rider) classes will be offered Friday and beginner rider classes will be offered Friday and Saturday, with club classes running concurrent to NRHA classes throughout the weekend.  Beginner, green reiner (horse) and club classes do not require an NRHA competition license for your horse, or an NRHA membership for the rider.
If you are looking for some assistance getting started in reining, consider working with WRHA sponsors and trainers Darren Stancik out of Sky River Equestrian Center in Sultan; Sean and Jordan McBurney out of Rhodes River Ranch in Oso (Arlington); Cory Hutchings and Nicole Renick out of Skykomish River Ranch in Monroe; Sue Muir in the Lynnwood area; and LaRae Powell of Silver Aspen Ranch in Auburn.  Also, Kari Klingenberg trains out of Lucky 13 in Arlington and Mike Stokes in Manson are both long-time supporters of WRHA and can help you find a reiner or provide lessons.
WRHA will host two more shows in 2015, The Classic May 29 – 31 at the Evergreen State Fairgrounds in Monroe and the Fall Spectacular October 2 – 4 at the Appleatchee Riding Club in Wenatchee. The club can be found at wrha.net or on Facebook.
Published in April 2015 Issue
Washington Reining Horse Association's objective is to promote and encourage the showing of reining horses; and to develop and dissemble informational material deemed desirable to provide contestants and spectators a better understanding of a proper performance of the reining horse in the show arena. Our club has members from under ten years of age to over seventy years old and classes are offered from beginner riders to national level open riders. Learn more at www.wrha.net