LUCAS OIL/PROTECT The HARVEST
Dirt & Diamonds NRCHA All Breed Derby
&
Back 2 Basics AQHA Circuit
to Begin February 10, 2016
As the 2016 show season comes onto the horizon, so does the Back 2 Basics AQHA Circuit. For the past several years, this show has been the largest AQHA show circuit at the beginning of each show season on the west coast.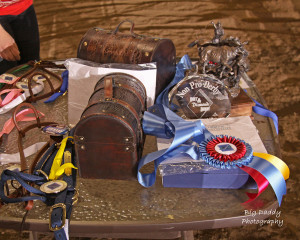 The show has been a tradition for the past several decades with exhibitors thanks to its founder, Darlene Mills. However under the new ownership, in the past couple of years it has sprung to new life. And it seems they have found the balance this industry needs between drawing exhibitors so there are big classes with a lot of points, running the show like a well oiled machine and providing a fun, family environment.
Held for the past few years at the first class Murieta Equestrian Center in Rancho Murieta, CA., it is managed by TEEM (Total Equine Event Management) who are known for their professionalism and positive attitudes. The annual event has always experienced large classes providing the opportunity for a lot of AQHA World Show qualifying points up for grabs.
RL Davis pointed out "Sun Circuit is one of the biggest shows in the country each year. We've always had a buffer for people coming home from that huge circuit before they head to our 5 day event. But in 2016 Sun Circuit moves to early January and is almost a month prior to our circuit, so that gives people plenty of time to recuperate financially and horses plenty of time to rest. It was a major benefit for the Back 2 Basics AQHA Circuit and we are excited to see even more growth for our show."
Year after year, the new ownership launches exciting changes at this big 5 day circuit. They have made efforts to incorporate more classes open to "All Breeds", such as the Dirt & Diamonds All Breed Trail Stakes, All Breed Ranch Trail and All Breed Ranch Riding.
Kathy Davis is coordinating a unique benefit drive with "Hooves for Hope". Riders will be able to donate money to help find the cure for cancer by cross-entering this fundraising event when they show in Saturday's classes and all process will go towards cancer research. The horse industry can always benefit from new ideas and a fresh approach and the fast growing popularity of this show is proof of that.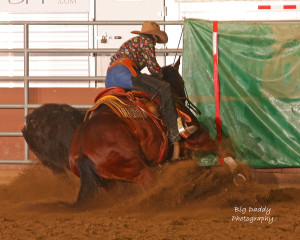 The Dirt & Diamonds All Breed Trail Stakes is only in it's 2nd year, so the show is hoping that it generates enough interest from the trail exhibitors to continue to offer it in 2017 and beyond. Trail classes in California are hugely popular and there are very few opportunities for trail exhibitors to show with the opportunity to win money – this event is one of those opportunities and since it's open to "All Breeds" it draws not only AQHA exhibitors, but horses from other breeds as well. The Non Pro division of the Dirt & Diamonds All Breed Trail Stakes is sponsored by Busick Quarter Horses and their Customers.
For the 2016 circuit which will be held Feb 10-14, 2016, RL Davis, Show Manager for TEEM, says "The show is always big, but we spend a lot of time trying to create a class schedule that still allows us to bring back some family style fun. It also allows us to schedule an event, such as cutting, the opportunity to show twice on Wednesday and be done. We hope to create schedules that on a couple days exhibitors and their families can be done showing in time to join us for some "end of show day/fun get togethers" and then go and enjoy a nice dinner and relax prior to the next day's competition."
Several years ago one of the first events they added was an NRCHA sanctioned Derby which is open to all breeds . That was a popular decision with cowhorse exhibitors right from the start. Some of the nation's top 4- and 5-year-old cow horses compete in this prestigious reined cow horse event every year and the event schedule accommodates trainers & riders who are also heading to the NRCHA event in Ft. Worth, TX. The LUCAS OIL/PROTECT The HARVEST Dirt & Diamonds Derby offers an Open and Non Pro division. Champions receive beautiful sculptures & awards and exhibitors & spectators enjoy the competition amongst "The Ultimate Triathlon" in the horse world. The 2 days of Derby competition starts on Wed., Feb 10th in the cutting pen, followed by Thur., Feb 11th in the reining event and Champions will be determined Thursday night as they "go down the fence" in the cow work. If you've never seen this event, but are a fan of Nascar, you'll will enjoy the speed, agility & thrill of watching these incredible athletes-and viewing is free to the public.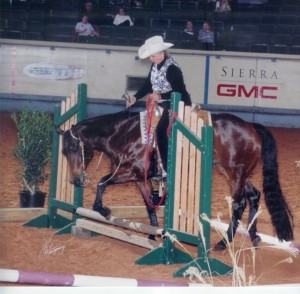 Another addition for the 2016 circuit will be AQHA & All Breed Ranch Trail. "This event was designed to show a horse's ability and willingness to perform several tasks that might be asked of him during the course of a normal day's ranch work. Whenever possible we are going to try and use realistic or natural obstacles which is something we also do in the Ranch Riding courses for the Back 2 Basics AQHA Circuit. Exhibitors seem to enjoy that we are offering something new and I think trail exhibitors especially will have fun if they show in our Ranch Trail class on Wednesday.", says Mr. Davis. For exhibitors unfamiliar with AQHA Ranch Trail it has 3 mandatory obstacles: Gate/Rider dismount & remount/Log Drag, and from that point there are a variety of optional obstacles that can be included in a course design, such as: A Slicker, Roping a fake Steer, etc.
For exhibitors and their friends & families, the Back 2 Basics AQHA show has some good 'ol hospitality planned. "As I mentioned part of our schedule tries to make time for people to get together, relax and have fun outside of the intense competition of the show." says RL Davis. "As always, we have a lot of plans up our sleeves, but a few examples are: Wednesday night we will have an Exhibitors Welcome/Derby Party hosted by Protect the Harvest that will include a Calcutta prior to the fence/cow work competition that will be held the next day. Saturday we plan to have a "Horse Show Dog Race" at the end of the day. Entry will be free, we will have special prizes for 1st & 2nd place and we hope to have enough dogs entered to run 3 size groups – small, medium & large. So many exhibitors bring their wonderful dogs to every horse show with them it made us brain storm to come up with something fun that includes the dogs with entries open to both exhibitors & spectators of all ages."
The Back 2 Basics AQHA Circuit was host to on average 700+ entries per day last year with classes for every level of exhibitor from beginning to intermediate to advanced; and every age division for horse & rider and in just about every type of AQHA.
There are classes for everyone, at every level of ability and age group – both AQHA and All Breed. From Halter to Reining, Cattle classes to Trail, Ranch Riding to Hunter Under Saddle; this show offers it all. The 11 & Under All Breed youth exhibitors will be competing for a Hi Point 11 & Under buckle.
Typically the competition will draw contestants from Washington, Oregon, Nevada, Idaho, Arizona, California as well as Canada since it is the largest AQHA Circuit among the west coast states at the beginning of each year.
AQHA & NRCHA are the governing bodies of this competition, and are responsible for promoting the sport, insuring high standards of competition, ethical treatment of the animals and educating members and the public about the history and traditions of the horse.
For information, call 530-305-0197 or 580-668-5423 or visit the TEEM Web Site at www.teemshows.com.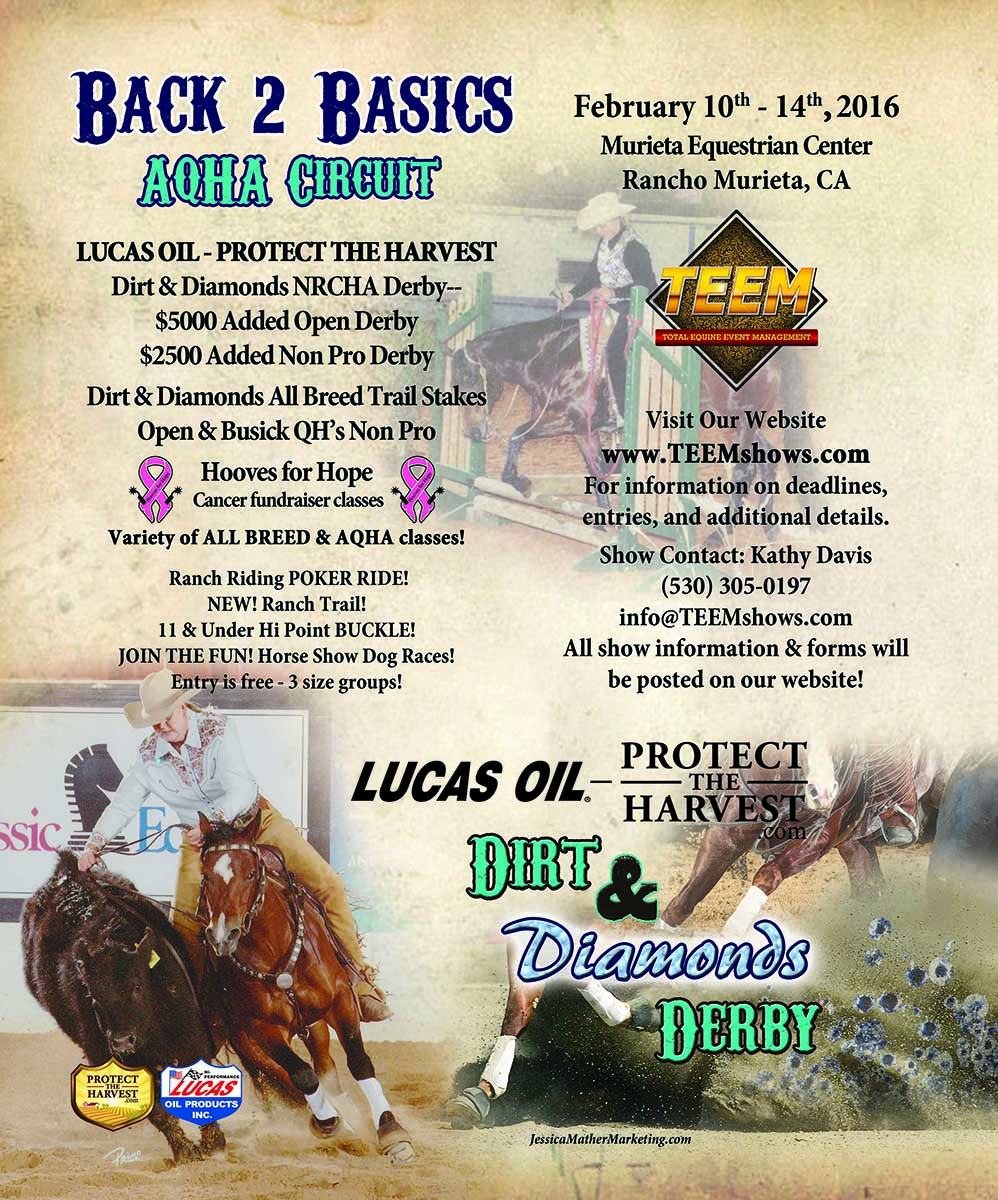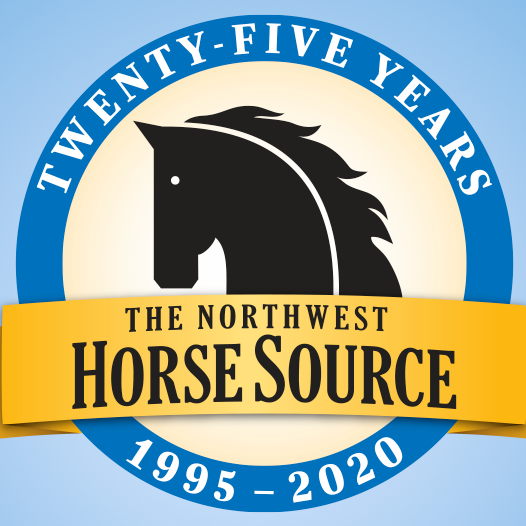 News from the horse industry. Sharing today's information as it happens. The Northwest Horse Source is not responsible for the content of 3rd party submissions.