Make an Informed Decision When Buying a Horse
By Claire Tungseth, DVM
Winston Churchill once stated, "No hour of life is wasted that is spent in the saddle." But before you sign the sale contract and load the horse into the trailer, let's ensure that horse and you spend endless hours in the saddle.
Prepurchase exams are a way for buyers to protect themselves and to make smart, informed decisions. A prepurchase exam will give a potential buyer insight on suitability for intended use, expose health concerns that may not be apparent to the untrained eye, and inform the owner of potential management issues (soundness issues, allergies, hard keeper, bad teeth). The worth of the horse should not determine if a prepurchase exam is performed or not. I have observed many owners suffer from heartache and financial loss by buying a horse that was relatively inexpensive without a prepurchase exam, and then spent a small fortune later trying to correct medical issues. Keep in mind, a prepurchase exam is not a guarantee of long-term health and soundness; it's simply a snapshot in time.
So where do we begin? The most important task you have as a buyer is selecting the veterinarian to perform the exam. Successful prepurchase exams are conducted by experienced veterinarians who are good communicators that will educate you about the process. Remember, you are "renting" a veterinarian's brain and expertise for the exam. You want to ensure that the veterinarian performing the exam has an unbiased, open mind with your best interests at heart. The veterinarian should not have a history of working on the horse or working for the seller in order to remain impartial. I also encourage buyers to contact the veterinarian prior to the exam to discuss their goals for the horse and their expectations. It's important to discuss your expectations regarding price as well. A prepurchase exam that is performed on a $50,000 horse should not cost the same as a prepurchase exam for a $500 horse. Commonly, the appropriate veterinarians are not available last minute so be sure to give yourself time to schedule the exam.
The next step to perform prior to the prepurchase exam is to obtain the history on the horse from the seller. The veterinarian will need to know when the horse was last vaccinated, had a dental performed, a Coggins test, and if the horse has a history of lameness issues (joint injections, radiographs). Make sure the seller or selling agent will be present at the exam. Lastly, contact your personal veterinarian to let them know you are having a prepurchase exam performed. Your veterinarian should speak directly to the veterinarian performing the exam to discuss the findings. Your veterinarian will play an integral role in interpreting the exam findings and helping you make an informed decision.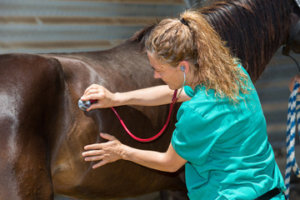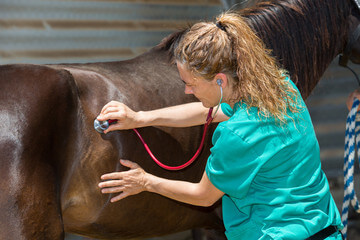 The basic exam will include a thorough medical history and overall wellness exam. The veterinarian will examine the horse's overall body condition, evaluate the respiratory and cardiovascular systems, look at both eyes, palpate joints and tendons, and perform an oral exam. Notes will be taken on the horse's demeanor, potential barn vices, and conformational abnormalities that could lead to potential lameness issues.
A lameness exam is commonly included in a prepurchase exam. The horse should be evaluated on a straight line and circles on a variety of surfaces at different gaits to observe subtle abnormalities in movement. Some veterinarians like to observe the horse being ridden as well. The horse will be flexed in a variety of ways trying to uncover areas of discomfort. Radiographs may be recommended to discover potential causes of lameness or to establish a baseline.
Implications and findings of a prepurchase exam will depend on a horse's intended job. Certain lameness findings may be fine for a pleasure or trail horse that may not suitable for an upper level dressage horse. Some horse owners don't mind paying for routine maintenance such as joint injections, while others do. This is where your personal veterinarian will play an integral role in helping you decide if this horse will be a good fit for your riding program and how you like to manage your horses.
Cheers to you finding the horse that will help you spending countless hours in the saddle.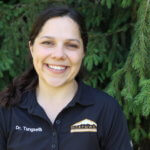 Claire Tungseth received her veterinary degree from Kansas State University College of Veterinary Medicine and went on to complete a rotating internship specializing in lameness at Rhinebeck Equine in New York. Dr. Tungseth practiced at a referral facility called Brandon Equine Medical Center in Florida for several years specializing in dentistry and sports medicine. A few years ago, Dr. Tungseth began practicing at Northwest Veterinary Clinic in Stanwood, Washington and recently became one of the managing partners of the practice. Dr. Tungseth competed in Dressage through college and is married to her veterinary school sweetheart, Taylor.

<!-comments-button-->