Why Your Horse Needs a Cooler to Stay Healthy
by Alayne Blickle
We ride year-round and I am always surprised when I see horses missing what I consider to be the most basic of winter riding gear: the cooler.  Having the right winter clothing, for both horse and rider, is critical at this time of the year, but shopping for horse clothes can be confusing especially for those new to horse keeping.
In winter months when we are able to get out and ride, our hairy horses are often fresh and rides can be long. This increases the likelihood of ending up with hot, sweaty horses that take forever to dry. It is especially important to properly cool out a wet horse that's returning to outdoor living in a pasture or paddock, or when it's frigid temperatures or windy (both of which lower body temperatures even further). These can lead to sore backs, soft tissue problems, achy joints or other illnesses.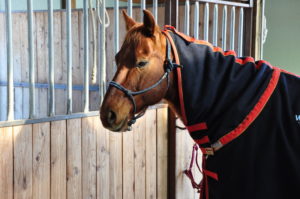 If you ride in the cold months, a cooler is a necessary wintertime piece of equipment for good horse keeping. Coolers, which look like a large blanket or sheet, are placed across the horse's back and body to keep it warm and comfortable after a tough workout. Coolers are made of either fleece or wool and work by wicking away the moisture generated from the heat of the horse's body. Moisture goes through the cooler (which is also keeping the horse warm) and is wicked away into the air. This helps to dry a horse more quickly, while keeping them from getting too cold. There are many, many varieties of coolers in different shapes, materials, colors and prices.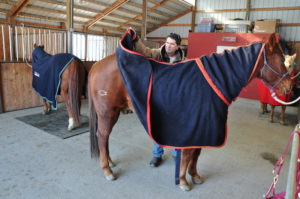 Do an Internet search for more ideas. You can save money by making an inexpensive cooler for your horse out of an old woolen or fleece household blanket (yes, the kind from your bed!) and cloth ties (or clips) stitched in place under the horse's neck to fasten it closed. Here's to warm, dry ponies!
To learn more about horse keeping and ways to make your horse property mud-free and chore-efficient join Alayne Blickle and Horses for Clean Water at upcoming events listed to the right. Find more events online at www.horsesforcleanwater.com.
Highlight upcoming workshops, use what you can:
ISSAQUAH, WA, February 8, 9 am – noon
Triple J Ranch: Workshop, "Design Your Own Horse Facility."
425-282-1949 or signup@kingcd.org
AUBURN, WA, Sundays, February 9th, March 9th and April 6th  10 am –  3 pm 
White River Valley Museum & the Mary Olson Farm: Workshop Series,
"Caring for your Horse and His Home."
ISSAQUAH, WA, February 10, 6:30 to 9 pm
Issaquah Fish Hatchery: Workshop, "Spring into Pasture Management & Horse
Health."
425-282-1949 or signup@kingcd.org.
VASHON ISLAND, WA, February 26 and March 5, 12 and 26, 6:30 pm to 9 pm
Vashon Maury Island Land Trust building: workshops for horse & small farm
owners.
TOPICS:
Streams and Wetlands: Living with Livestock near Water. February 26

Mud Management: Record Rainfall / Record Mud. March 5

Manure Management: Got Livestock? Got Manure! March 12

Pasture Management: Becoming a Grass Farmer. March 26
425-282-1949 or signup@kingcd.org
HOBART, WA, March 8, 10 am to noon
Farm Tour: Small Acreage Dressage Property 
425-282-1949 or signup@kingcd.org
ENUMCLAW, WA, March 10, 11 am to noon
TOUR: Rainier Biogas Manure Digester
425-282-1949 or signup@kingcd.org
Pubished February 2014 Issue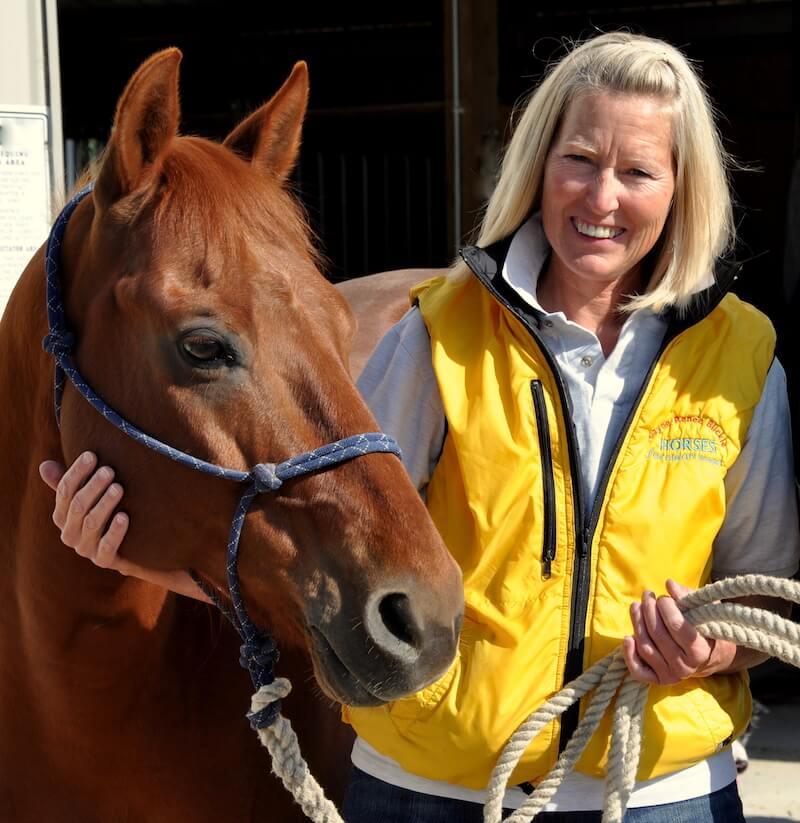 Alayne Blickle, a life-long equestrian and educator, is the creator/director of Horses for Clean Water, an award-winning, nationally acclaimed environmental education program that "wrote the book" on caring for horses and land. Known for her enthusiastic, fun and down-to-earth approach, she is an educator and photojournalist who has worked with horses and livestock owners for over 20 years. Alayne teaches and travels throughout North America and abroad, and also runs Sweet Pepper Ranch, an eco-sensitive guest ranch and horse motel in Southwestern Idaho where she and her husband raise top-notch reining horses and beautiful grass hay. For more information contact Alayne at alayne@horsesforcleanwater.com or 206-909-0225.