The keys To Building Trust in Your Trail Horse
by Mark Bolender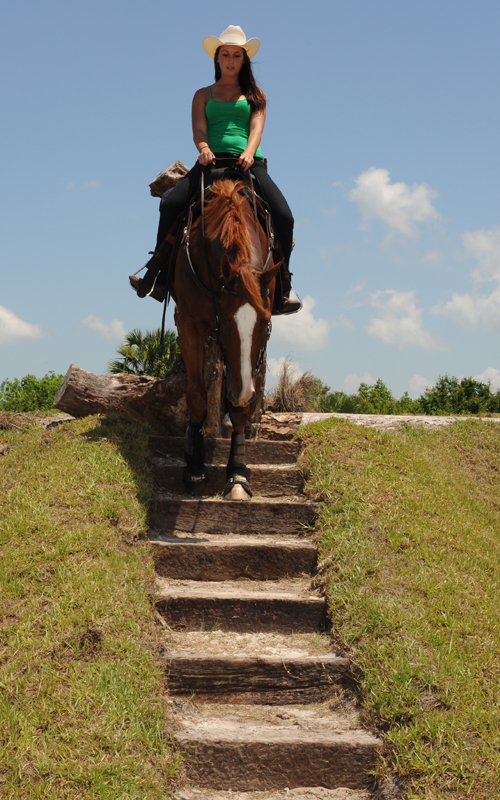 I frequently hear riders say, "I want my horse to trust me more," yet the horse is pushy when being handled on the ground and will not navigate the difficult obstacles in a show or on a trail while in hand or under saddle.
To get the horse to trust (and, at least attempt the obstacles) we must see things from the horse's perspective. Horses operate on instinct and trust is naturally woven into it with a fragile thread. It must be earned. But trust from a horse is earned differently than between two humans. There are four rules to training horses that foster trust. It is based on entering their world and behaving as they would expect.
1) In horse culture there are no equals, you are a leader or a follower! In a herd horses have a pecking order that is neat, simple, and often brutal. They do not hesitate to bite and kick to establish the hierarchy.
2) They like to follow, but will only follow a clear and consistent leader.
3) They try to please those higher in the pecking order.
4) Instinct dictates responses to the first three rules.
If the horse will not attempt an obstacle then we know there's a breakdown in one of these rules. Instinctual recognition that a rule has collapsed triggers a breakdown in the leadership. The horse won't trust the horse (or person) it regards as inferior.  This is powerful and elegantly purposeful in the herd's life, but it can also frustrate a handler. That's because most humans do not appreciate how a horse perceives the world. They're exquisitely sensitive creatures that can feel your heart beat while riding them. They can see and follow your slightest facial expression or body movements. If you watch them interact with each other it's remarkable how subtly, yet effectively they communicate. If we are consistent in our cues and remember that the less we do (like move) the more authority we have in the horse's eyes.
When you train from the ground understand that your movements mean a lot. If you move, then you must take action and follow through. If you are not willing to follow through you force your horse to gamble – to decide to follow or not. That's stressful. An even worse outcome of not following through is that you will lose all credibility with your horse. Indecisiveness means you're not a leader in the horse's eyes.
Here's the test I always use for trust. The alpha mare does not move without causing a reaction from others. Thus, if you're moving without causing a reaction from your horse then you know immediately that your horse does not regard you as a leader. This is why they will not attempt an obstacle that their instinct says could be dangerous.  On the other hand, if they regard you as the undisputed leader they will at least try. As long as they volunteer the attempt, then you're making progress.
It may be difficult at first but you must remain calm. Show no emotion and be very patient. Continue to give clear and consistent signals. Sweet talk and praise are not clear signals. Clear signals let the horse know that it's wise to trust your leadership. Once leadership is established the horse will try harder to please.
I like to teach the horse how to navigate obstacles from the ground first and then move to the saddle. Often it's easier for the horse to read you and learn to trust you from the ground. When you're in the saddle the horse must concentrate on the rider's balance in addition to the obstacle. That may be a lot the first time out. It is also safer if the rider does not sit well or have a good seat. When riding you must keep the same focus and consistency that you had on the ground.
Understanding and following these steps will enable you to teach your horse effectively. It will lead to trust—and many happy trail rides.
Published in October 2011 Issue
Mark Bolender's name has become synonymous with the new and exciting international equine discipline Mountain Trail. Mark earned national titles in this sport in 2008, 2009 and 2010 and has been supporting Mountain Trail for the past nine years by teaching clinics, judging shows, and building courses worldwide.
Prior to his involvement in Mountain Trail, Mark developed a solid foundation of experience by breeding Quarter Horses and showing in open, Quarter Horse, and Reining competitions. He writes for a number of magazines and is the author of the popular book, Bolender's Guide to Mastering Mountain and Extreme Trail Riding. He has produced four DVD's about training for Mountain Trail and one DVD entitled The Road to Bridle-less. He has been featured twice in the American Quarter Horse magazine America's Horse for mastering the Trail Challenge. Mark operates a judging school which certifies judges in the USA, Canada and Europe for Mountain Trail and Trail Challenge. He and his wife, Lee, are the founders of the International Mountain Trail Challenge Association (IMTCA) which was formed to promote the sport of Mountain Trail. Mark and Lee own and operate Bolender Horse Park in Washington State, which houses the finest Mountain Trail course in the world. Mark and Lee travel the world to give Mountain Trail clinics in almost every corner of the globe.
Mountain Trail made its television debut on RFDTV in November of 2016, further promoting the sport to audiences everywhere.
Using Bolender Horse Park as the model, Mark and Lee have designed and built Mountain Trail courses for private and public use in the USA, Canada, Australia and Europe – with many more in development. These courses are premier sites used by beginners and highly advanced riders alike; they are designed for clinics, shows, and training.
Mark and Lee actively promote the Bolender training philosophy, which centers on using the natural instincts of the horse in the training process. Mark says that activating key instincts in the horse combined with good horsemanship results in real equine magic. They continue to set goals to build more and more courses, promote the IMTCA, and write books and articles for eager enthusiasts. The next goal is to bring Mountain Trail to the Olympics.