Don't Miss the Last Qualifying Show of the Season October 7-9!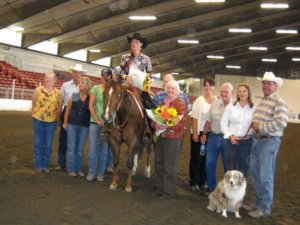 WRHA returned to the show pen Aug 19-21 at the Evergreen State Fairgrounds in Monroe for The Classic, rescheduled from June 3-5 due to the EHV outbreak. The Non Pro division was won by Chics Double Magnum, owned and shown by Maria Danieli. The Open division was won by Darren Stancik on Its Pardee Pine for owner Kevin Montgomery. A very special class was held at The Classic, the John Slack Memorial Beginner Rider class, which was won by Lacey Swanberg on Reining in Seattle for owner Chuck Shramm.    
Next up for WRHA is the Fall Spectacular and Futurity October 7-9 at the Appleatchee Riding Club in Wenatchee. Feature classes include the Non Pro Futurity and Open Futurity. A full slate of NRHA ancillary classes will be offered, as well as many club classes that do not require an NRHA membership or a competition license to enter.
The Fall Spectacular and Futurity is the last show of the 2011 show season and the last qualifying show for 2011 WRHA year end awards. Our annual member meeting and election will also be held. Come join us in Wenatchee as a spectator or competitor, or learn more about reining by volunteering as a scribe.
Information on WRHA can be found on the web at www.wrha.net or follow us on Facebook.
Published October 2011 Issue
Washington Reining Horse Association's objective is to promote and encourage the showing of reining horses; and to develop and dissemble informational material deemed desirable to provide contestants and spectators a better understanding of a proper performance of the reining horse in the show arena. Our club has members from under ten years of age to over seventy years old and classes are offered from beginner riders to national level open riders. Learn more at www.wrha.net