What You Need to Know
by Teri Starke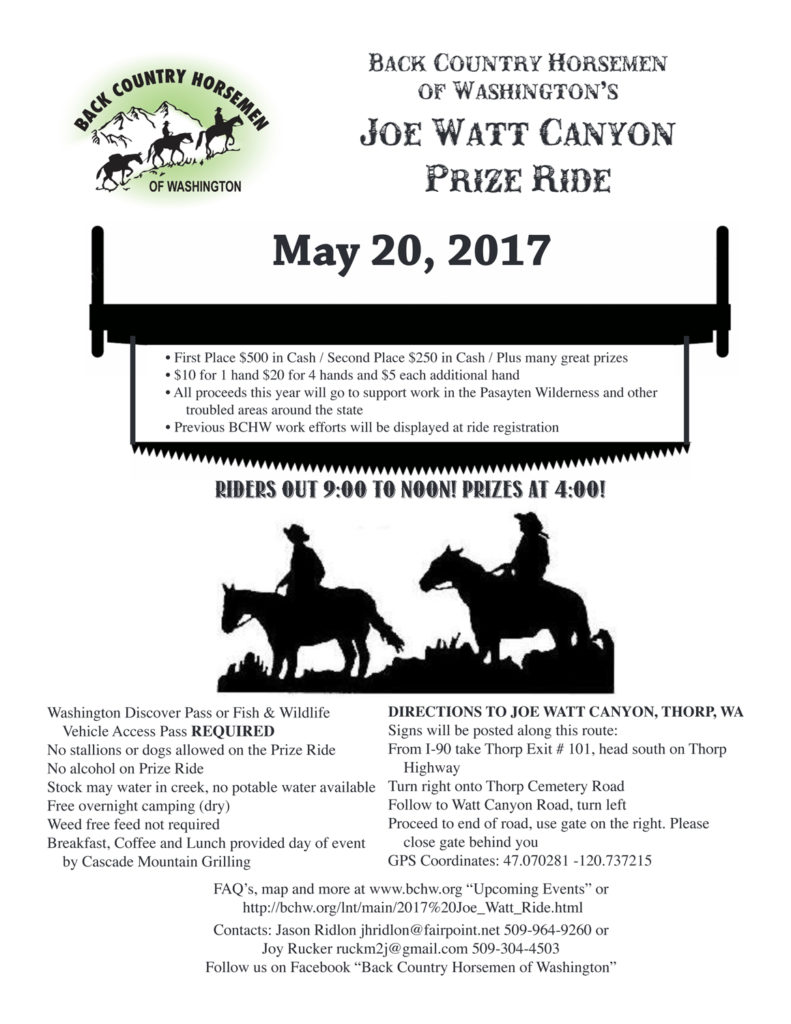 Back Country Horsemen of Washington's Joe Watt Canyon Prize Ride is on Saturday, May 20 in the L.T. Murray Wildlife Unit. We thought this would be a good time to educate folks who are thinking of attending, about this popular ride.
The 54,070-acre L.T. Murray unit is about 15 miles west of Ellensburg. The Washington Department of Fish and Wildlife (WDFW) owns and manages most of it. Lying in the rain shadow of the Cascade Mountains, the eastern end receives less than 16 inches of precipitation, but the west side gets up to 100 inches of snow. Elevations range from 2,000 feet to nearly 4,500. feet. The L.T. Murray extends in a band about 11 miles wide from south of Cle Elum to the top of Manastash Ridge.
A Washington State Discover Pass or a Washington Department of Fish and Wildlife Vehicle Access Pass is required at Joe Watt Canyon for both day use and camping. You can get one online at www.wdfw.wa.gov/licensing/discoverpass.
Stock camping before and after the ride is free. Most of the area is on a bit of a hill so come prepared to level your camper. There are very few trees in the camping area so bring your own portable fencing or panels or tie to your trailer. There is a lot of room for everyone so you can park next to friends. Weed-free feed is not required. (This is currently only required on US Forest Service lands.) Stock water is available in the creek, but no potable water is available on site so bring your own drinking water. No horses or mules are allowed within the registration area. There are no campfires allowed as per WDFW rules.
Portable toilets will be on site that weekend in the camping area. There are no facilities along the way. Please follow Leave No Trace (LNT) principles when on the trail.
Cascade Mountain Grilling from Ellensburg will have coffee, breakfast and lunch available to purchase the day of the event.
How the Prize Ride Works
Riders register and buy the number of hands they want. The more hands, the higher the chance of winning. At checkpoint 1, each rider throws a dart to get their first card number. There are three checkpoints along the way where a board game is played. Riders may dismount if their horse/mule will not stand, or they can stay on their animal. The last dart throw is back at camp, then cards are turned in for tallying.
The trail ride is five to six miles long. Riders may leave camp at their discretion, go at their own speed, and ride with their friends following a flagged route. However, checkpoints will only be manned starting at 9:00 a.m. and prize drawings start at 4:00 p.m. or as soon as hands are tallied, so you probably want to be back at camp by 3:00.
The trail includes forested areas, meadows, creek beds, rocks and some gravel roads. There is an elevation gain on the ride. Shoes for your horse or mule are recommended.
WDFW says that manure may either be scattered or hauled away. The BCHW Store will be located near registration, selling some of the items shown at www.bchw.org/lnt/main/BCHW%20Store.htm.
Anyone who is not already a member of BCHW and who joins at the event will receive a coupon for 25% off any one item in the BCHW Store.
For more information on Back Country Horsemen of Washington and how to join, check out our website: www.bchw.org. BCHW is just one state organization that makes up the Back Country Horsemen of America. Visit www.bcha.org for more info on BCHA. For more information about Joe Watt Canyon visit www.wdfw.wa.gov.
Originally Published May 2017 Issue
Back Country Horsemen of Washington (BCHW), is a 501 (c) (3) organization with 32 chapters across the state dedicated to: keeping trails open for all users; educating horse users in Leave-No-Trace practices; and providing volunteer service to resource agencies.