A Gypsy Vanner and Drum Horse Tradition Begins
by Chad Walton and Monica Henken
In 1966, in the rural community of Ferndale, Washington, the Edwin Henken family began to build a legacy. Northwest Clydesdales was the product of Edwin's dreams. He, his friends, and his family invested countless labor-intensive hours in this dream.
As most horse lovers know, horse ownership is not always easy. Edwin's perseverance, dedication, and patience laid a foundation on which he built his legacy. Through Edwin's determination he built a reputation for high-quality Clydesdales with long-term usability, size, color, conformation, soundness, and personality. For more than 40 years, the Northwest Clydesdale team participated in parades, competed in pulling matches, and showed in halter classes and driving competitions throughout the Northwest, all while breeding and raising beautiful foals to continue the dream.
In 1994 Edwin was introduced to a young lady who would later become his daughter-in-law. What no one knew at the time was that this young lady, Monica, would one day continue his dreams and further tailor the Henken legacy. With the shared hours of caring, breeding, delivering foals, training and competing at local horse shows, and with the support of many friends and family, Monica began to share Edwin's vision. One of Edwin's favorite sayings — "where quality reigns" — developed into a joint mission of consistently producing quality Clydesdale horses.
In 2009, Monica put her own stamp on the legacy by establishing the Northwest D.R.E.A.M. (Draft Riders Enthusiastically Accomplishing Maneuvers) Team. D.R.E.A.M. is a draft horse drill team made up of a variety of draft horse breeds and local riders who demonstrate the diversity and majesty of the draft horse through a pattern performed to music. This team practices May through August and participates in local parades and performs during the Northwest Washington Fair in Lynden. Monica, her friends, and family also continue to pleasure ride, trail ride, participate in equine obstacle activities, drive, and show in several local shows. She also continues the legacy of producing quality foals.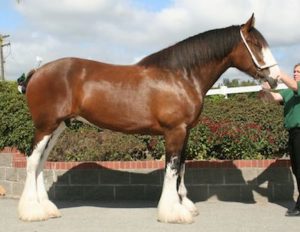 In 2015 Monica fell in love with something that completely threw her out of her Clydesdale box: A Gypsy Vanner. Gypsy Vanner horses come from the British Isles and were used there mostly as caravan horses. She was smitten by a 16 hand black and white tobiano Gypsy Vanner stallion that is a direct son of the prepotent and English-bred stallion, Lion King. After several unsuccessful attempts at artificial insemination breeding the Clydesdale mares to this awesome stallion, Monica's hopes of producing a Drum Horse were dashed. Drum Horses are the result of crossing a "feathered" draft horse breed (i.e. Clydesdale or Shire) to a Gypsy Vanner. Resulting foals are registerable with the Gypsy Cob and Drum Horse Association and are a highly prized breed for many disciplines such as dressage, pleasure riding and, of course, driving. Drum Horses typically stand 16-17 hands and exhibit a willing attitude and a strong-coupled conformation.
Discouraged with the 2015 breeding season, Monica decided to try another means to the same end. She purchased a 2015 black and white tobiano Gypsy Vanner mare who is a Lion King granddaughter. With input from friends, she decided to try finding a quality Gypsy Vanner to add to the Drum Horse breeding program. This stallion would perfectly join the great foundation mares from the Northwest Clydesdale breeding program.
In November 2015, Desert Jewel Classy's Playboy (DOB June 2013) was acquired. Monica realized her pastures would be taking on a whole new look with the young stallion "Playboy" as part of the future of the Cougar Creek Corral Drum Horse legacy. Her big bay and roan Clydesdale mares are soon to be chased around by little black and white tobiano furballs! Three Drum Horse foals are expected for summer 2017.
As a Gypsy Vanner and Drum Horse legacy begins and a Clydesdale horse legacy continues, the Henken family invites you to contact them at cougarcreekcorral@gmail.com or follow Cougar Creek Corral on Facebook (www.facebook.com/CougarCreekCorral) to see what's new along the journey.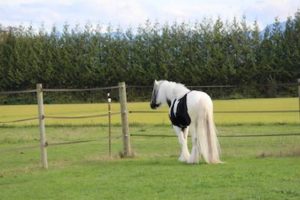 The Henkens thank everyone whose support has made it possible to turn a shared dream into a legacy. And thanks to Edwin, who continues to play a role as the overseer of the legacy. He supports the entire team with an expertise that can't be quantified.
Originally Published January 2017 Issue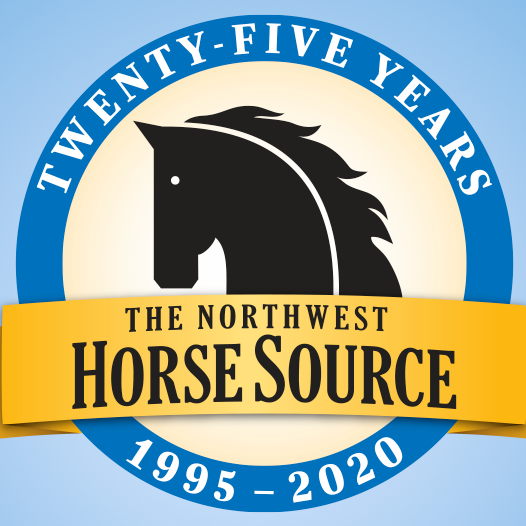 The Northwest Horse Source is an independently owned and operated print and online magazine for horse owners and enthusiasts of all breeds and disciplines in the Pacific Northwest. Our contemporary editorial columns are predominantly written by experts in the region, covering the care, training, keeping and enjoyment of horses, with an eye to the specific concerns in our region.