Qualified Instructors Bound by AQHA's Code of Ethics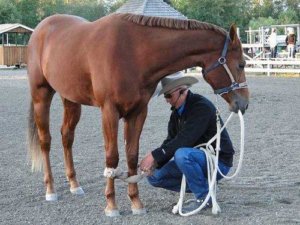 The AQHA Professional Horsemen Division is comprised of qualified horse trainers who provide service to the American Quarter Horse industry in a professional manner. To meet AQHA's eligibility requirements, these professionals must demonstrate the highest standards of personal and professional integrity and have agreed to be bound by AQHA's Code of Ethics. As an AQHA State Affiliate, WSQHA also has a Professional Horsemen Division and would like to spotlight the WSQHA/AQHA dual membership Professional Horsemen who have provided their services at the 2011 AQHA Region One Championship Show.
MARK BOLENDER – Silver Creek, WA
Mark owns and operates Bolender Horse Park. He also has designed and built extreme trail courses across the nation, each of which sponsors clinics. www.uniquehorsemanship.com.
DENISE CALLAHAN – Arlington, WA
Denise has been training horses professionally for over 16 years. She enjoys showing, training, and working with Quarter Horses. www.callahanshowhorses.com.*
MIKE & MAY EDWARDS – Monroe, WA
Mike and May Edwards Quarter Horses is a program designed to develop and prepare horses and riders for virtually all events. Students have achieved Reserve Championships, Top 5s and Top 10s at the AQHA and AQHYA World Championship and Congress Shows. www.mikeandmayedwards.com.
GENNY MILLER – Ellensburg, WA
Genny Miller Performance Horses LLC is an all-around program. Genny has trained and coached many ApHC and AQHA top ten youth and amateur riders. www.gennymillerperformancehorses.com. http://www.gennymillerhorses.com/.
SPLENDORA PAPETTI-HUIZENGA – Bellingham, WA
Splendora has been teaching and training for 41 years and has owned a tack shop and large stable. She coached for the Western Washington Equestrian Team for 5 years.Facebook Papetti Pastures.
For a complete list of WSQHA Professional Horsemen visit: www.wsqha.com. 
*This link was no longer active at the time this article was added to the website in 2018.
Published February 2012 Issue
WSQHA is the AQHA affilate group for Washington State. WSQHA is committed to encouraging the growth and development of the American Quarter Horse through showing, trail rides, community outreach and much more!