Syndication and the Sport of Kings
by Catherine Madera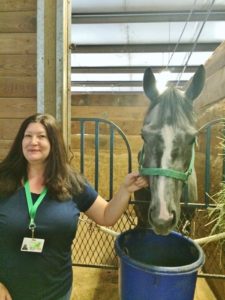 The recent film Dark Horse provided a behind-the-scenes look into the practice of race horse syndication. A real life fairy tale, this documentary tells the story of Welsh race horse champion Dream Alliance. While wildly improbable, the story is delightful and heartwarming. It's not every day that a group of working class friends have their dreams come true in a sport reserved for the wealthy elite. The odds of it happening a second time are, no doubt, astronomical.
Auburn, Washington resident Kathy Johnson wasn't looking for fairy tales or dreams when she signed up for the Emerald Downs e-newsletter a year ago. A word processor for an accounting firm in Bellevue, she simply wanted to know when the ponies were running.
"I've loved horses and horse racing since I was a little girl," says Johnson. "I watch the Triple Crown races each year like they're the Super Bowl."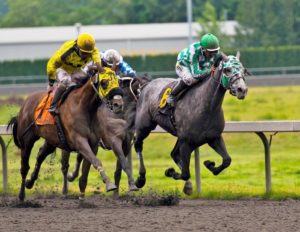 Born to be an equestrian, Johnson bought her first horse for $150 in 1976 and owned the Quarter Horse/Arabian cross mare until its death in 1995. As an adult, with responsibilities to match, Johnson lacked the time and money to keep her passion going and put it on the back burner. That is until she received an invitation, via a track newsletter, to become part owner of a race horse, a process known as syndication. Horse racing is a costly endeavor and syndication allows ordinary people to take part in a thrilling and exclusive sport.
"I knew nothing about it," says Johnson. "I couldn't believe what I was reading."
And, just like that, the dream was reignited.
Soon after, Johnson joined nearly 200 other people and purchased a grey Thoroughbred colt from California named Archie Graham through trainer Larry Ross and assistant trainer Sharon Ross of Emerald Downs. Each member paid a one-time fee of $500.
"It's the best $500 I've ever spent," says Johnson. "The club has reawakened my passion for horses and my desire to be as close to them as I can."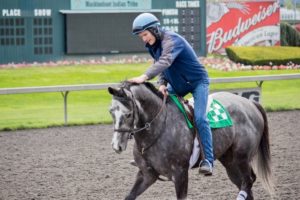 After a background check and getting fingerprinted, Johnson was given an owner's license which included special passes, parking and access to the barns and horses. Soon she was spending as much time as she could at Emerald Downs, immersing herself in the racing industry and getting an education from other owners, jockeys and trainers. She calls the barn visits "the biggest perk" of her journey into syndication and has cherished the time simply hanging out with Archie and the other horses that call the track home.
Barn time quickly became a stress reliever as well as a chance to enjoy another world, one far removed from her daily office routine. This experience was also shared by Dream Alliance owner Jan Vokes, the initial dreamer behind the story: "He [the horse] made me feel like somebody else for the day… I was Jan, racehorse owner."
And what about the racing itself? Over the last several months of the season, Archie Graham has won two races and placed in several others. Johnson was unprepared for the way the experience affected her. "I was surprised how happy this has made me," she says. "I cried the day Archie won his first race."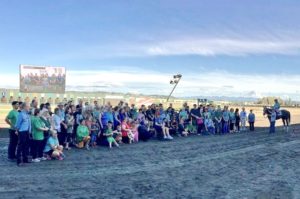 Johnson has also been unprepared for the emotions that arise when faced with saying goodbye to "her" racehorse. Because the season runs from March through September, Archie will end his time at Emerald Downs and be sold on, hopefully to greener pastures. Now a 4-year-old, it's uncertain where Archie will end up, but Johnson plans to follow him through Equibase, an online site that tracks the careers of Thoroughbreds. In addition, the time she has spent at the barn and on tours to breeding operations and auctions in the state has convinced Johnson that horse ownership—specifically Thoroughbred ownership—is in her future. As is another syndication.
"I know someday I will buy a retired racehorse," says Johnson adding, "this (being part of the horse world) is what was missing in my life."
For more information on Emerald Downs visit emeralddowns.com or find them on Facebook.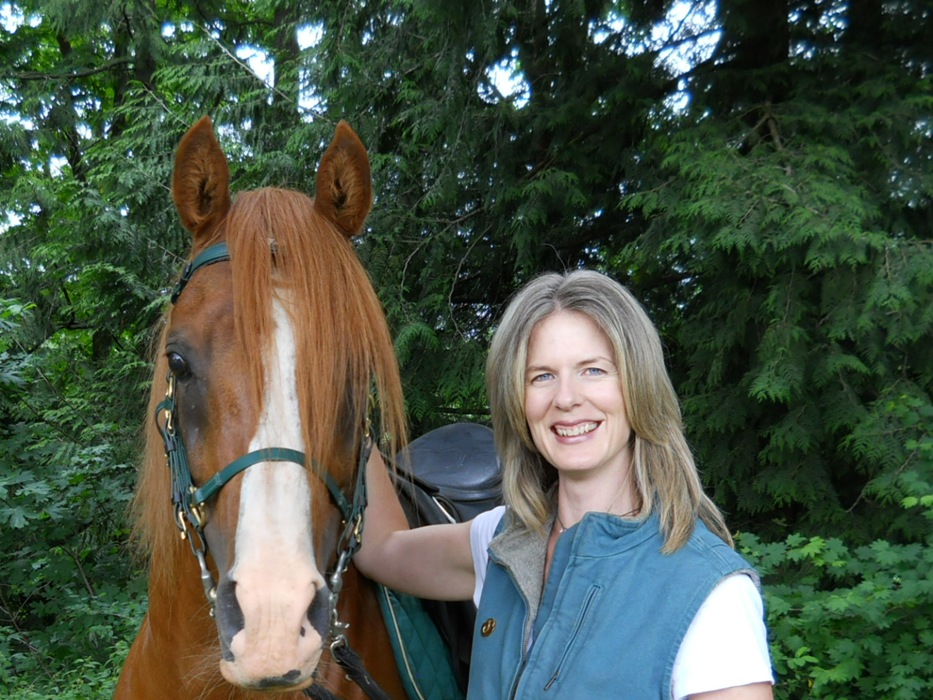 Catherine Madera served as editor of the Northwest Horse Source for five years. She has written for numerous regional and national publications and is a contributing writer for Guideposts Magazine and the author of four equine-related books. She has two grown children and lives with her husband and three horses in Northwest Washington.