Design and Placement are Essential Considerations
by Nikki Alvin-Smith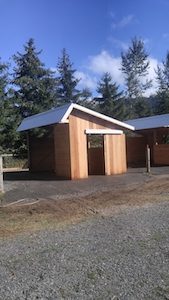 You may think that because your horses have the cover of a hedgeline or trees or they are blanketed, you don't need to worry about providing shelter with a run-in shed. If you turn your horse out for just a few hours at a time, and are present to bring him in at the turn of a weather forecast, then perhaps this is true. However, many of us like to turn our horses out for several hours a day or full-time. For these horses, the shelter provided by the humble run-in shed is very important.
As I'm sure you already know, horses will seek the shelter of a run-in shed more in summer than in winter. A run-in shed provides a valuable retreat from pesky flies and the heat of the blazing sun. In winter they use the shelter to avoid strong winds, hail and ice storms. Here are a few tips to help you make the best decision when purchasing a run-in shed.
Size Does Matter
Unless you have a lone equine, the run-in shed needs to accommodate a variety of personalities. The dominant equine can quickly bully a horse lower in the pecking order and block it from entering or exiting the structure. This is not a good scenario. At worst the secondary character will be left, literally, out in the cold. So when considering size always design wider rather than deeper. It's also a good idea to contemplate using several smaller structures rather than one large one if you have a good size herd sharing a pasture. To minimize bullying don't feed horses in the run-in shed as this can lead to excessive upset.
The interior of the shed should be at least 10 feet high and should include a 4-foot-high kickboard. The entrance should be 7 feet high, which will accommodate even the largest warmblood.
The ideal size for a single horse is 12 x 12 feet. However, 12 x 18 feet will usually accommodate three horses that average 15 hands. Consider the type of horses you have and how they get along,  then use common sense in the design. Experienced companies will be a font of knowledge in design and helpful advice.
It's All About the Base
Placement of your run-in shed is very important. Placement at the bottom of a hill will delight you with a mud-filled structure that is hopeless for providing comfort for your horse. For best results place your run-in shed on a level, elevated pad with a stone dust apron that extends outside of the front of the structure and around it if you are placing the structure inside the fenced perimeter of the field.
When designing and building our farm we had a pad elevated with gravel, placed French drains in the front to divert water to each side of the structure and added stone dust on top. There was a generous skirt/apron to the front of the structure so horses could run in and out without causing a muddy mess in the high traffic area. We had the whole thing compacted. It is regularly cleaned out with a tractor and bedded with clean shavings to encourage the horses to use it.
Placement Options
Where you place your run-in shed will depend on how you plan to use it and the design of your paddocks/pastures. Whenever possible ensure the open front faces away from prevailing winds. If you place the structure in the middle of the field, horses will be able to utilize all sides for shelter. However, the disadvantage is they may also enjoy "chowing down" on the siding material.
You can place the run-in structure outside the field with fencing that runs to each side and leaves just the front entrance available. This is very useful if you plan to have access to the structure without entering the pasture.
You can also add a gate or wood partitions to section off the interior space. This will help if you wish to exclude certain horses from lush pasture or to control the amount of interaction between horses.
Pole vs. Prefabricated Run-in Sheds
The biggest advantage of a prefabricated run-in shed is that you can move it. This might be to another spot in the field, to another field altogether, or even to another property if you move. A prefabricated structure comes with welded-on tow hooks for this purpose. The tow hooks can also be used with an anchor kit to tie down the structure and prevent it from tipping over in strong winds.
Both pole and prefabricated run-ins offer customizations such as windows, doors, overhangs etc. The advantage of a prefabricated structure is that it is ready for immediate use upon arrival as construction is done in a controlled factory environment. However, a pole structure may be cheaper. Always compare apples to apples when pricing.
Additionally, many experienced prefab building companies will offer on-site construction if you need a structure larger than can be transported over-the-road or brought through your gate. It pays to ask.
Think Outside the Box
If you have a limited budget, it's a great idea to consider a multi-purpose structure. For example, half the building may be a generous run-in area with the other half set up as enclosed stalls with Dutch doors, a feed/tack room or storage for hay, vehicles or equipment. The run-in is simply separated from the rest of the structure by a fence line.
When you think about it, your horse will be happier with the shelter a run-in shed provides and as a result so will you. Always plan for future as well as your present needs.  
About Horizon Structures: At Horizon Structures, we combine expert craftsmanship, top-of-the-line materials and smart "horse-friendly" design to create a full line of sheds and barns that any horse owner can feel confident is the right choice for their horses' stabling needs. Most of our buildings are shipped 100% pre-built and ready for same-day use. Larger barns are a modular construction and can be ready for your horses in less than a week.
This article is courtesy of Horizon Structures Inc., Atglen, PA – Modular horse barn and indoor riding arena specialists. Please visit www.HorizonStructures.com to learn more.
Nikki Alvin-Smith is an internationally published freelance writer and photographer. Ghostwriting, blog services, PR/Marketing, copy editing and editor services also available. As a Brit who has called America home for the past 34 years, Nikki brings a unique perspective to the equestrian world. Nikki is also an accomplished Grand Prix dressage trainer/competitor, competing at international Grand Prix level. Together with her husband Paul, who is also a Grand Prix trainer, they run a private dressage breeding operation and training yard in the beautiful Catskill Mountains of New York.
Please visit www.NikkiAlvinSmithStudio.com to learn more.
Originally Published October 2017 Issue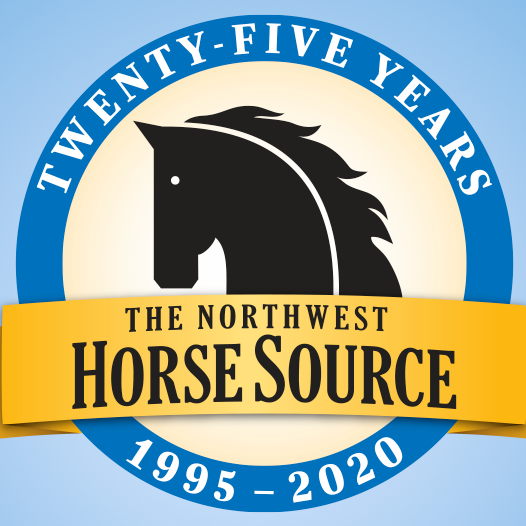 The Northwest Horse Source is an independently owned and operated print and online magazine for horse owners and enthusiasts of all breeds and disciplines in the Pacific Northwest. Our contemporary editorial columns are predominantly written by experts in the region, covering the care, training, keeping and enjoyment of horses, with an eye to the specific concerns in our region.