Upcoming Events in the Pacific NW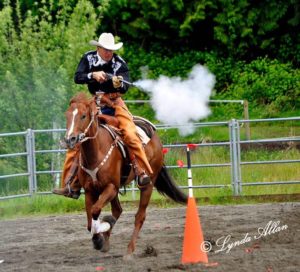 Mounted Shooters compete in this fast action timed event using two .45 caliber single action revolvers each loaded with five rounds of specially prepared blank ammunition that will break a balloon up to about 15 feet, so the event is safe for spectators. Each contestant engages a preset course of 10 balloons. There are approximately 60 different courses. The Western Washington Mounted Shooters are an active group, with members traveling to shoots throughout the Pacific Northwest, as well as Las Vegas, Arizona and South Dakota. There are several mounted shooting clubs in the Pacific Northwest. Information is available by State on the CMSA website. The Pacific NW clubs were well represented with their members traveling to Las Vegas, Western US Nationals at the end of July, and will also be traveling to Amarillo, Texas in October for the CMSA World Championships. There are also several shoots right here locally, in Washington, Oregon, and Idaho. Upcoming Events are: September 7, Pomeroy, WA;  September 7-8, Sedro Woolley, WA;  September 14, Othello, WA. For More Information go to:
Club Website: www.WesternWashingtonMountedShooters.com
Email: www.MountedShooters@gmail.com or MissionFarrierSchool@hotmail.com
Or Call Karen Plumlee, Secretary, 425 985-8321.
Published September 2013 Issue
WWMS members vary from kids to adults, and from the recreational shooter to the serious National and World competitor, so there's a spot for everyone. We are a friendly group, and enjoy introducing the sport to others. Please feel free to contact us at any time, and come join the addiction that is Cowboy Mounted Shooting!!! www.WesternWashingtonMountedShooters.com