An Unusual Story of Animal Hoarding
by Alise Lamoreaux
Zumwalt Prairie is high altitude grassland, a place to admire the beauty of the land with its mountainous elevations. The history of the place is filled with stories of Chief Joseph, his tribe's horses, and such legendary horsemen as Tom and Bill Dorrance. Wallowa County is ranching country, home to about 7,000 people, a place where people know, respect, and love horses. Perhaps that is why it was such a shock that Bella's story began there. Bella is not a common ranching breed—a Mustang or Quarter Horse, but a well-bred Lusitano mare. She was part of a 120-horse herd living on a 500-acre ranch owned by animal hoarders.
How Bella's situation developed is unclear. The breeder lived in the Bellevue, WA area, hundreds of miles away and law suits mingled with political undertones, blame spreading, newspaper stories printed and retracted, breeder disputes with governing bodies, name calling, labeling, and mental health concerns. Somehow it all contributed to a dream gone wrong. The local sheriff became involved in February of 2011 when the farm, elevation 4,800 feet, was buried under 3 feet of snow. Fences had fallen down, horses were having trouble getting to water, and there was an inadequate hay supply for the horses to make it through winter. The herd count of the horses still alive came to 18 stallions, 38 mares with foals, and 64 mares and geldings. The horses could not be moved at the time they were discovered due to the harsh winter weather conditions. They were eventually taken into custody and moved when conditions allowed for safe transportation of the herd. 
From the outside looking in, the details are chaotic and hard to understand. Obvious questions include these: How can one breeder and her ex-husband support 120 horses, even if they own 500 acres? Why would a breeder want 120 or more horses? What is the cost to the animals lost in the quest of a breeder striving for that special "one"? And why did other breeders keep selling her horses?
None of the back-story makes sense, but animal hoarding rarely does. Animal hoarders have every intention of taking care of their animals. The hoarding frequently begins after an illness, death of loved one, or other significant life event. Animal hoarding is a condition of growing concern according to the Anxiety and Depression Association of America (ADAA). On their website (www.adaa.org), the ADAA suggest that between 2-5% of the general population meet the criteria for hoarding both objects and animals. Animal hoarding is usually discovered as a result of an associated behavior/situation or when it comes to the attention of authorities through complaints and is particularly hard and financially cumbersome to resolve. These situations involve personal freedom, property rights, and mental competency issues. Hoarding is a behavioral pattern that crosses cultures, gender, and socioeconomic status. It is difficult to determine when collecting becomes hoarding, but in the case of animals, when their health is compromised the distinction is made. Animal hoarders may truly be proud of the domain they have created and believe it to be in the best interest of the animals living with them.
The most astounding component of Bella's story was the profile of the breeder: a well-known psychotherapist with a PhD, not the stereotype associated with animal hoarders. Not a crazy, lonely old lady down the street. The problem appears to have been combination of too many horses, an absentee owner, and unrealistic sale prices, the trifecta of a breeding program gone wrong. The result? 120 horses seized by the local sheriff due to inadequate care. The breeder had a goal: be the best Lusitano breeder in the world and the farm was called Carpe Diem which translates to "seize the day." On the website, the breeder prided herself on the large herd roaming the ranch, living naturally as horses were meant to. The farm's web site looked wonderful; the location beautiful. Yet somehow, seize the day turned into seize the horses.
It isn't hard to understand why someone would want to own a Lusitano horse. Their beauty, grace, and temperament are compelling. When the Wallow County Sheriff held an auction for the horses from Carpe Diem, national and international buyers came to the event. The horses in the best condition sold easily and quickly to people experienced with the breed and its bloodlines. 
A horse with a documented pedigree is frequently easier to re-home than those without. Fortunately, even though many of the Lusitanos had never been registered, through DNA testing it is possible to determine their pedigrees and create a paper trail for their lineage. 
Bella was not one of the desirable ones. Her breeding was desirable, but she was not in the best condition when Katarina Digman saw her. Bella was thin and dirty and nobody realized she was pregnant. Digman chose Bella despite reservations on the part of those around her. She saw the beauty that would become Bella. Digman owns and operates Unicorn Ranch, a Therapeutic Riding facility in Lorane, Oregon. She brought Bella to her ranch and began the process of re-conditioning and connecting with Bella. Many of the Carpe Diem horses had never been haltered or trained to lead. Bella's actions and reactions were more like a wild horse than a domestic one. Patience and skill were needed to gentle Bella. She had lived in a big herd with open spaces and was afraid of her new surroundings. It took two days and nights of trying to connect with Bella before Digman was able to take Bella from the pasture to the stable. A few months later, Bella gave birth to a healthy colt.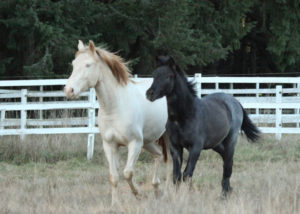 Bella's story is one of awareness. She reminds us that any breed of horse, in any part of the country, can end up in a hoarding situation.  Animal hoarders aren't just the "crazy cat lady" that people talk about. Sometimes they are well-intentioned people and the issues are complicated and laws can be vague. In the end, it's the animals that need someone new to step in and help, to pick up the pieces for the resilient souls, so horses like Bella can get a chance for a better life. 
Alise Lamoreaux is a photographer, writer, and horse enthusiast based out of Creswell, Oregon. Her photography and writing are featured in the Horse I Ching App available for the iPhone/iPad. To find out more about her visit www.dashingtails.com or visit Dashing Tails Photography on Facebook.
Published September 2013 Issue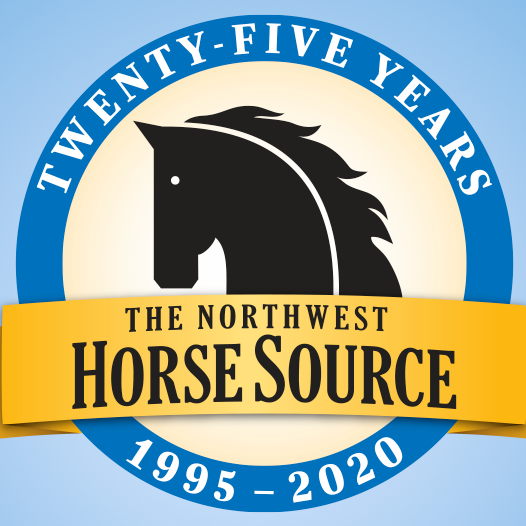 The Northwest Horse Source is an independently owned and operated print and online magazine for horse owners and enthusiasts of all breeds and disciplines in the Pacific Northwest. Our contemporary editorial columns are predominantly written by experts in the region, covering the care, training, keeping and enjoyment of horses, with an eye to the specific concerns in our region.