The Places Horses Take Us
by Kim Roe
I've always loved a horse show. It's not just the competition, though that's certainly part of it. I love the whole package. From the moment I drive onto the show grounds I've entered my happy place. Everywhere I look are beautiful, fit, and polished horses. People rush around cleaning tack, braiding, visiting friends, and talking about horses. Kids and dogs are underfoot and families picnic on tailgates. And the smells—shavings, hay, manure, fly spray, saddle soap—all favorites of mine. Emotions, both high and low, are rampant. It's like being at a community park, only better, because there are horses.
For many years my mother took my sister and me to the Grand National horse show at the Cow Palace in San Francisco. A real spectacle, the Grand National offered multiple equestrian disciplines that were mixed together and presented back to back. Grand Prix jumping, followed by an Arabian costume class, followed by bareback bronc riding, followed by Hackney ponies in harness, and so on. To me it was heaven. I can clearly remember sitting in the stands, my eyes like saucers, enthralled for hours. My mother had to drag me away. The jumpers were my favorite, and that is when I got bitten by the horse show bug that I've carried my whole life.
One of my favorite Grand National entries was a big black jumping horse with a name that was four words streamed together—something like Nowsyourluckyday or Wishuponastar. I fell for him. He was my dream horse for many years and I filled notebooks with ridiculous long names that I planned to someday give to my black jumping horse.
It wouldn't be long and I would be showing at the Cow Palace myself on my good little Quarter horse mare, Pumpkin. And dreams do come true. I got that black jumping horse when I was 18. He was a good friend for more than 20 years. His name was Sailor (I'd given up the silly long names by then). Together we went to many horse shows and events. He taught me a lot and brought many wonderful people into my life.
This month we celebrate all equine events. When we get involved with horse people playing with horses—whether it's a trail ride, expo, or horse show—magic happens. It's spring; go have fun with your horse!
Feel free to email me at kim@nwhorsesource.com for any comments or suggestions. I love to hear from you.
Originally Published April 2017 Issue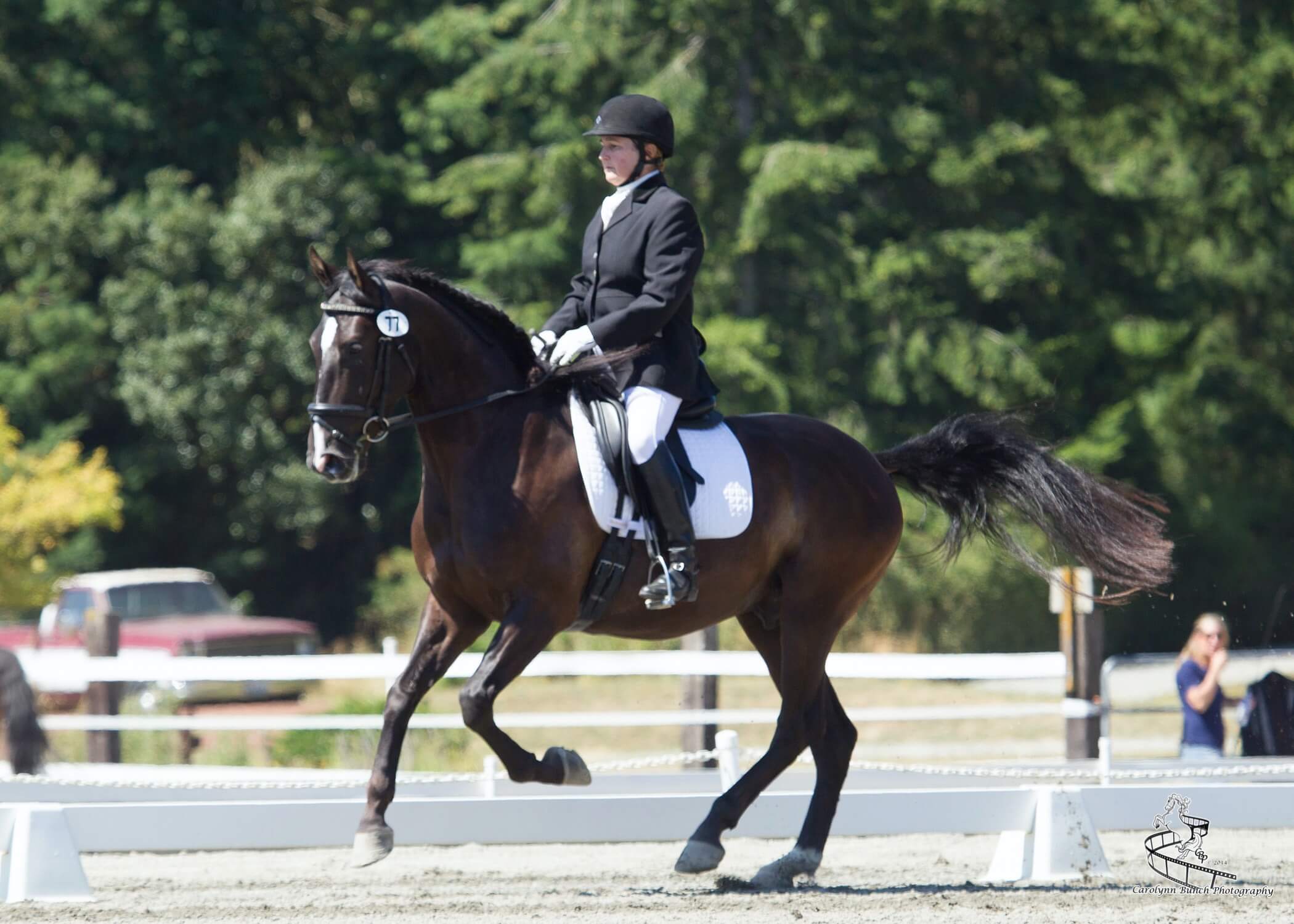 Kim Roe grew up riding on the family ranch and competed in Western rail classes, trail horse, reining, working cow, and hunter/jumper. She trained her first horse for money at 12 years old, starting a pony for a neighbor.
Kim has been a professional dressage instructor in Washington state for over 30 years, training hundreds of horses and students through the levels. In recent years Kim has become involved in Working Equitation and is a small 'r' Working Equitation judge with WE United.
Kim is the editor of the Northwest Horse Source Magazine, and also a writer, photographer, and poet. She owns and manages Blue Gate Farm in Deming, Washington where she continues to be passionate about helping horses and riders in many disciplines.